Legends say that your skin is an actual representation of what you consume. Hence, for glowing and healthy skin, you need to consume an apt amount of nutrients and proteins to give your skin a natural boost. Yes, we know, makeup today can easily replicate any of this glow but would you want a longterm solution or something that costs thousands and is gone with one wipe? If a longterm solution is your answer then you need to consume these smoothies for bright skin made with healthy and bright foods.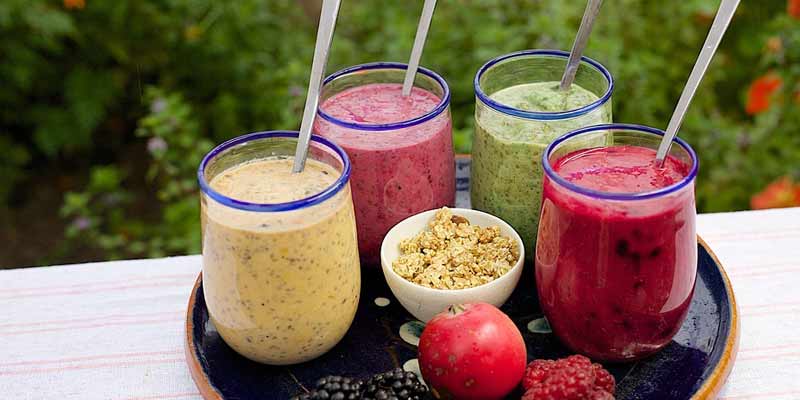 Breakfast smoothies are all the rave currently. It keeps you full for a longer period of time and is easily functional and customizable according to one's needs and ingredients. One can practically throw in a bunch of good things together and you'll get a glass full of goodness. But certain ingredients are full of nutrients catering to one's specific needs and we will focus on that with this post.
These smoothies for bright skin are made from readily available items, many of which will be already in your kitchen.
So, let's get right into these smoothies recipes for bright skin which will help you in bringing your skin back to life during quarantine and push in a bunch of of nutrients for a longterm solution. 
Spinach Delight – Healthy Smoothie Recipes
Green smoothies are considered to be one of the best and healthiest smoothies for your mind and body, which is why this spinach one is nothing short of wonderful spinach is a great source of iron, Vitamin E, magnesium, Vitamin A, fibre, plant protein and Vitamin C.
This Spinach smoothie not only makes your skin glow but also helps in clearing out any acne marks or blemishes.
Here's the smoothie recipe
Step 1: Add 3 cups of spinach leaves and 1 cup of chilled milk into a blender. Add your choice of liquid to it, milk, soy milk or even water works well.
Step 2: Add one banana to this mix.
Step 3: If you've frozen or fresh berries of any kind then add it too, berries are a great source of antioxidants. You can also add 1 tbsp of chia seeds to make it more efficient.
Step 4: Turn the blender on and wait till all of these ingredients turn into a smoothie-like consistency, and strain it afterwards.
Step 5: Pour it into a big glass and serve cold to wake up your body, mind and skin.
Suggested Read: Here Are 7 Ways To How To Make Black Coffee Better
Papaya Mix
Papaya is known for promoting skin brightness and glow, plus it is a great source of antioxidants. Many apply it directly on their faces to get that quick glow before an important event or date, but if you're looking for longterm benefits then the best way to use it is by consuming it regularly, especially in the form of a smoothie.
Papaya mix smoothie has to be one of the best smoothies for bright skin and it offers a great boost to your skin and brings in a natural glow from within.
Here is the recipe for this healthy smoothie
Step 1: Take half of the small papaya and cut it into small pieces before throwing it in the mixer.
Step 2: Add ¼ cup of liquid. While coconut milk is considered to be ideal, you can also add water in case you don't have coconut milk handy.
Step 3: Add 3 dates to this mix. Dates are a great source of protein and offer amazing nutrition to your body.
Step 4: Add half a glass of fresh pineapple juice to this smoothie mix and 1 frozen ripe banana.
Step 5: Turn on the blender and blend everything together till you get a nice golden smoothie.
Step 6: Pour it into a big glass and enjoy your smoothie.
Pumpkin Glee
Pumpkin is loaded with vitamins A, C and E and is rich in antioxidants, and it is one of the most readily available vegetables in the market. You can easily find it in your fridge or a nearby store. It is great for people with sensitive skin who are more prone to redness as a result of any face mask or self-care routine. So, even if you don't find time to make a whole smoothie out of a pumpkin, you can consume pumpkin juice and avail the same benefits.
Here's the recipe for Pumpkin Glee
Step 1: Add 1 cup of chopped pumpkin cubes and half a cup of yoghurt.
Step 2: To this mix, add ice-cubes and 2 tbsp of flaxseeds (these seeds are a superfood and ideally should be consumed every single day to avail maximum benefits)
Step 3: Blend them together and once it turns into a smoothie-like consistency strain them.
Step 4: Pour it into a glass and drink while it's chilled.
These were smoothie recipes of the best smoothies for bright skin. While you can consume it at any time of the day, they should best be consumed in the morning, along with breakfast or as a substitute for it.
Suggested Read: How To Make Pancakes – Perfect Basic Recipe
Try out these healthy smoothies and share your results with us. Stay Healthy!