Cantaloupe is a summer fruit that is quite similar to watermelon. It is juicy and comes from the same family of pumpkin, squashes, and cucumbers. It has rough outer skin. There are many health benefits of eating Cantaloupe. 
It was first grown in Persia and made its way to the new world with Christopher Columbus in the 1400s. A cup of cantaloupe cubes has 144 calories and zero fat and cholesterol. It is extremely nutritious and should be part of one's daily diet.
In this article, we shall take a quick look at the benefits of eating Cantaloupe.
Health Benefits of Eating Cantaloupe
1. Cantaloupe is rich in Vitamin C, carotenoids, and zeaxanthin which helps to improve vision and reduce any risk of eye problems such as cataracts and vision loss. 
2. It is rich in water and helps maintain our body's fluid and electrolyte levels. 
3. Cantaloupes are very low in glycemic index. This means that your body can digest it slowly. Those suffering from diabetes can easily have this fruit. It doesn't enhance sugar levels in the blood. 
4. As Cantaloupes are rich in electrolytes, it helps reduce dehydration. This is why it is a great summer fruit.
5. Cantaloupes are rich in potassium and other minerals. The potassium helps to reduce blood pressure levels in the body. 
6. As cantaloupes are rich in fiber, it helps to promote easy bowel movements and facilitate digestion. The fiber helps regularize bowel movement. 
7. Cantaloupes are rich in phytonutrients. This helps to boost immunity and fight diseases.
8. They have anti-inflammatory properties, which help fight diseases as it is rich in Vitamins, and the production of white blood cells increases in the blood. 
9. Folate is another nutrient that is quite essential for pregnant women. It prevents neural tube defects in babies. It also facilitates the production of red blood cells in the body and maintains overall health. 
10. Cantaloupe is great for skin and hair nourishment. The vitamins help nourish the skin and protect the skin from toxins. The vitamins and minerals help in growth and reduce hair loss. 
11. Cantaloupe acts as an anticancer agent. Folate plays a great role in the prevention of cancer. As per research, it has been found that It can be extremely useful in treating the early stages of cancer.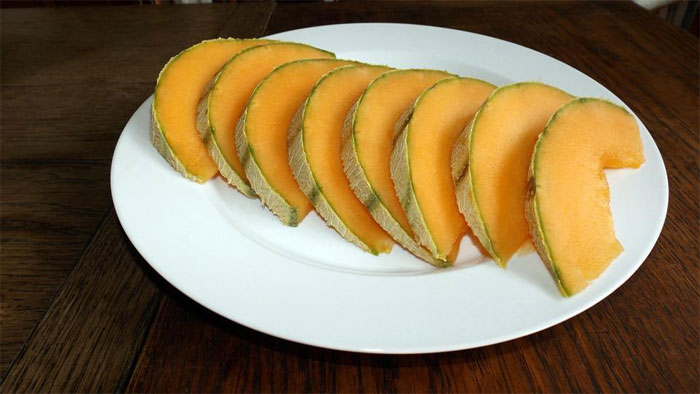 12. Cantaloupes are filled with nutrients and other antioxidants such as lutein, beta carotene, and zeaxanthin. 
Other common nutrients which are present in Cantaloupe are:
1. Vitamin K
2. Potassium
3. Vitamin B3
4. Calcium
5. Folate
6. Magnesium
7. Copper
8. Selenium
9. Zinc
10. Manganese
11. Phosphorus
How to choose the best Cantaloupe
If you are wondering how to pick a good Cantaloupe, then let me tell you the best season for the fresh ones is summer. This is when you will get the sweetest of all. 
If you are looking for a ripe Cantaloupe, try to pick one which is symmetrical in shape and is a little heavy. The color can be creamy or a little orangish with the least green.
A ripe cantaloupe will smell sweet and a little musky. If you want to enjoy the fresh taste of the Cantaloupe, you must have it within three days after purchasing it.
How can you consume Cantaloupe?
The fruit is very delicious. These are available at all grocery stores. You should pick one which is not yet ripe just to ensure that it doesn't go bad after buying. The fruit is ready to eat if it has a deep dull sound. A ripe cantaloupe must be kept in the fridge, while an unripened one can be left out at room temperature. 
Also Read – Top 8 Amazing Benefits Of Eating Watermelon
Wash the melon just before consuming it; otherwise, there might be chances of mold formation. After you break the melon and open it, you must keep it in the refrigerator. The best way to eat Cantaloupe is raw. You can make a fruit salad by mixing it with other fruits, but there are different ways of using them.
1. Smoothie – A smoothie can be made of Cantaloupe and yogurt as it works as a natural sweetener. One can have it with breakfast or as a part of a mid-day meal. 
2. Salad – Cantaloupe can be a part of your salad. Add some basil, mozzarella, red wine vinegar, onions, and olives, and prepare a beautiful salad dressing. 
3. Sorbet – You need four ingredients to prepare a frosting kind of treat: honey, lemon, water, and Cantaloupe. 
4. Roasted Cantaloupe – This might sound a little awful. But it works great. You can simply roast Cantaloupe and bring out the natural sweetness of the melon. 
Must Read – How to Pick a Watermelon?
Conclusion
As we have already said, Cantaloupe is a very delicious and nutritious food. You cannot do better than Cantaloupe. It is such a versatile product. If you love watermelon or honeydew melon and have not tried Cantaloupe before, then you are missing out on something. It is not just tasty but Cantaloupe has many health benefits. Make Cantaloupe a part of your diet as it is not rich in fat and cholesterol. Plus, it adds sweetness to your diet. Make it a part of your healthy eating plan.