Chicken wings are the star of any party menu, be it a brunch with buddies over wine and beer or a dinner with family. From kids to old enjoy the juicy saucy wings and it is treated as a delicacy all over the world. The reason is simple: it tastes delicious and healthy too (baked one) as it is a source of protein and fat (energy). 
In the USA alone a person consumes 24 wings in a month, or 17,653 chicken wings in his/her lifetime. The data includes both chicken wings with bone and without bone. Not only this, Americans love eating their wings during the super bowl. As Per the statistics, Americans consumed approximately 1.42 billion chicken wings during the super bowl LVII. The data shows that the consumption of wings is increasing steadily since 2015. 
So, let's now learn how to cook this delicious and scrumptious snack at the comfort of your home for yourself and your loved ones. Well usually chicken wings are either baked or fried. Today, we will learn how to bake chicken wings.
How to bake Chicken Wings?
Before we share the procedure let us know, why bake chicken wings instead of frying them? The reasons are:
Healthy – baked chicken wings are healthier than fried ones in terms of calories, especially in fat content.
Crispy – one can achieve a nice crispy wing without frying them. For that you just need the correct recipe. 
Easy to prepare – well no rocket science in guessing that baked one needs prep only, rest of the cooking is done in the oven. Whereas in frying the wings you have to be present from scratch till the end.
Now, let's start the procedure of how to bake chicken wings.
First of all clean the wings (fresh or frozen) nicely and then dry them with a towel properly. Any moisture will ruin the coating of the wings, which provides crispiness and flavor.
Now, coat the wings with a dry spice rub. For the spice rub, you need to combine salt, pepper, garlic powder, and baking powder in a small bowl. Once mixed nicely then sprinkle or dust the dry spice rub on the wings, and toss them nicely in a bowl for an even and better coating. 
Now, time to bake the wings. For this you need to arrange wings, skin side up and bake. To prevent the burning of wings, flip them after every 15-20 mins. Usually, the wings take 45-60 mins to cook depending on the size of wings and oven temperature. 
Once done take them out, keep them aside for 3-5 mins and then toss it in your choice of sauce for that glistening and juicy-looking wings. The sauce may vary from BBQ sauce, ranch, honey garlic, honey BBQ sauce, buffalo sauce, and others. With the help of sauce you can easily make different varieties of wings if you are one who enjoys experimenting with flavors. 
Tips for baking good chicken wings: 
Use baking soda in the dry spice rub for better crispiness.
For better flavor use fresh wings with bone rather than frozen ones. 
Use wings with bones.
Add a hint of oil on the wings before adding dry spicy rub. So that the rub sticks to the wings nicely and evenly.
Never cover the wings while baking as it will create steam and the wings will not be crispy. 
Experiment with sauce and also you can add toppings like chives or spring onion etc for crunch and flavor.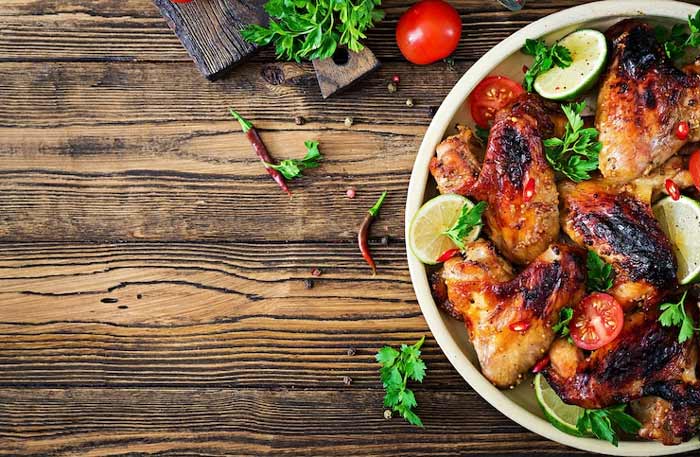 Nutritional value of baked chicken wings (85gms) by USDA
| | |
| --- | --- |
| Calories | 216 Kcal |
| Carbs | 0 gm |
| Fiber | 0 gm |
| Sugars | 0 gm |
| Protein | 20.2 gms |
| Fat | 14.4 gms |
| Vitamin A | 195 UI |
| Vitamin B6 | 0.5 mg (29% of daily value) |
| Selenium | 21.7 mg (39% of daily value) |
| Niacin | 5.4 mg (34% of daily value) |
Also Read – Get Some Famous And Interesting Backyard BBQ Menu Ideas From Experts!
How Long To Bake Chicken Wings?
Who doesn't want to eat juicy wings? But for that the correct temperature is essential. To bake the perfect wings first of all preheat the oven at 400 F or at the maximum temperature of the oven present in your kitchen. So, here is the list of different temperature settings and cooking time for that perfect wings (depends on the amount and size of wings too):
At 250 F cooking time for wings is 120 minutes. 
At 275 F cooking time for wings is 90-100 minutes.
At 350 F cooking time for wings is 60-70 minutes. 
At 400 F cooking time for wings is 35-45 minutes. 
At 425 F cooking time for wings is 25-30 minutes. 
Note: Cooking chicken wings above 425 F will make them rubbery and chewy. 
There are plenty of variations present in terms of the flavor profile of chicken wings nowadays. Like parmesan garlic wings, red chimichurri chicken wings, Vietnamese chicken wings, etc. So, grab your choice of wings and enjoy a game or a chit-chat with your friend or family to enjoy this delicious star snacker.