First thing first, men can style long hair without feeling the additional burden that comes in maintaining them. There is plenty of proof that men can flaunt style with a longer barnet while still looking sharp at the same time. The tricky rules of fashion no longer dictate that long haircuts should specifically be identified with aging band geeks. 
On the contrary, high-profile personalities like Keanu Reeves, and even Harry Styles have enlivened the whole debate and proved that shoulder-skimming locks can still steal the show. So, if you're looking to channel your inner cool, pay heed. Going forward you would like to look more like Jason Momoa and less like a disheveled casualty. 
How to style long hair for men: 6 handy tips for different needs
'Great hairs bring with them, great responsibility.' And this fact should be paid due attention to. You are responsible for transforming the voluptuous head of hairs and dealing them with appropriate care.
1. Style long hair when time is of the essence
Long hair can be a saving grace for those who dislike faff. If you wake up and just want a quick fix, it's suggested to slick that mane into a braid, ponytail, or messy bun.
Also, longer haircuts are a perfect foil for those who like to experiment. More hair reasonably means more options. With the endless styling possibilities, long hair could be the ultimate cherry on the cake and make a statement.
Whenever stuck for ideas, think messy man-bun, ponytail, or Viking style variations. Your favorite long-haired celebrities may provide you with the needed motivations.
2. Regular Hair Maintenance
If you have long hair, you may want to visit your barber less often maybe once every 3 to 6 months. But if your idea is to grow your hair to its full capacity, the longer the gap the better it is.
It is to be noted that those with more complex styling requirements do have to make the trip a little more often. It can be a quick trim on essential bits while leaving the back to flourish.
If it is shoulder-length hair that you want to maintain, visit every 6-8 weeks to keep it in shape and manage any damage therein. The rule of thumb is: the shorter the style, the more visits you need to pay to the barber.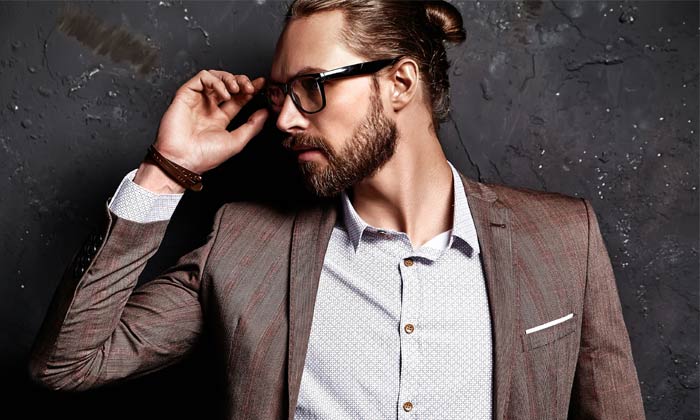 3. Is it structured or is it messy?
Long haircuts on men may look as polished as the classic buzzcut. But of course, it takes a little more effort.
A swept-back ponytail paired with a clean middle parting can give the ultimate 'reigned in a polished look. However, if you prefer a messier un-done look, with long hair that is a favored style, too.
Usually, long hairs are made to look loose and casual. Whether the need is to look messy or structured, with long hairs it can be done easily.
4. Style long hair in accordance to Thickness and Texture 
The success of a long hairstyle boils down to the texture and thickness of your hair. Asian hairs are usually straight and thick and longer haircuts look great on Korean and Japanese men.
However, if your hairs are thick enough, it can be styled across the ethnicities
5. Style long hair that suits the face shape
Hairstyle for Men with Long face: Consequently, the longer your hair, the more it will stretch your already longish face. So the recommendation generally is against it. Long hair doesn't gel well with a long face shape.
Heart-shaped: When paired with a long, side-swept fringe, heart-shaped faces work best. It is easy to frame and brings with it the much-needed balance. As long as the length of your hair exceeds your chin, you can mold it accordingly. 
Hairstyle for Men with Oval face: Oval faces are balanced, and can easily carry a large range of hairstyles. This is clearly the best face shape to cater to long hair. Oval faces, thus are good to go.
Hairstyle for Men with Round face : Straight hair on a round face can be a blessing. It elongates the face and brings equilibrium to a rounder face shape. Also, wavy long hair can provide more volume at the roots and can result in a similar face-lengthening effect.
Hairstyle for Men with Square face: Longer styles are good to go with a square face. You have to frame a few layers and soften your angular jawline. For balancing a square visage subtle layering around the face can work wonders.
6. Styling long hair in accordance to Age
Unfortunately, hairs tend to get thin out as we get older. Thus, long hairs can serve to expedite the aging process. However, in case your hair has retained the youthful lustre, you are free to embrace longer hairstyles.
The basic absolute rule is to explain to the barber that you are growing your hair long. Revisiting the same barber each time will help you achieve your ultimate hair goals. That way, they can overlook the process right from start to finish while still being mindful of your desired final look. Maintenance is easy following this approach.
Suggested read: Best Sunglasses Brands For Men
Blunt or Layered
Layering is a phenomenon used to thin out very thick, heavy hair, and blunting on the other hand serves to thicken wispy ends, creating a more voluminous look. So depending upon your hair type, you can choose accordingly.
Are long hairs in style for men?
Yes, they are. Longer hair on men has had a tremendous revival, after a decade or two of a lull. There are several modern long hairstyles for men that refuse to die down.
Summing up, long hair as a fad is in. With your respective hair type, you can mould them accordingly. Maintenance can be tough at times, but the confidence a well carried-out look brings is totally worth it.