There are certain things in the Fashion circuit that one can almost never go wrong with and that is the holy grail white t-shirt. Dress it up or dress it down, a good old trusty white t-shirt will always be there for you and that is exactly why one can find it in every wardrobe out there. However, with the recent craze of white and all white outfits for men, there are some who have not been able to wrap their heads around the whole fashion trend.
In case, you're one of the above mentioned, don't worry you are not alone. There are millions of people who struggle to come through the all white outfits for men trend and we have decided to decode the entire thing for them, on the basis of different occasions on which they can sport this combo.

Yes, you read it right, one can indeed experiment with all white party outfits for guys and wear them for different occasions which means it in fact, is more than just a combination of a white t-shirt, jeans, and sneakers. So, let's dive right into it and bifurcate the entire trend on different looks.
4 Different Looks With All White Outfits For Men
1. Casual Look
The casual look is probably one of the easiest looks to start experimenting with, in terms of sporting an all white outfit. All one need to do is just keep it simple and comfortable. And, in order to do so, invest in some good white jeans or sweatpants and white sneakers. Once you have white jeans on board, you can basically experiment with things that are already available in your wardrobe like a white t-shirt, white shirt and so much more.
2. Smart Casual Look – All White Outfits For Men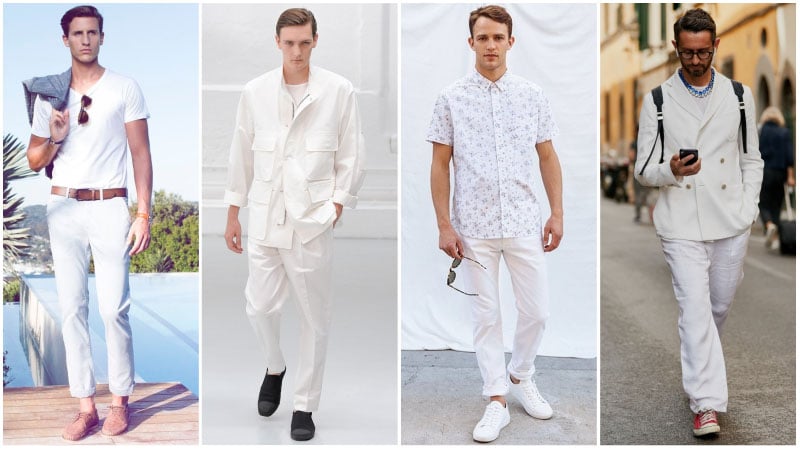 A casual look is good and comfortable but there are times when you need to look more presentable while being casual, and for times like those, smart casuals can save you big time. On top of it, an all white smart casual will leave a long term impression on almost anyone and everyone that you meet. In order to absolutely rock this combination, just pair white chinos with a short-sleeved button down. Add neutral accessories, preferable something tan, and shoes to the look and see the world around you changing, since everyone would be just looking at you.
3. Formal Look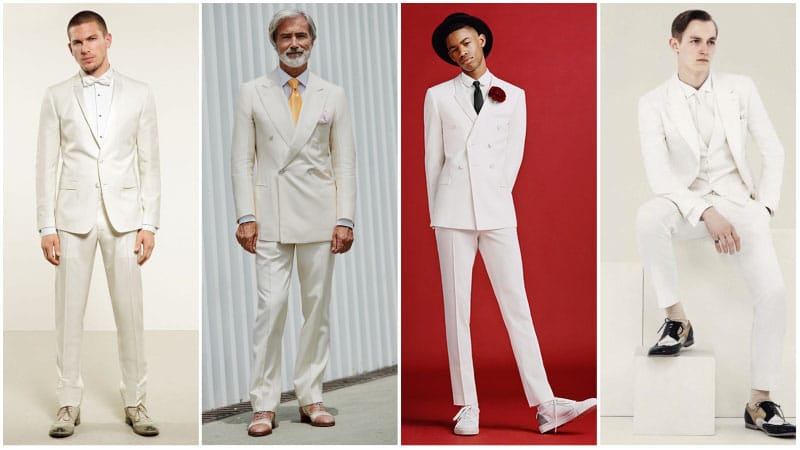 White outfits for men list will be incomplete without the formal look. Yes, it had been in existence for a long time and comes in and out of trend, every now and then, but it is also one of the most tricky looks for the all white game. While some absolutely kill it with their choices, there are some who have failed and failed miserably in trying to attempt something new and different. So, in order to do the right thing in this department just focus on the fit of your clothes, be it a suit or white formal pants and shirt. Right fit is the king in here and it can drastically affect the look of your outfit. However, you can play with your pocket-square or tie in this round, add a pop of colour or something to support the look and see the difference.
You may be interested in: Interesting Ways To Rock All Black Outfits For Men
4. Party Look – All White Outfits For Men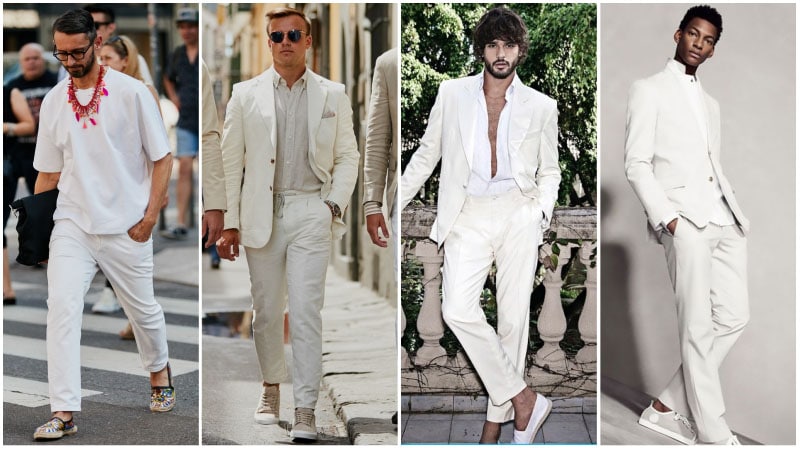 Yes, we know we know, all white party outfits for guys at a party are nothing short than inviting something bad to happen to your look right away but trust us, a look like this can help you stand out in the crowd and get the right kind of attention. Just decode what kind of party you're attending and whether or not you have to dress up for this or dress down. Once you're done with that information, go on and choose the best thing in white. For a casual party just pair white shorts with a button down and if you're attending a party with a dress-up situation then all you need is a white blazer with trousers which always makes for a stylish choice.
Must Have Whites
Now that we're done with unlimited options for different kinds of looks one can sport in all white outfits for male, let's get right down to certain staple pieces that one should have in white.
Ripped Jeans are a huge trend and White ripped jeans can definitely turn more than just a few heads to take a second look at you.
White cap is another thing that can completely change your look, you can sport a simple one or a white cap with something interesting written on it and you're done.
White sneakers have been in fashion for a long time now and the kind of popularity they still have among the consumers, we don't think it is falling off the trend any time soon.
Shorts are another staple item in white that everyone should have in their wardrobe. You can pair it up with so many things and it makes up for a perfect casual, or smart casual outfit.
Sporting a white blazer is not everyone's cup of tea but trust us, once you're at this game you would never want to look back because of how amazing it looks.
That is it for our advice on how to sport all white outfits for men and we hope you can now finally try your own hand on this trend and absolutely kill the game.
Jyotsna Amla