We use various kinds of oil in our day-to-day life. But some oils are used mainly for its benefits regarding the medicinal value and aesthetic benefits it provides. One such example of an uncommon oil is Rosehip Oil. The benefits of Rosehip oil are more pronounced on the skin, hair and joints. Rosehip oil is a very nourishing, nutrient laden and a natural oil.
Rosehip oil is obtained from the seed of rosehip, which comes from bright reddish-orange, spherical fruit of a rosebush. Although all roses can produce rosebush, few varieties like Rosa rugose and Rosa canina are far more superior in quality. It's considered to be one of the best oils for skin health.
The main components of the Rosehip oil includes the following nutrients:
Vitamin A, C, E and F
Oleic acid.
Linolenic acid.
Linoleic acid
Let's now learn the benefits of Rosehip Oil in General
Rosehip oil is rich in vitamins like Vit. C, Vit. A and Vit. F. It is rich in the essential fatty acids for example linolenic acid or Omega-6 and alpha-linolenic acid or Omega-3. It is also a good source of Lycopene which is an antioxidant. It is known to reduce inflammation especially in osteoarthritis. Osteoarthritis is an inflammatory condition of the joints and Rosehip oil helps in reducing the inflammation with the help of polyphenols and anthocyanins present in it.  It also acts as a potent diuretic. Used in the common cold in the form of herbal tea as it is rich in vitamins, has anti inflammatory properties.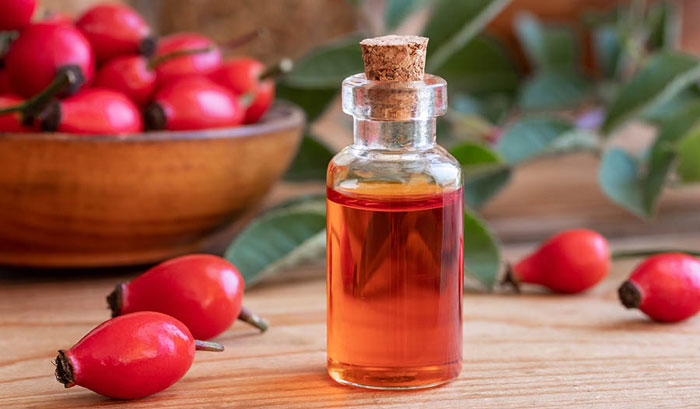 It is commonly used in wines, jams, jellies, soups, syrups, etc as a flavoring and coloring agent. Rosehip oil has been in use as a herbal tea over decades. It comes under the essential oil category in food preservation, flavor and safety as pp.667- 675.
Benefits of Rosehip Oil for the Skin
The most crucial and proven benefit of Rosehip oil is on the skin. So now we will learn what are the benefits of rosehip oil for the skin in detail:
1. Act as a potent moisturizer — it is an excellent moisturizer for daily purpose due to the presence of fatty acids. The high levels of linolenic acid and linoleic acid helps in softening the skin and improves the skin barrier functioning. It helps in treating pigmentation marks, acne marks. It blends in skin easily and has a non-greasy texture.
2. Act as an anti-aging agent — Rosehip oil is rich in vitamin C . This vitamin helps in collagen synthesis in our body thus helps skin to look young and wrinkle free. Rosehip oil also helps in healing of the skin because of vitamin C. An interesting fact about the Rosehip oil is that during World War II when Great Britain was not able to get citrus fruits, their government encouraged people and asked them to use it as a supplement of vitamin C.
3. Act as an anti-inflammatory for skin — Rosehip oil is rich in vitamin E and anthocyanin. These two ingredients together help mainly in calming down the inflammatory reaction in skin conditions like eczema, dermatitis, psoriasis, rosacea, etc. But it is always recommended to use the oil under the supervision of a dermatologist.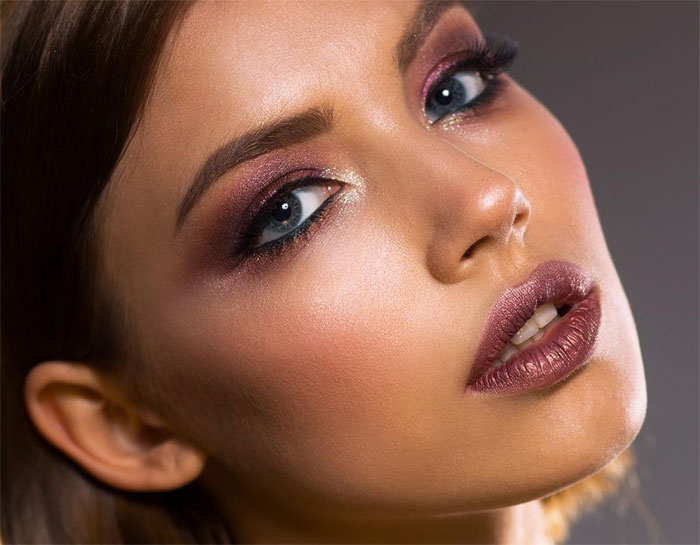 4. Helps in Skin regeneration — Rosehip oil contains high concentrations of vitamins A, B and E. These vitamins are responsible for the skin regeneration process. As skin is continuously exposed to wear and tear. So its regeneration is also important for us in healing our skin. Rosehip oil is an excellent exfoliator for all skin types. This quality of rosehip oil is due to the presence of retinol and vitamin A.
Also Read – Benefits of Jojoba Oil For Skin
5. Helps in treating Hyperpigmentation — Hyperpigmentation occurs when skin produces excessive Melanin. Excessive melanin secretion occurs when skin is exposed to sunlight for a longtime, during menopause or pregnancy or by certain medications like birth controlling pills, chemotherapy drugs, etc. Rosehip oil is a rich source of Vitamin A which is one of the main components in controlling hyperpigmentation with the help of a compound called Retinols. Along with that beta carotene and lycopene alo helps in reducing hyperpigmentation thus helping in skin brightening.
6. Rosehip oil also protects the skin against the effect of UV rays from the sun. Thus helping the skin to combat any sun damage the skin gets due to exposure to harsh sunlight for longer periods.
Now after knowing the benefits of rosehip oil in general and specifically for the skin. Now let's see the ways to use Rosehip oil. The Rosehip oil can be used directly on the skin as such or may be combined with other lotions, creams, serums, etc. The application of Rosehip oil should be topically (External application). It should be stored in a dark and cool place in a glass bottle.