Beauty Blender is one makeup accessory that was launched as something that makeup experts can use, but it has now become a staple for everyone and anyone doing makeup. Yes, even beginners. It has pretty much put the makeup brushes to rest and take the front seat in the business. Yet, many first time users struggle with its usage because of which we have decided to do a 'how to use beauty blender' article. But before explaining to you how to use it let's know more about beauty blender and why it has achieved the cult status that it enjoys so much.
What is a beauty blender?
Beauty blender is an egg-shaped sponge which is used to apply foundation, concealer or any other such thing. It is one of the most celebrated makeup accessory and that is because of how effortless it makes your makeup look. With no edges or anything, one does not get any lines while using it, and the different sized base and tip can offer broader or more concentrated application. It is mostly used while it's wet and because of its water retention capabilities, it won't absorb your liquid products and the water in the blender would also not dilute your makeup. Magic, isn't it?
Another great thing about using a beauty blender is how fun and almost effortless it can be. Makeup brushes can be hard to decode and understand, plus one needs a great deal of patience to actually get a hang of it, and because of all of these things, beauty blenders are now something that makeup beginners are more aligned towards.
Now that we're done with all things beauty blender and how they have achieved the status that they have, let's jump to the most important question – how to use beauty blender?
Using beauty blender in the most perfect way is not too complicated. The entire process can be divided into 5 simple and easy steps, so deep dive in and know everything about how to use a beauty blender.
Step 1: Wet Your Beauty Blender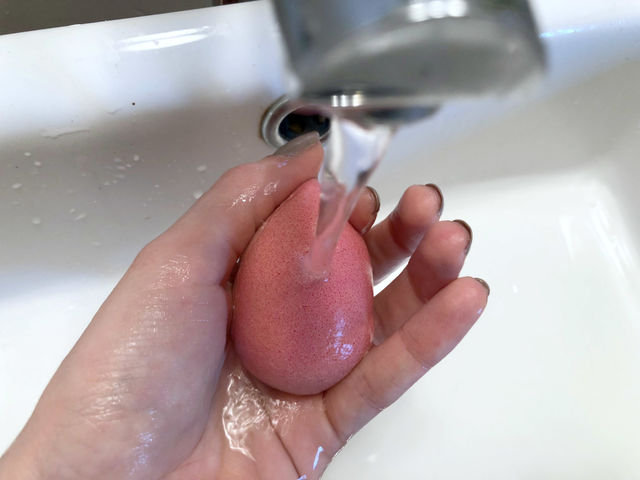 This is the most basic and probably the most fun step of the process. Before using your beauty blender make sure to wet it nicely. You need to simply hold your beauty blender under running water and squeeze it hard so that it can become saturated with water. You are done with this step as soon as the beauty blender becomes twice its size, that is when you need to stop and move on to the next and second step of this process.
Step 2: Squeeze Your Beauty Blender
Once you're done putting the blender under running water the next thing to do is to squeeze the hell out of it. While doing this, make sure the blender isn't holding to any more water. Also, use towels or paper towels in this process otherwise the water will just be on your hands and then back in the blender.
Step 3: Put Your Blender To Use
Now that you're done with step 1 and 2, the next thing to do in this – how to use beauty blender guide is to basically use the thing. But make sure that you're applying foundation by dabbing or stippling it on your face rather than wiping it or using the swiping motion, something that is usually done with makeup brushes. Use the broader end of the blender to dab foundation on more surface area and the other side of the blender (the pointer one) to blend makeup on the more concentrated parts of the face, like around eyes, neck and mouth.
Step 4: Clean Your Beauty Blender
Once you're done with your makeup, it's time to clean the blender and make it shiny as new, again. While some don't always clean the blender after just one use, do make sure to clean it when the beauty blender is visibly dirty with a lot of makeup gunk on it.
Also Read – With Pollution At An All-Time High, Check Out These Anti-Pollution Skin Care Tips
Many experts have said that one should clean their beauty blender after every use since it comes in direct contact with one's face and is used wet, which means it can harbor different bacteria within minutes. There are tons of ways to clean your beauty blender but probably the best and easiest way is by using some liquid soap and water.
Step 5: Dry Your Beauty Blender
The last step in this how to use beauty blender guide is drying your beauty blender and putting it to rest before the cycle begins again. In order to dry it quickly, while saving it from any possible bacteria and mold, keep it on top of a jar so that it can quickly air dry and do not, we repeat, do not shut it in some drawer or closed place. Do this and you're good to go with another round of beauty blender and flawless makeup.



These were 5 easy steps in how to use beauty blender guide. Do these things and turn into the king/queen of makeup application.
Jyotsna Amla