Skincare products have witnessed a revolution in the last few years with a plethora of options each serving a specific purpose. Face mist is one of them. This unique product has gained popularity since it helps in soothing and nourishing the skin, tightening the pores as well as setting the make-up. Here are the best face mists for women who have oily skin that help in controlling the oil production and balancing the texture.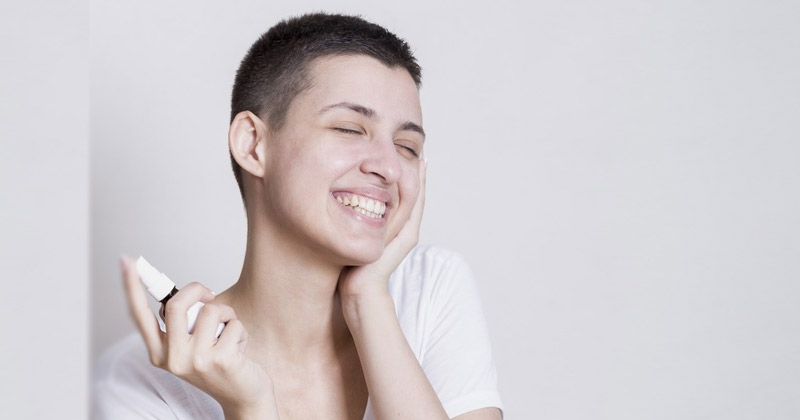 A face mist can freshen up your face instantly and comes handy after a long day at work or gym. Just spray it on and you are fresh as a flower. 
Before getting into some of the best face mist for oily skin in the Indian market, let's understand a little bit more about face mist in general, and what kind should be used for people with different skin types. Along with this, we'll also look into what are the benefits of using face mists and what do they offer to one's skin.
What Kind Of Face Mist Is Best For You, Based On Your Skin Type?
Much like any other piece of skincare or makeup, you should also go for a face mist that compliments your skin type and the benefit you're planning on getting from it. Here are different kinds of face mists and ingredients in them, best suited for different skin types:
Dry Skin
If you're someone with a dry skin type then you should go for face mists with hyaluronic acid and squalene in them. Both of these ingredients are known for producing intense hydration to your skin and make it appear plumper. More importantly, they also help in holding out hydration for a longer period.
Combination or Normal Skin
Since it's one of the easiest kinds of skin to maintain and take care of, you can use products with a variety of different ingredients and choose your best one, as per your liking. A well-balanced mist with essential oils rose water, and hyaluronic acid works well. You can especially go for something with tons of antioxidants in it, to offer more power to your skin.
Acne-Prone or Oily Skin
For people with this kind of skin type, always remember to go for something silicon and oil-free to prevent the build-up of oil. Aloe vera, green tea, and rosewater-based face mists are the best ones to go for. These particular kinds are best at reducing skin inflammation and offer a relaxing and soothing feel to your skin.
Sensitive Skin
For sensitive skin folks, choose something that is made with a very basic hydrating formula, and is gentle on your skin, without much experimentation with chemicals and unique ingredients. These assure a gentle and relaxing effect on the skin, without much at stake.
The best way of using face mist?
Skincare experts have stated that ideally a face mist should be used twice a day, however, you can use it as frequently as possible and as per your liking. Also, always remember to not go overboard with it and drench your face completely in the mist. You want to simply spritz it on the skin and not bathe your face with it, especially when you're using it to lock in makeup or using it as a refresher.
Face Mists are also very popular for being an excellent product in fighting against signs of aging, and if you're also using it for the same then do remember to look for mists with pearl extracts in it. Also take Vitamin C, E, pomegranate extracts, and grapeseed extracts into consideration.
Here's a list of face mists for oily skin that help in controlling the shine and leaves a refreshing matte look on the face:
1. EKAM Sea Breeze Facial Mist – Face Mists for Oily Skin
This amazing product which is made of lavender, peppermint oil, and rose water is best suited for oily skin. The peppermint oil cools the skin and prevents an acne breakout, the lavender hydrates the skin while rose water controls pH levels and excess oil secretion.
2. Chia Seed Hydro Mist by The Face Shop
This facial mist contains chia seed extract along with Vitamin B12 which helps in soothing the irritation caused by too much heat. Perfect for oily skin, it provides the necessary hydration minus the sticky residue.
3. M.A.C Prep + Prime Fix+ Matte – Face Mists for Oily Skin
This one is hands down a winner with its multipurpose functionality. It hydrates the skin, controls the oil secretion on the face, and provides a matte finish and provides a perfect base to make-up. You can even mix a small amount of this on eyeshadow brush and use it on the eyes.
4. Forest Essentials Facial Toner by Panchpushp
This facial mist/toner is made of fruit, floral & herbal extracts which tone and revive the skin. Rose, Marigold, Bela, Kewda, and Saffron are distilled in steam and their essential oils are extracted for this toner. This toner is used to retain moisture, soften and give a glow to the skin.
Suggested Read: 8 Tips to Flawless Makeup for Oily Skin That Everyone Needs to Know
5. Rose Petal Witch Hazel Facial Mist Toner by Thayers
These wonderful mists cleanse, tone and, moisturize while balancing the pH levels. It contains antioxidant and antibacterial properties in its pore-cleansing ingredients: rose water along with Aloe Vera.
6. Green Tea Revitalizing Face Mist by Plum
Perfect for oily skin, this face mist is infused with Green Tea, Aloe juice, Ginger root, Goji Berry, and Ginkgo Biloba extracts. It revitalizes the skin and rich in antioxidants, minerals and helps in fighting acne. It's paraben-free and phthalate-free.
7. Mint Mattifying Face Mist by The Body Shop – Face Mists for Oily Skin
As the name suggests, this refreshing mist provides a matte finish along with giving an oil-free look. It has an interesting mix of ingredients which includes mint from Nicaragua, seaweed extract from Ireland, and kaolin clay from the UK.
8. St. Botanica Hyaluronic Acid Hydra Boost Nutrient Face Mist
This product instantly refreshes tired and dull skin. The mist absorbs all the moisture and nutrients. The astringent effect present in this mist helps in tightening the pores and degreases facial skin. The watermelon added cools and rejuvenates the skin. This mist contains Vitamin C and nutrient-rich botanical extracts and is paraben-free.
9. WOW Skin Science Lavender & Rose Skin Mist Toner
This is an alcohol-free & paraben-free toner powered with pure rose and Lavender, Green Tea & Cucumber extract. It comes with a sweet, mild fragrance and helps to balance pH levels of your facial skin. It also claims to lighten the blemishes and reduce the visible signs of aging.
10. VAUNT Watermelon & Seaweed Face Mist – Face Mists for Oily Skin
This face mist comes with a unique combination of watermelon and seaweed extract and is very light on the skin. It protects your skin from pollution and stress and keeps it supple and hydrated. The watermelon extract provides Vitamins A & C and the Kashmiri lavender oil keeps the sensitive skin safe.
Suggested Read: Top 10 Best Vegan Lipstick Brands in India
So go on ladies! Freshen up your face with these face mists for oily skin and glam up the party or dinner-date.
Happy Shopping!