Drying hair took a huge turn towards modernity and fashion when French stylist Alexander Godefroy invented the Hairdryer in 1890. Even though it was not handheld, it immediately caught the attention of the many businessmen and fashion icons. After about 100 years of the introduction of the first hairdryer, the basic principle has not entirely changed. On the positive side, a hairdryer helps in drying and styling hair quickly, yet, there are some negatives to it like damaging hair through intense heat. The companies across the globe try to introduce new technologies that have various functions like hot and cold air, ion technology, temperature control. Follow these sure shot tips on how to blow dry hair properly and prevent damaging and thinning of hair.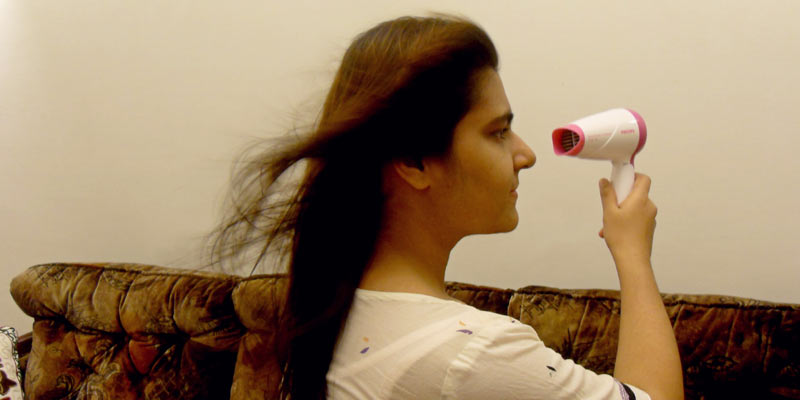 However, modern functions such as ion technology or heat regulation do not mean that our hair is automatically protected against heat damage when blow-drying. Despite modern technology, proper blow-drying is extremely important, because wet hair is extremely sensitive and delicate. In the heat, the water in our hair evaporates and is then literally dried out by blow-drying.
Here are some tips to blow dry that you should always take to heart from now on.
1. Never Blow Dry Under the Heat With Soaking Wet Hair – How to Blow Dry Hair Properly
The absolute horror for hair is blow drying your soaking wet hair with a hairdryer. The more water there is in the hair, the more heat is generated. Hence, tie a towel around your head to pre-dry your hair. For example, you can put on your make-up while your hair is drying naturally.
2. Blow-dry Only With Heat Protection
Heat without heat protection is an absolute no-go. Spray a little heat protection spray or apply hair serum into your towel-dried hair and then blow-dry your hair gently.
3. Don't Blow Dry With too Hot Air
If the scalp gets hot, you know that the temperature is too high. It will take longer but it is better to dry your hair with warm air.
4. Maintain the Distance Between Hair and Dryer – How to Blow Dry Hair Properly
You should make sure to keep the hairdryer at least 20 centimetres away from your hair even if you only blow-dry your hair with warm air.
5. Keep Moving the Dryer 
Always keep your hairdryer moving so that the heat doesn't affect one area for too long. You can divide your hair into sections before blow-drying and fix them with a hair clip, so you can work your hair from the bottom towards the top and prevent the hot air from hitting the same spot.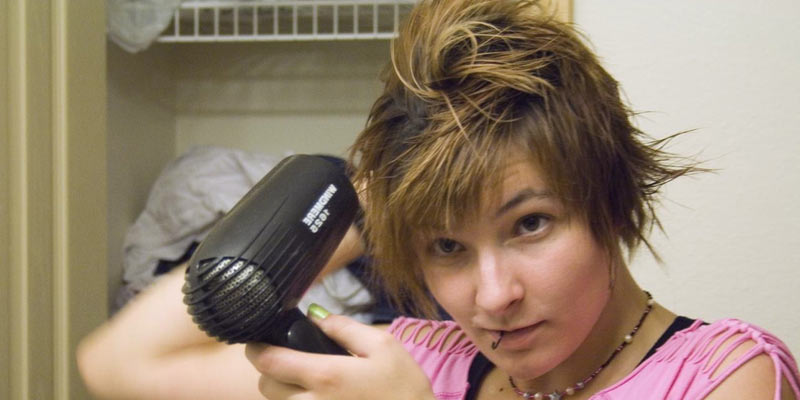 6. Finally, Let the Hair Cool
Choose the cold air option at the end of hair drying if your hair is dry. The cold air cools down the hot hair and rescues them from further damage which results in shiny hair.
Follow these tips on how to blow dry hair properly and save your hair from thinning and breakage. These tips will help you get that lusturous shine back without damaging them.
Suggested Read: 7 Simple Ways to Gain Natural Hair Growth
Here is a list of the most gentle hair dryers to maintain and protect your hair from damage.
1. Remington PROLuxe
The PROLuxe from Remington is one of the inexpensive hair dryers. The users especially praise the good price-performance ratio. The PROluxe ion hair dryer comes with three different attachments, a diffuser for curls and two styling attachments.
Remington hairdryer is relatively light despite its size so that the arm does not become tired when blow-drying overhead. You can choose between cold air which is particularly gentle on the hair and a turbo mode, with which the hair dries super quickly.
2. Remington AC9096 Silk Ion Hair Dryer
The Remington Silk Ion hair dryer is one of the bestsellers on Amazon. This is a very economical model that has over 5,000 reviews with an average of 4.5 out of 5 stars. The red hair dryer comes with two attachments, a diffuser for natural curls, and a styling attachment for everyone who wants to blow-dry their hair straight or with round brushes.
Just like the PROluxe model, the Silk hair dryer has a cold and a turbo setting and three settings for power and temperature. In terms of weight, the Silk hair dryer from Remington is one of the heavier models. If you blow-dry your hair long and overhead, you may feel tired. The power of the hairdryer, on the other hand, is very good at 2400 watts and even thick hair dries quickly.
3. Dyson Supersonic Hairdryer
Is it possible to Quickly dry hair without harming them? With Dyson Supersonic Hair Dryer, it seems possible. Instead of using a lot of heat, its strong airflow should dry your hair particularly quickly, especially those who have thick hair save a lot of time in the bathroom in the morning. It also has an interesting shape.
After blow-drying, the hair feels supple and not dry. The Dyson hairdryer is extremely expensive. Sure, it blow-dries the hair quickly, lies comfortably in the hand and is easy and above all safe to use. But the price tag is quite exaggerated.
4. Braun Satin Hair 7 SensoDryer
The Braun ion hair dryer works with evenly distributed infrared heat to dry out the hair. Its motor has an output of 2,000 watts and ensures constant airflow. The automatic temperature control via ten LEDs for advanced heat distribution and optimal colour protection is particularly practical with this hairdryer. This way the hair is gently dried. Ion technology makes hair soft, smooth, and gives it shine.
While drying, the Braun Satin Hair 7 also improves the moisture content of the hair. The longevity of this hairdryer is demonstrated by the fact that the filter can be replaced. This hair dryer has a styling nozzle and a diffuser to get your hair in perfect shape.
5. Philips HP8232/00 Professional Thermo Protect Ionic Hair Dryer
The stylish hair dryer from Philips instantly becomes an eye-catcher, thanks to its elegant white colour. It comes with a diffuser and a centring nozzle that simplify styling. The 2,300-watt motor makes the hairdryer very powerful. Also, the Philips hair dryer has two fans and four temperature levels, which can be set independently. There is also an extra fan speed for cold air.
The MoistureProtect technology of the model from Philips protects the hair from drying out: infrared heat dries the hair from the inside, at the same time the heat sensor checks the hair temperature when blow-drying and automatically reduces the heat if the hair gets too dry.
Suggested Read: 10 Reasons Why Your Hair Is Always Oily and Greasy
The ThermoProtect function also optimizes the drying temperature and thus prevents the device from overheating. To prevent heat damage, automatic temperature control can also be activated. This hair dryer offers the best protection for your hair.