Holi is soon going to be upon us and if you like playing Holi and have never missed a chance to indulge in it. Then you probably know about all the prevention, precaution and care routine before going out to play the festival of colours.
This routine should be rote learned by anyone and everyone who has decided to play Holi this year, in order to protect their hair, eyes or skin from harsh chemicals. Because no matter how alert you are, there are times when life or maybe hyperactive people can result in something dangerous.
We decided to gather some points that would help you in having a safe and sound Holi. It includes Pre-party and post-party tips.
Pre-Party
1. Soak yourself in Coconut Oil and Sunscreen.
If you want to save yourself from the rigorous aftermath of Holi and Holi colours, then just soak yourself in the good old coconut oil and sunscreen. Both of these items can effortlessly remove the colour from your body. Don't forget to apply coconut oil on your hair from the root to the tip of it and braid it, so that less hair is exposed to the colours.
2. Vaseline Petroleum Jelly and Nail Paint.
In order to not come across the pitfall of intensively coloured nails, please do yourself a favor and cede your long nails, in short get them trimmed. After that, paint them with a dark coloured nail varnish and finally cover the cuticles and back of the nails with vaseline.
3. No Skin Care or Beauty Treatments
Always remember to not go for any kind of skin care or beauty treatment, a week prior to or after Holi. Your skin is going to go through a major change and you simply won't want it to completely come under the shade of it.
4. Cover Yourself
No matter how much of an aunty I would sound after writing this, but you need to cover yourself. The more clothing items you wear, the less chances you have of getting stubborn colour on your body. Also, don't and I repeat don't wear jeans as after getting wet, they get too bulky to handle.
5. Ditch the Lenses.
The Holi Day is bound to make you go through some stuff that is highly regrettable which is why you need to take precaution right even before you step out. If you're a die-hard user of lenses then remember to ditch them today for glasses. And yes, don't even think of going out without any of them because you don't want yourself to hit and get hit by anything that comes in your way.
After Party
1. Once the whole tiring episode of Holi has ended, remember to get yourself in the bathroom as soon as possible. Because once the colour sets on your body, it becomes really difficult to remove it completely.
2. Even after tons of precautions, you're stuck with some heavy-duty colours on your hair then use this simple method. After shampooing your hair, apply curd on it and then rinse and condition it. This process always works.
3. Don't go on to use harsh chemicals like kerosene or acetone for getting rid of that colour. Try coconut oil or baby oil to rinse clean the colour.
4. Always remember to wash yourself with cold or lukewarm water. Hot water tends to irritate your skin even more, which no one wants. Plus, hot water would further make the colour skin on your skin.
5. Don't use scrubs or normal soaps for bathing. Go for mild soap which does not have any chemicals, hence they would not further irritate the already irritated skin.
6. Try to stay away from your skin till your skin has some time to recover from it.
7. If you're still stuck with some colour around your nails, then please don't use nail paint remover for it. The chemical is said to dissolve the protective layer of the skin.
8. After you're done with your bathing, massage your skin with a good moisturiser, so that the skin in brought back to life after some elongated bathing routine.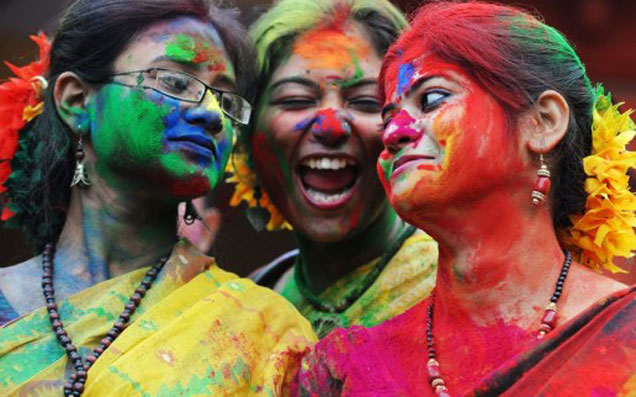 All these tips and tricks are great for people who want to have an amazing Holi without getting and having the visual proof of all the colours that they have played with. Apart from these, always remember that there's no such thing as "bura na maano Holi hai" because consent is the root of all the fun. Don't attack anyone's personal space and don't let even the other person do it.
Plus, the whole festival is about celebrating life with the presence of some beautiful colours and it should be played like that only.
7th March 2017
Jyotsna Amla