Rakhi or Rakshabandhan is one of the most important Hindu festivals after Diwali and Holi. This year it will be celebrated on the 3rd of August which is a Monday. It is celebrated each year on the full moon day or Purnima of the Hindu month of Shravan(Saawan).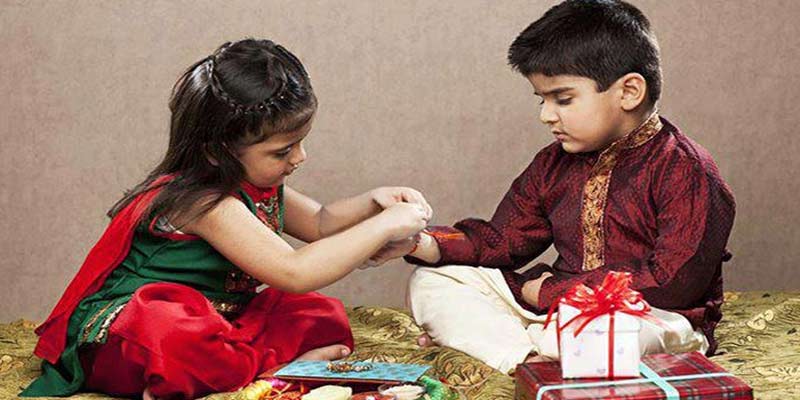 Did You Know? – Raksha Bandhan Stories
King Alexander's wife Roxana tied Rakhi on Porus' wrist to ensure her husband's safety in battle.
Rabindranath Tagore started the Rakhi Mahotsavas to strengthen the bond between Hindus and Muslims of Bengal after the partition in 1905.
Goddess Laxmi tied Rakhi to Lord Bali to ask for her husband back as a gift. Her husband Vishnu was serving to protect Lord Bali at that time in the guise of his doorman.
Shubh and Labh, sons of Lord Ganesha demanded a sister after seeing their father celebrating Rakhi with his own sister. Ganesha obliged by creating Santoshi Ma out of the fire.
Maharani Jindan was saved when her empire fell to the British in 1849 as she found refuge under Jung Bahadur of Nepal who was her Rakhi brother.
Suggested Read: Did You Know First Rakhi Was Tied By a Wife to Her Husband? Here is Full Story of Raksha Bandhan
So, we see that the festival of Rakshabandhan is all about safety and fulfilling promises.
With only a fortnight left to the day, most of us are frazzled with the Corona Virus pandemic and have a lot of anxiety about how is it going to be this year.
Everybody knows that Rakhi involves a lot of travelling, abundant physical display of affection (read hugs and kisses) and unrestricted hand to mouth contact in the form of feeding sweets, which pretty much is the picture of a nightmare in the current situation. This is exactly when we should be looking for options to celebrate this festival of love and promises by adopting novel methods to stay physically away from our loved ones yet emotionally connected like never before.
If you care for your loved ones try celebrating social distancing Rakhi in one of these ways this year –
If there is a newborn in the family who is going to be a first-time brother or sister, it will be a good idea to get a Rakshabandhan thread and sweets and/or tilak delivered in advance and have a family member do the actual ceremony over a video call. This way the young ones will feel the presence of the whole family and also witness the ritual, all while keeping a safe distance.
For grown-up siblings, this will be a golden opportunity to ask for something extravagant to make up for the absence or bribe the sister with a lavish gift so that she doesn't mind your being away.
There must be many siblings and cousins who would have already been away at times on the day of Rakhi owing to school or college curriculum or job routines. They must make an effort to stay away this year too and not make too much of a fuss about it.
If you want to get a bit more experimental then you can organize virtual lunch or dinner parties as well. The idea is to get all dressed up and spread out a festive meal while on a group video call. This may not be as good as the real deal but can be a close second.
Raksha Bandhan has been a traditional opportunity for brothers to visit their married sisters. This year should be an exception which would be the gift of security itself as by not visiting you would avoid that much likely spread of the Corona Virus.
We know it is very difficult to explain things to toddlers or kids. To cancel their special trip to a cousin's place or to meet a favourite uncle or aunt will definitely involve a lot of explanation. You can try to humor them by asking them to make special 'rakhi' by themselves. This exercise may work for both sisters and brothers who want a special type of Rakhi to be tied.
Create Instagram posts on the run-up to the day of Rakshabandhan with it being the finale. It could be anything from Rakhi pictures in color coded dresses or in a specific pose or wearing a common accessory such as a hat, jacket or sunglasses. The aim is to do it together with your brother/s and/or sister/s. That way there will be a uniform code but personal touches to your 'Quarantine Rakhi'. These pictures will be fun to look at down the years.
The main aim of indulging in these indoor activities is to keep away from the potential spread of the Corona Virus. We have to stick to the principle of 'going out only when necessary'. Rakhi is important but venturing out is not compulsory. Adults in the family will have to take the initiative so that the younger ones follow their example.
India is barely managing to cope with pandemic and any surge in the number of new cases will greatly burden the medical facilities and not everyone will be lucky enough to find the required help in time.
Suggested Read: Best Raksha Bandhan Quotes for Brother and Sister!
Rakshabandhan is an annual festival and will arrive again next year. The festival is all about a promise to protect and nothing says it better than showing that you actually care. It is an annual reminder of your duties towards your sister. As long as you know and follow them, it doesn't matter if she physically ties the sacred thread on to your wrist or not.
#CORONARakhi #QuarantineRakshabandhan #SocialDistancingRakhi