At a time where not just India but the rest of the world would so have liked to enjoy some breather from what's been a terrible – actually nightmarish 2020- it doesn't seem as if the new year has begun with any great news.
Wondering what happened and who did what to whom?
Well, what else but the virus?
Where it stands as on January 5, 2021, then it appears that India has experienced no fewer than 38 strains of what is being described as "highly infectious" UK COVID 19 strains.
So what happens now and where will all of this lead us to?
What's deplorable and utterly strange is that believe it or not, there appears to be a sudden development on the COVID-19 health strain in that a new form of variant has been discovered.
And it's one that perhaps needs greater attention than most would think it does.
So what exactly are we talking about here?
News coverage from the venerable Press Trust of India says-
"The new variant of coronavirus disease – B.1.1.7 – has been dubbed as highly infectious by scientists and medical experts as the UK government has confirmed that the infection rates have increased faster than expected in the affected areas."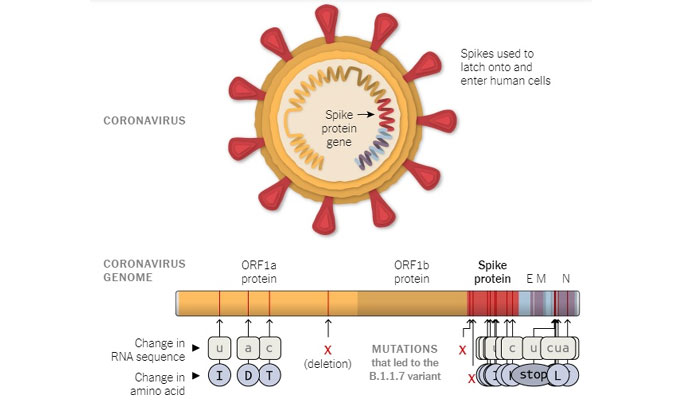 In lighter vein, someone who's perhaps had a bit too much of the deadly virus to deal with in 2020 'might' even be compelled to state the following:
Whilst it's no easy to handle a particular kind of ailment or deadly infectious flu, here comes a variant!
But hey, what's one got to do apart from exercising perhaps some level of precaution if not more, ha?
That being said, it was only a few hours ago where there emerged from the heartland of India's cultural epicentre in Rajasthan a scary piece of news confirming- around 170 birds were slated dead all on account of what turned out to be exposure to cold wave.
Also Read: Has 2021 Already Started With A New Virus Or Something Is Being Blown Out Of Proportion In The 170 Plus Bird Deaths In Rajasthan?
Just when one would've thought that now what happened, why many birds are dying all of a sudden, thank god, one would say, that it wasn't due to some ridiculous or scary new outbreak.
But hey, escape from that doesn't indicate relief from all kinds of stresses- isn't it?
So what does one do about this COVID-19 stress?
Here's what the Hindustan Times had to say:
A total of 38 people have tested positive for the new UK variant of SARS-CoV-2 in India so far, the Union Health Ministry said on Monday.
These include the 29 cases which were announced till Friday.
All these people have been kept in single room isolation in designated healthcare facilities by respective state governments and their close contacts have also been put under quarantine, the ministry said.
Also Read: What Is Covaxin, And Is It Reliable?
Of the 38, the mutated UK strain was detected in eight samples at National Centre for Disease Control (NCDC), New Delhi, 11 in the Institute of Genomics and Integrative Biology (IGIB), Delhi, one in the National Institute of Biomedical Genomics (NIBMG), Kalyani (near Kolkata), five in the National Institute of Virology in Pune, three in Centre for Cellular and Molecular Biology (CCMB) in Hyderabad and 10 were sequenced at the National Institute of Mental Health and Neuro Sciences Hospital (NIMHANS), Bengaluru.