Ever heard about the issue of water scarcity in New Delhi? Well, you may have. If not, then probably not wrong to say that you've been living under a rock.
Truth is, the matter of water scarcity in New Delhi is going to reach an all-time high- according to debates that already have begun on informed media- in the coming few days.
The reason isn't anything startling but just the fact that we are approaching the festive season. While Diwali, the epitome of happiness and grandeur is about to greet us, there are also other festivities like Dhanteras and Choti Diwali.
The matter of water scarcity in New Delhi, therefore, is once again, going to make important news.
So how critical is the situation, after all, provided it's come to that? So apparently, the Delhi Jal Board, the leading authority on all matters concerning Water provision, harvesting, distribution, supply, among other key functions, has pointed to what might be called some concern.
So what happened?
According to the Delhi Jal Board, there might be water scarcity in New Delhi in the soon-to-begin festive season. Not the best timing, you'd say, to borrow from the IPL lingo- right?
But at the heart of the growing concern, since it's too early to say this is a crisis, is a canal. Delhi-ites must know and may, in fact, be aware that over a quarter of Delhi's water supply comes from the Upper Ganga Canal. But should the reduction in water supply- the problem the city has been facing- persists in these next few days then, there could be serious troubles.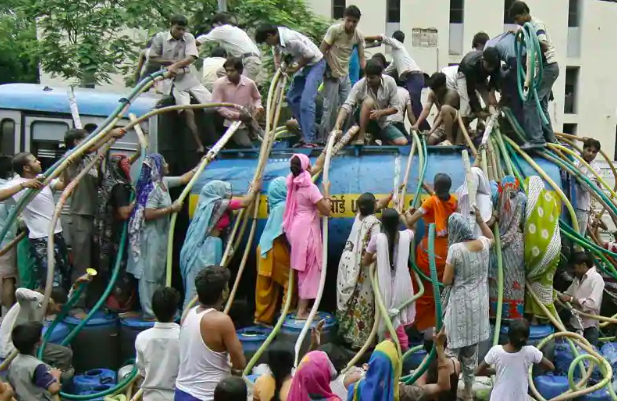 But how exactly is that? And is that the only problem?
Apparently, the above isn't the only real concern that the national capital faces.
To exacerbate the woes of the city, there's already been low supply of water from the Yamuna.
The twin problems, on their own, are enough to sink Delhi into a cesspool of issues it would never like to face. Obviously.
But what might happen ahead? How can one expect the issue of water scarcity in New Delhi to subside?
Instead of 265MGD (million gallon per day), the canal is supplying only 100MGD (Million Gallon Per day). The lack of the water supply, thereof, is down to the fact that, at present, there's some maintenance work going on.
But honestly, even that does not explain the entirety of the issue. It is also known that one may not receive any water in the next three to four days at all.
This was revealed by an official with the revered DJB. Now this problem could have been averted had one been able to draw water from Delhi's only river- Yamuna, which isn't really possible for there already persists the problem of low water level in the river.
But do you know what? A frank truth stems from all of this. What about those countless number of times where we were all told about not to pollute our water resources and to use it wisely? Just how serious were all of us? In fact, was there any serious thought given to it? What happens now, should our worst fears be realized?
Also Read: Hospitality Industry In Mumbai Taking Time To Get Back To Normal
Too many questions, too little accountability.