As the daunting albeit challenging Imola, a track most remembered for claiming the sport's most mercurial and unforgettable talents in Senna returns, we wonder as to what might become of Sunday's race.
Who'll seem daunting, who'll command fiery headlines and which moments shall end up being famous track's most important moments?
Let's find out in RapidLeaks' top predictions for the returning Grand Prix race at Imola:
Bottas finally stuns, after missing out at Nurburgring, Portimao
Valtteri Bottas, who thus far has been able to convert only 2 wins from 3 pole positions (before a 4th pole came at Imola) shall finally convert the great free practice and qualifying pace into a solid race win.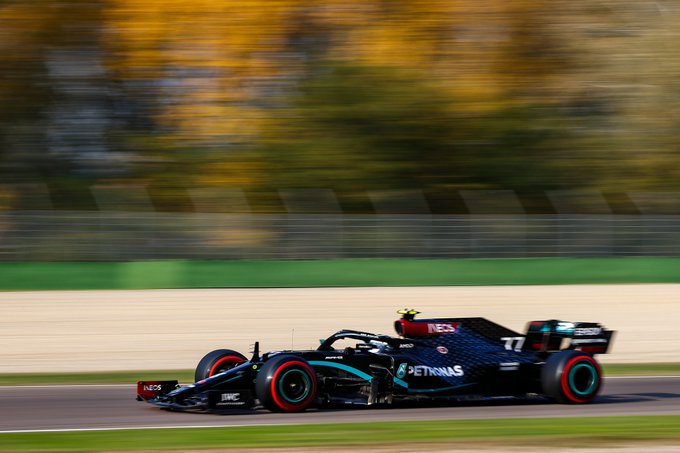 In so doing, the famous Mercedes driver shall score a remarkable (hopefully) third race win having won at Spielberg and Sochi before.
Honestly, luck hasn't necessarily been Valtteri's good friend, the unexpected tire issue during the closing stages of the 70th ANNIVERSARY GP spoiling the Finn's "near certain" bid for victory. 
But come Imola and Bottas shall help himself to a win many might even dub surprising since he's often lost the key moments to the ultimate negotiator on the track given bid might and race craft- Lewis Hamilton (who breached part his Mercedes teammate's defences at the Eifel GP).
Antonio melts the Ice this weekend
In the next few hours, Antonio Giovinazzi, who finished behind experienced teammate Kimi Raikkonen last weekend at Portimao shall, turn the tables and end with a good run in his maiden Imola drive.
Last weekend, it was Kimi in his P11, who bettered the Italian driver but at the returning tracks, it would be Antonio Giovinazzi who'll dart ahead in his native Italy.
Call it the motivational pull from the contract extension for a year (which sees him stay for 2021) or what you may, but one reckons it's about time that Antonio will realise the chances he's been missing out on.
Lest it is forgotten that it were he who guided his Alfa Romeo to their first points this season, that too at the season-opener at Austria (where he gathered a P9)
Red Bull Try To Unleash The Bull Run, But Merc Do The Needful
Mercedes, despite Red Bull's best attempts shall surpass tough competition to end with a 1-2, something one's become habitual seeing from the most talked-about team in the sport.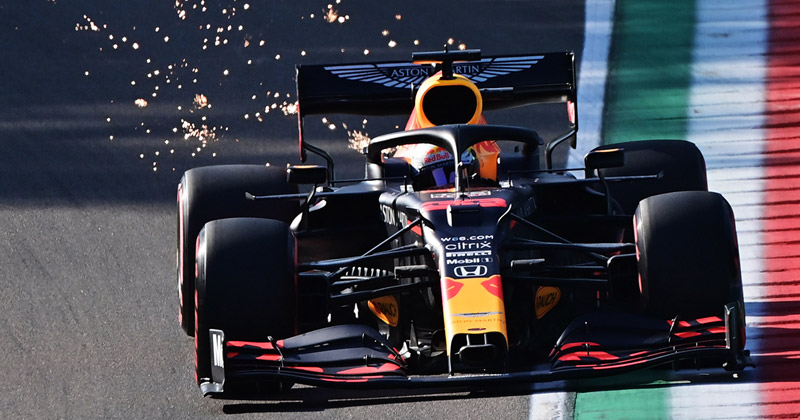 But this doesn't mean that Imola shall not unfurl a close, high-speed dogfight between the two imposing Black Arrows cars and the Red Bull!
As a matter of fact, on Sunday, Alexander Albon shall all but best the daunting Max Verstappen too.
Norris Gets The Measure Of In-Form Sainz
Where the the last two race results stand, then it's Carlos Sainz Jr. who finished ahead of younger McLaren teammate Lando Norris. 
The Spaniard, whose best moment thus far in 2020 is the incredible Monza podium, has been really good, of late.
His P5 at the Nurburgring followed by a strong Sixth at Algarve- both tracks returning to F1 after a considerable gap- helped further the case for arguably one of the more underrated drivers on the grid.
Though Lando Norris's form, who didn't exactly enjoy great results in the last two races- finishing with a DNF at the Eifel GP, followed by a P13 at Portimao- has been anything but sparkling.
At Imola- the young British driver will hit back at Spain and make a case for himself as the golden boy of McLaren who, it seems, can't wait to take up the 2021 challenge.
So can we see both McLarens finish inside the points? This is precisely what happened at the said circuit the last time FORMULA1 raced at Imola with Kimi and Montoya recording strong finishes in the 2006 San Marino Grand Prix.
Imola Produces Enough To Subdue Dark Clouds From An Emotional Past
14 years after having last hosted a Grand Prix, Imola, a track derided like no other in F1 shall unfurl an action packed race albeit one minus any serious accidents. 
There'll, of course, be the added challenge of managing tyres well, something the sport's current heroes can do much well than most would know, the contest shall definitely pressurise the drivers given the stakes involved.
Hamilton would do all he can in his bid to get the better of Bottas, akin to his attacking manoeuvres at Nurburgring and previously, Tuscany that paid off well. 
But there'll be onerous pressure on the calm Finn too, in order to defend from the man who's stepping even closer to history, having just been denied what might've been a 98th career pole.
Moreover, Imola shall also find a way to get us some wheel to wheel action, one which shall hopefully see Max, beginning in third, defending aggressively against Monza's hero Gasly, in fourth. 
While there'll be nerves, it'll be fine in the end as one would get to enjoy a contest devoid of serious altercations between machines – well let's hope!