Young French driver Pierre Gasly, 59 Grands Prix starts, 2 podiums, one of which transpired into a heart-stopping, emotional win- shall continue to race for Alpha Tauri in 2021.
In the 12 races held so far, Gasly has finished inside the top-ten on no fewer than 8 occasions (2 DNFs) which is a huge leap in performance especially at the back of facing a lot of heat in FORMULA 1.
To his dismay, he may still find some who'd reckon what's he even doing in F1 when other younger guys are coming through (and this isn't Kimi Raikkonen we are talking about) especially at a time where the likes of Lando Norris, George Russell, Lance Stroll, and Alexander Albon are getting better by the day.
But Gasly's retention at the currently Honda-powered Alpha Tauri is special news is for plenty of reasons, some of which we try to decode in this ode to the man who's been a figure of persistence amid ceaseless pressure.
Pierre Gasly, much like any driver competing at the highest annals of Grand Prix racing, has one big goal: to win a world title.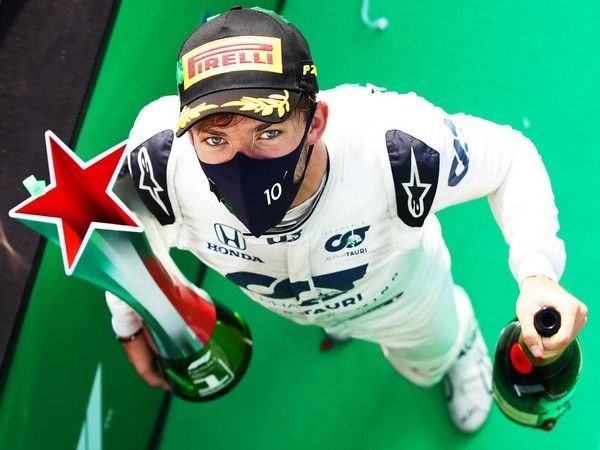 Not that at 26, he's been there and done the quintessential; sprayed the champagne from the most coveted of steps on the podium with the world staring in awe at his easygoing smile.
But in a sport known to tax one's body and rigorously, Pierre Gasly's journey- 3 years since making his debut at the 2017 Malaysian GP- has hardly ever been smooth.
But who's fault is it anyway?
In the pursuit of chasing an enthralling dream- where he's achieved feats like Monza 2020 (a very gutsy drive particularly in the second half of the race) Gasly's endured battles even in personal life whilst driving on the edge, but soldiered on.
Can you hold your shit together after being demoted not even from a year of your promotion from the first really big drive of your FORMULA 1 journey?
This is when you do end up beating Max Verstappen in the same car and that too at the historic Silverstone (home to the British GP), among the challenging high downforce set-ups on the calendar?
Can you then keep yourself composed after losing your best friend and that too in the very season where you professionally suffered a blow? Who can ever forget Anthoine Hubert, Spa 2019?
Yet, Gasly, who so far, is the only non-Mercedes race-winner in 2020 besides none other than his ex-teammate Max Verstappen- kept up the fight, contesting as you may imagine despite enormous emotional blows.
A few weeks before he found his vindication – winning at Monza, arguably the fastest track on the calendar besides Spa-Francorchamps- Pierre Gasly found his Normandy house burgled, robbed in addition to precious watches and jewellery, racing helmets.
That it is Pierre-69 points in comparison to Kvyat's 14- who's leading Alpha Tauri's fight in a midfield featuring Ricciardo, Leclerc, Perez, Norris, and Sainz- only explains well that where he could've chosen to pack up and leave, here he is – blossoming like a lotus amid contaminated waters.
One reckons, as a result of the countless challenges the talented speedster has had to endure, not necessarily always on the grid, that Gasly may occasionally seem uncomfortable in taking the wild leaps and nasty lunges as some of the other privileged ones (toy with) on the grid.
That he shall continue to build a case for the Alpha Tauri- a team with which he claimed his maiden win, the first of many one hopes-brings a sense of gladness to those who believe in him and his kinds: a DNA that knows nothing about giving up.
At 26, having been in the pinnacle of motor racing for no fewer than 3 full years, but not before proving his detractors wrong, Gasly is here.
He is holding the fight, flexing his racing muscle and proving why one must keep contending despite facing an enormity of challenges.
| | | | | | |
| --- | --- | --- | --- | --- | --- |
| | Year | Race | Team | Position | Points |
| 59 | 2020 | 2020 Portuguese Grand Prix | AlphaTauri | 5 | 10 |
| 58 | 2020 | 2020 Eifel Grand Prix | AlphaTauri | 6 | 8 |
| 57 | 2020 | 2020 Russian Grand Prix | AlphaTauri | 9 | 2 |
| 56 | 2020 | 2020 Tuscan Grand Prix | AlphaTauri | DNF | 0 |
| 55 | 2020 | 2020 Italian Grand Prix | AlphaTauri | 1 | 25 |
| 54 | 2020 | 2020 Belgian Grand Prix | AlphaTauri | 8 | 4 |
| 53 | 2020 | 2020 Spanish Grand Prix | AlphaTauri | 9 | 2 |
| 52 | 2020 | 2020 70th Anniversary GP | AlphaTauri | 11 | 0 |
| 51 | 2020 | 2020 British Grand Prix | AlphaTauri | 7 | 6 |
| 50 | 2020 | 2020 Hungarian Grand Prix | AlphaTauri | DNF | 0 |
| 49 | 2020 | 2020 Styrian Grand Prix | AlphaTauri | 15 | 0 |
| 48 | 2020 | 2020 Austrian Grand Prix | AlphaTauri | 7 | 6 |
| 47 | 2019 | 2019 Abu Dhabi Grand Prix | Toro Rosso | 18 | 0 |
| 46 | 2019 | 2019 Brazilian Grand Prix | Toro Rosso | 2 | 18 |
| 45 | 2019 | 2019 USA Grand Prix | Toro Rosso | 16 | 0 |
| 44 | 2019 | 2019 Mexican Grand Prix | Toro Rosso | 9 | 2 |
| 43 | 2019 | 2019 Japanese Grand Prix | Toro Rosso | 7 | 6 |
| 42 | 2019 | 2019 Russian Grand Prix | Toro Rosso | 14 | 0 |
| 41 | 2019 | 2019 Singapore Grand Prix | Toro Rosso | 8 | 4 |
| 40 | 2019 | 2019 Italian Grand Prix | Toro Rosso | 11 | 0 |
| 39 | 2019 | 2019 Belgian Grand Prix | Toro Rosso | 9 | 2 |
| 38 | 2019 | 2019 Hungarian Grand Prix | Red Bull | 6 | 8 |
| 37 | 2019 | 2019 German Grand Prix | Red Bull | 14 | 0 |
| 36 | 2019 | 2019 British Grand Prix | Red Bull | 4 | 12 |
| 35 | 2019 | 2019 Austrian Grand Prix | Red Bull | 7 | 6 |
| 34 | 2019 | 2019 French Grand Prix | Red Bull | 10 | 1 |
| 33 | 2019 | 2019 Canadian Grand Prix | Red Bull | 8 | 4 |
| 32 | 2019 | 2019 Monaco Grand Prix | Red Bull | 5 | 11 |
| 31 | 2019 | 2019 Spanish Grand Prix | Red Bull | 6 | 8 |
| 30 | 2019 | 2019 Azerbijan Grand Prix | Red Bull | DNF | 0 |
| 29 | 2019 | 2019 Chinese Grand Prix | Red Bull | 6 | 9 |
| 28 | 2019 | 2019 Bahrain Grand Prix | Red Bull | 8 | 4 |
| 27 | 2019 | 2019 Australian Grand Prix | Red Bull | 11 | 0 |
| 26 | 2018 | 2018 Abu Dhabi Grand Prix | Toro Rosso | DNF | 0 |
| 25 | 2018 | 2018 Brazilian Grand Prix | Toro Rosso | 13 | 0 |
| 24 | 2018 | 2018 Mexican Grand Prix | Toro Rosso | 10 | 1 |
| 23 | 2018 | 2018 USA Grand Prix | Toro Rosso | 12 | 0 |
| 22 | 2018 | 2018 Japanese Grand Prix | Toro Rosso | 11 | 0 |
| 21 | 2018 | 2018 Russian Grand Prix | Toro Rosso | DNF | 0 |
| 20 | 2018 | 2018 Singapore Grand Prix | Toro Rosso | 13 | 0 |
| 19 | 2018 | 2018 Italian Grand Prix | Toro Rosso | 14 | 0 |
| 18 | 2018 | 2018 Belgian Grand Prix | Toro Rosso | 9 | 2 |
| 17 | 2018 | 2018 Hungarian Grand Prix | Toro Rosso | 6 | 8 |
| 16 | 2018 | 2018 German Grand Prix | Toro Rosso | 14 | 0 |
| 15 | 2018 | 2018 British Grand Prix | Toro Rosso | 13 | 0 |
| 14 | 2018 | 2018 Austrian Grand Prix | Toro Rosso | 11 | 0 |
| 13 | 2018 | 2018 French Grand Prix | Toro Rosso | DNF | 0 |
| 12 | 2018 | 2018 Canadian Grand Prix | Toro Rosso | 11 | 0 |
| 11 | 2018 | 2018 Monaco Grand Prix | Toro Rosso | 7 | 6 |
| 10 | 2018 | 2018 Spanish Grand Prix | Toro Rosso | DNF | 0 |
| 9 | 2018 | 2018 Azerbijan Grand Prix | Toro Rosso | 12 | 0 |
| 8 | 2018 | 2018 Chinese Grand Prix | Toro Rosso | 18 | 0 |
| 7 | 2018 | 2018 Bahrain Grand Prix | Toro Rosso | 4 | 12 |
| 6 | 2018 | 2018 Australian Grand Prix | Toro Rosso | DNF | 0 |
| 5 | 2017 | 2017 Abu Dhabi Grand Prix | Toro Rosso | 16 | 0 |
| 4 | 2017 | 2017 Brazilian Grand Prix | Toro Rosso | 12 | 0 |
| 3 | 2017 | 2017 Mexican Grand Prix | Toro Rosso | 13 | 0 |
| 2 | 2017 | 2017 Japanese Grand Prix | Toro Rosso | 13 | 0 |
| 1 | 2017 | 2017 Malaysian Grand Prix | Toro Rosso | 14 | 0 |