Many of us are interested in Gardening and growing our own green world. Living in Delhi, we all might not have the kind of space for an open garden but yet true enthusiasts like us, try and grow our little green world in whatever space we can. It might have been a hobby for most, a few days back but now it is a necessity. To promote the idea of Gardening, Delhi Tourism, in association with Delhi Government, has organized the 34th Garden Festival at the Garden of Five Senses.
This year, it is a little bit different from the usual 3-day festival as in 2021 it would be a 3-week long Garden festival in Delhi. The Government is trying to promote the idea of home-based gardening and get more and more people interested.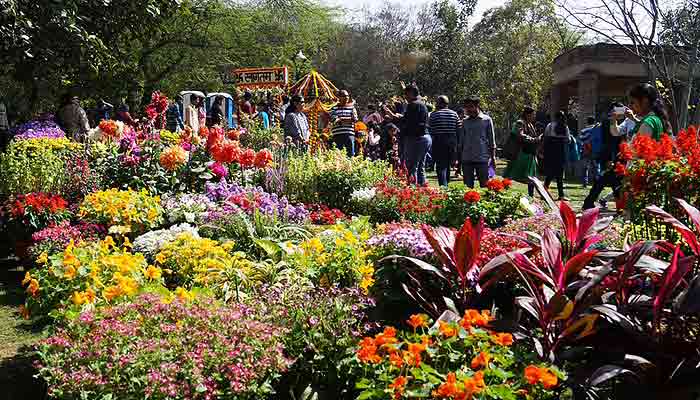 The Garden Festival Delhi is organized every year for three days at the beginning of the Spring Season. It is organized at the garden of Five Senses, which is a 22 acre Garden with over fifty thousand flowering plants.
The festival offers an exquisite display of plants, seeds, pots, hanging baskets, and various gardening designs to suit your needs. Along with that, the Garden Bazaar will also be organized to make various gardening equipment and products available to people at an economical price.
You can also attend the Horticulture workshops to learn more, especially if you are new to the concept of gardening.
A Bonsai competition will also be organized during the Garden Festival Delhi (2021) to judge the best Bonsai tree owner. The theme of the event would be #ColoursOfNature.
The 3-week long Garden Festival Delhi (2021) is a great initiative considering the fact that the pollution levels in Delhi are usually never good and the condition turns really bad especially by the year-end. It is a great opportunity to explore the green and colorful nature in the heart of Delhi and learn more about integrating a little green into our dark lives.
Suggested Read: Short Trip From Delhi: A Guide To Select The Best Workcation Location
34th Garden Tourism Festival Delhi (2021)
Where: Garden of Five Senses, Said-ul-Ajaib Village, Western Marg
When: February 19 to March 13
Timing: 11am-6pm (weekdays); 11am to 7.30pm (weekends)
Nearest Metro Station: Saket on the Yellow Line (free shuttle service to the venue is available )