If you're a die-hard WWE fan you would know the four pillars a.k.a the four marquee events that define wrestling or perhaps are the biggest draw cards for fans and wrestlers alike.
Royal Rumble, WrestleMania, SummerSlam and Survivor Series – Vince McMahon's iconic creations that serve as the best attractions of sports entertainment that the WWE has to offer.
Well, one of these marquee events is back this coming weekend amid a live WWE audience in attendance after almost 18 months of television consumption.
Such is the hype and positivity around the spectacle itself akin to a victory of sorts of the good in the resilience of the human race successfully combating the ill-fated evil which is the dreaded virus.
The Sin City with open arms will welcome the grandest show of the summer this Saturday night amid a WWE universe that will be present in person at the arena.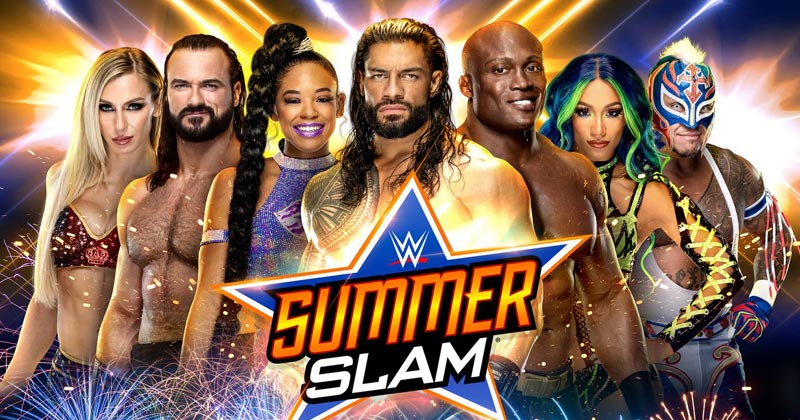 Yes, SummerSlam is upon us at the iconic Allegiant Stadium in Las Vegas which marks a unique combination of two – firsts!
The first time a WWE pay-per view event is being held on a Saturday.
The first time WWE is holding SummerSlam inside a football stadium.
Does it get bigger?
Well certainly not for me as I walk down memory lane to reminisce two SummerSlam moments that made me fall in love with this spectacle of spectacles!
The iconic family match – Bret Hart v British Bulldog (SummerSlam 1992) – The legendary Excellence of Execution surrendered his Intercontinental Title to his brother-in-law Davey Boy Smith in front of a packed Wembley Stadium that was cheering for their home town hero, The Bulldog.
The feud of the Two Undertakers (SummerSlam 1994) – Million Dollar Man, Ted DiBiase had his Undertaker square off against the original Paul Bearer Undertaker with this contest being as memorable as they come as the original Deadman cemented his legacy on this very occasion and as they say the rest was history.
So, without further ado as my excitement knows no bounds, let's take a walk through the match card for this year's event along with my predicted winners:
WWE SummerSlam 2021 Predictions:
1. Sasha Banks v Bianca Belair (c) (WWE Smackdown Women's Championship)
This contest will be one of sheer skill and performance as the two highflying ladies will renew their rivalry from WrestleMania. I would definitely go with the face to prevail in this contest.
Predicted Winner – Bianca Belair
2. The Mysterios v The Usos (c) (Smackdown TagTeam Championship)
The Uso-Mysterio rivalry has been an important part of Smackdown as the Usos had recently won the championship. The cousins of the Universal Champion Roman Reigns will certainly have their hands full as the father-son duo in Rey and Dominik Mysterio will give it their all to regain their championship.
Predicted Winner – The Mysterios (change of titles)
3. Finn Balor v Baron Corbin
The popper albeit in storyline, Baron Corbin cost a returning Finn Balor the chance to compete for the Universal Championship by storming the contract signing ceremony. Finn will be out for revenge and for me will certainly have it.
Predicted Winner – Finn Balor
4. Niki A.S.H (c) v Rhea Ripley v Charlotte Flair (Raw Women's Championship)
The transition of Nikki Cross to Nikki A.S.H (Almost a Superhero) has for me been really awesome. I love her in this new avatar as she won the Money in the Bank match and cashed in to get the title. I sincerely hope she can defend it against the wicked Charlotte Flair and the might of Rhea Ripley as Nikki says 'if you believe in yourself, you can be almost a superhero'
Predicted Winner – Nikki A.S.H
5. Sheamus (c) v Damian Priest (U.S. Championship)
Damian Priest did a fantastic job of carrying Bad Bunny in a match against Miz and Morrison at WrestleMania. Through his sheer hard work, he has deserved this opportunity against the champion Sheamus whose reign at best has been a hit and a miss. I would be most happy to see Damian conquer Sheamus.
Predicted Winner – Damian Priest (change of title)
6. Drew McIntyre v Jinder Mahal
Angela, the sword of Drew McIntyre will surely be too much to overcome for Jinder Mahal as this contest doesn't really build any excitement for me. Truth be told, a person of McIntyre's calibre, a main eventer is being wasted in this sort of a mid-card match.
Predicted Winner – Drew McIntyre
7. Alexa Bliss v Eva Marie
The propagator of the supernatural, Alexa Bliss now that Bray Wyatt a.k.a The Fiend is out of WWE will prevail over the prim and proper, Eva Marie. In truth, I sort of like Alexa in this role and would hope to see her prosper.
Predicted Winner – Alexa Bliss
8. RK-Bro v AJ Styles and Omos (c) (Raw Tag Team Championship)
To see Randy Orton and Riddle come together to form RK-Bro has been a breath of fresh air.
The unpredictability of the Viper makes their chemistry very exciting and I sincerely hope they can overcome AJ Style and the colossus Omos to become new tag-team champions.
Predicted Winner – RK-Bro (Change of titles)
9. Edge v Seth Rollins
A rivalry that started in 2014 when Edge was saved by John Cena as Seth Rollins was about to deliver the curb stomp got renewed when The Messiah cost The Rated R Superstar the Universal title against Roman Reigns at Money in the Bank.
The two men will square off at the showcase of the summer to settle their rivalry once in for all. For me experience will overcome shenanigans.
Predicted Winner – Edge
10. Goldberg v Bobby Lashley (c) (WWE Championship)
It seems Bobby Lashley has no able competition in the RAW locker-room hence the WWE Hall of Famer Goldberg is back to challenge for the title. Goldberg does give sporadic appearances albeit I don't see him being the face of the company as he now essentially stands retired. Having said this, make no mistake, this contest will surely be as physical as they come with the two heavyweights giving it their all.
Predicted Winner – Bobby Lashley
11. John Cena v Roman Reigns (c) (Universal Championship)
The main event of the evening and rightfully so for me as a fan.
The Cenation Leader is back from a Hollywood break to put a full-stop to the Tribal Chief's self-obsessed idiosyncrasies albeit in storyline. Would we see the attitude adjustment help Cena get the 1-2-3 to become a 17-time champ or the spear will again be Roman's weapon to continue his unabated reign as the champion?
The fan in me surely hopes to see the former albeit Cena is too busy with his Hollywood excursions to be regular on the roster for this dream to come true. Truth be told, Cena in WWE right now is just for a rating push and his movie promotion.
Predicted Winner – Roman Reigns
Twist – Big E (The MIB winner) could also cash in his contract post this match.
If this match card isn't enough to keep you glued, we surely would see some legends of the past also grace the event to add the cherry on the cake, a sheer treat to shower the biggest event of the summer with more flair.
So, be sure you tune in this Saturday evening in the U.S. and Sunday early morning in India to witness an event that makes heroes and showcases moments of magic second to none.
I know I certainly would be!