A lost generation that hardly has a clear goal in sight. Which way will it go, here today, gone tomorrow somewhere else, what does it really want- it hardly knows. Then suddenly one day, they meet, unite and become friends and go on to explore a random escapade of life- was it life they were living or some kind of strife?
If you are even remotely aware of the 2013-release starring none other than Keanu Reeves, then probably the above might ring a bell. It happens to be a movie that crashed on the box office despite having had the pretty face of Matrix-actor embracing it, rather make that part-Buddha, part-warrior, but purely-enigmatic Keanu Reeves.
As a matter of fact, the Mark Mann-directed Generation Umm, made on a tight budget of no more than 17 Lakh US Dollars failed to impress even the most liberal critics. Yet, there was something to it, some lose string of energy that tied together the three main faces of its lead star cast, Keanu Reeves and the gorgeous ladies- Adelaide Clemens and Bojana Novakovic.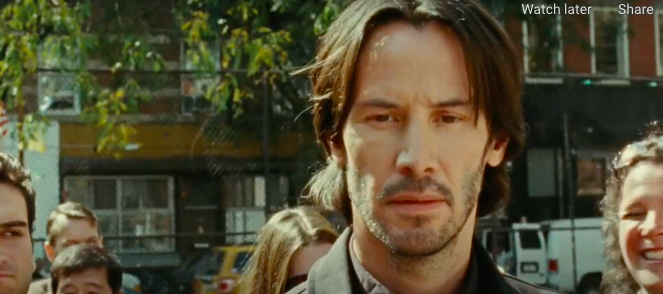 Not really friends like the Friends one got habitual of seeing in the fun New York apartment, but more of a random albeit eclectic collection of three very different souls, treading on a path of life that lacks both clarity and purpose, what gets all three together is their penchant to shoot their escapades in the New York city and that too on an abandoned camera that Reeves happens to find in broad daylight!
Also Read: Keanu Reeves Net Worth In 2021 and How He Became World's Heartthrob
Beer-guzzling in bars, hitting the road for an endless nightout, discussing life and often the meaningless-ness of it, Keanu Reeves' starrer Generation Umm was perhaps the most Indie among all Indie films you may have gotten around to see of late.
It failed to set the cash register ringing. It hardly impressed his most die-hard fans. Yet there's something about Generation Umm that Keanu Reeves loves for him to reckon it's a flick that's close to his heart.
What could be it? What might be the reason!
Here's what the modern incarnation of a warrior-priest- if that's one way to describe Keanu Reeves- put it:
"The thing that lasts is really my experience making it and the film that got made," Reeves told Hardwick. "For me a film that I did called Generation Um…, I think there's eight people who have seen it but I love that film and I love the work that's in it from myself and the other actors, the director, and everybody. Pieces like that you're like oh, I wish people would watch Generation Um… It's a nice movie. But they didn't and that's a drag!"
Perhaps it was the fact that the trio in the film lead an aimless life and happen to meet by chance only to realise that they can bond compassionately as well as discompassionately and as they tread along the path of emptiness, can discover some meaning that lent the film some substance.
Also Read: Is There A Keanu Reeves Doppelganger Who's Left Everyone Star-Struck In Brazil?
There's an element of fluff and flair in Generation Umm and a sketchy storyline that often aimlessly meanders, but perhaps deliberately so to just make the viewer aware that emptiness and not necessarily having a goal can also be a way to find oneself.. at least, that's the logic I found as a viewer.
And don't take my bias for it for am a huge Keanu Reeves fan but definitely go for Generation Umm once! It's available on services like Amazon Prime.