Can you be in two places at the same time? Of course, dreams are harmless but exhilarating. But reality demands something special, and something away from the normal fold of life.
So let's elaborate the question and state an example. How do you make yourself available everywhere?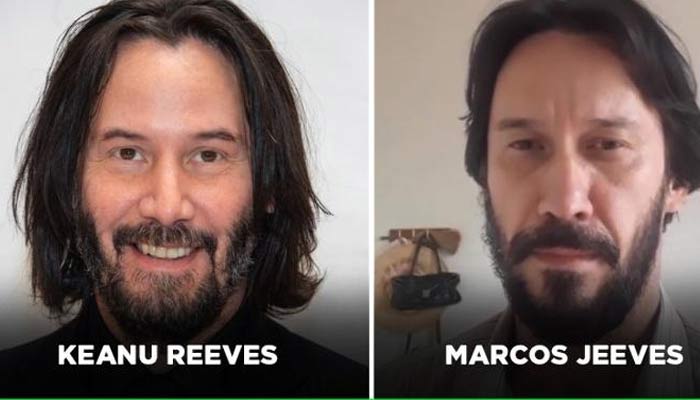 Can you be in a posh nightclub in Paris and still cozy up to your female fans in an elite political luncheon in Washington, at the same time, which remember- is another part of the world? You don't have to do "The Matrix" to do it all, right?
You simply have to be 'The Matrix', or as one found out recently, the man who starred in the very movie that first got us thinking about the world (and our place in it) even before gems like Christopher Nolan's Inception came about.
So then, technically speaking, this means that if you are Keanu Reeves then you can do anything? Well, only in the reel life. Not in the real life. Of course, to be everpresent or to possess a serene ubiquity, you just need to have a doppelganger that does it for you.
But hey, let's get something right. It wasn't really Keanu Reeves' problem what happened in another part of the world that the actor frankly has nothing to do about nor has a part to play.
It appears that there was a Keanu Reeves Doppelganger that got everyone confused, leaving behind several scratchy heads.
So what exactly happened? Let's just put it this way that it wasn't all too clear in Brazil.
One had hardly expected there to be a Keanu Reeves Doppelganger in that part of the world where it's not always Hollywood that makes Numero Uno news; but rather, Soccer and philanthropy.
A man called Marcos Jeeves, it turns out, has such an uncanny resemblance with the famous actor behind movies like – A Walk In The Clouds, Feeling Minnesota, Sweet November, The Lake House (among others)- that people were completely taken for a wild surprise in thinking that the person among them was the stylish A-lister from Hollywood, California.
That being said, here's what the normal news was concerned about and reported from the great land of Ayrton Senna and Pele:
Local news media got hold of a man who bizarrely resembles Keanu Reeves to such an extent that back home in his native Brazil, he's no less than a celebrity, albeit one on the globetrotting virutal world called social media.
Suggested Read: Keanu Reeves Net Worth In 2019 and How He Became World's Heartthrob
When contacted, this is what the middle-aged man known for a quaint sense of style had to offer:
"Yes, I am single, and looking like Keanu Reeves really helps me. Some women come to praise me in the comments on my Instagram photos. But I always maintain respect and do not use the fact of looking like him to take advantage of any situation, including my followers," he said.
Upon further assessment, most online media that trend on popular celeb gossip and entertainment news shared that Marcos Jeeves' social media channels, in particular, Instagram are full of such brilliant poses that actually perfectly mimic Keanu's own movies, and not just that but his famous celebrity shots and fanfare images that one's grown accustomed to, over the course of all these years.
Incredible, right?