Sunny Deol was born on 19 October 1956 which makes him a Libran. Librans are known to be idealistic, social and soft mannered people, which is completely opposed to his image as portrayed by the movies. In the movies that he acted in, he is the quintessential angry, big guy who knocks off the anti-hero with a swish of his left hand. His immense fan following has not fazed even with the dwindling number of box office hits. At the peak of his career he has numerous blockbusters to his credit, but what has really survived the test of time are his eternal dialogues which he delivered in his memorable tone and voice. Hereby, we present the most iconic Sunny Deol dialogues etched in our hearts forever.
Most of you would remember these most famous Sunny Deol dialogues by –
Dhai kilo ka hath…
Hamara Hindustan Zindabaad tha,Zindabaad hai aur zindabaad rahega.
Tareekh pe Tareekh…
Balwant Rai ke Kutton…
These are not the only ones which have been etched in fan's memories and the list can be unending. We have tried to brush up on some other very impactful dialogues by Sunny Deol in his various other movies which were hits and miss too.
These are the most iconic Sunny Deol dialogues for you
1. Jeet – Sunny Deol Dialogues
In Hathon ne sirf hathiyar Chhode hain, chalaana nahi bhoole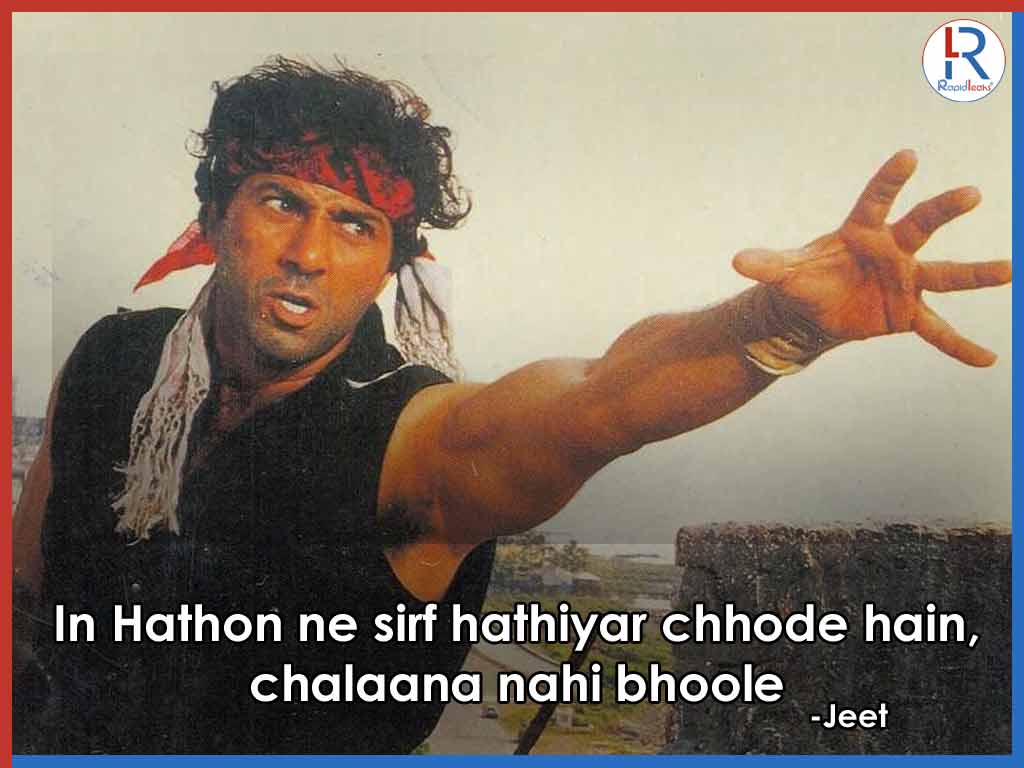 2. Border
Aap khush hain ke aap Ghar Ja rahe hain, par Khushi ka ye behuda naach achha nahi lagta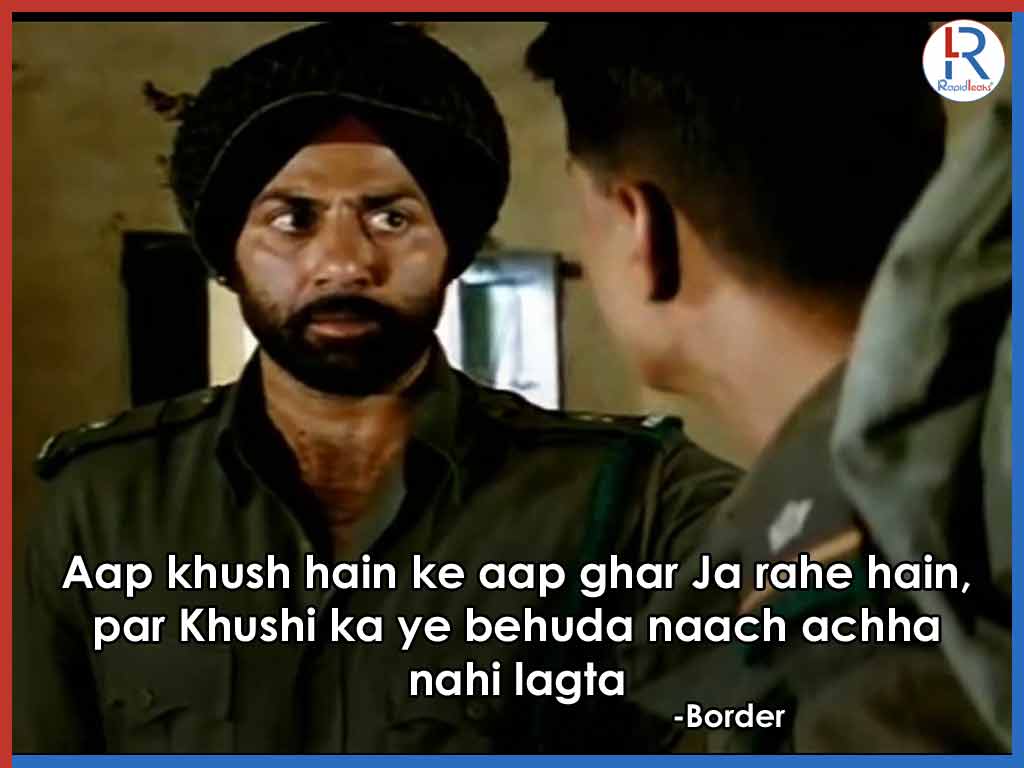 3. Ghatak
Ye mazdoor ka hath hai Katiya, loha pighla kar uska aakar badal deta hai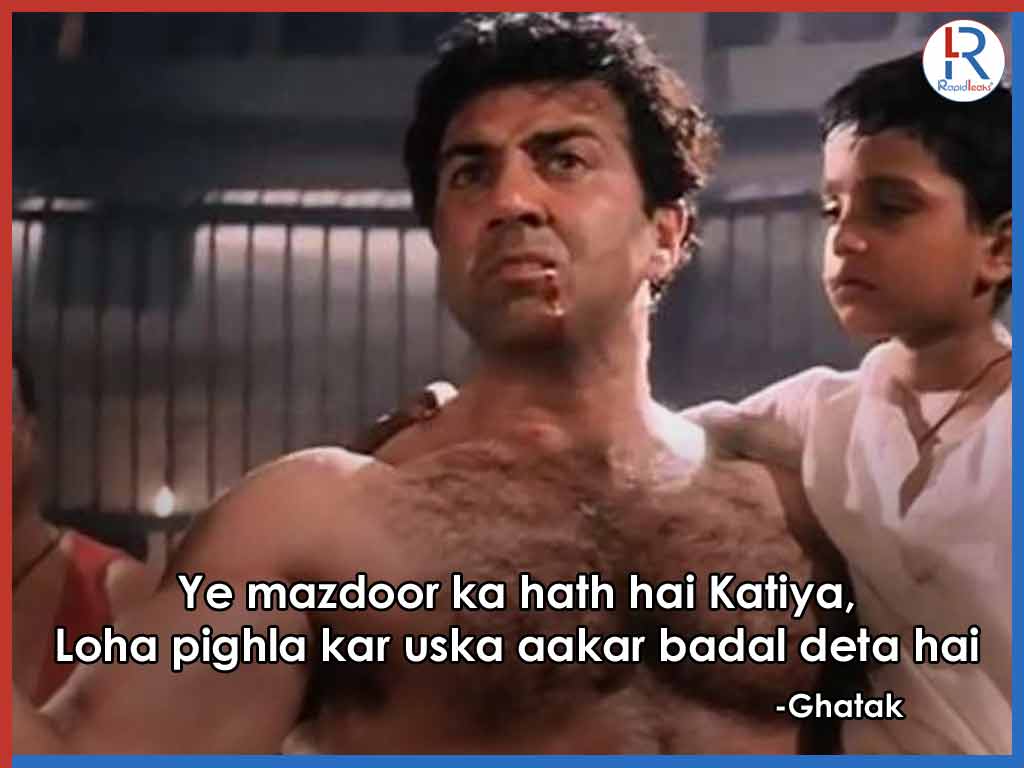 4. Ziddi
Paanch baje ke baad Deva ke adalat shuru hoti hai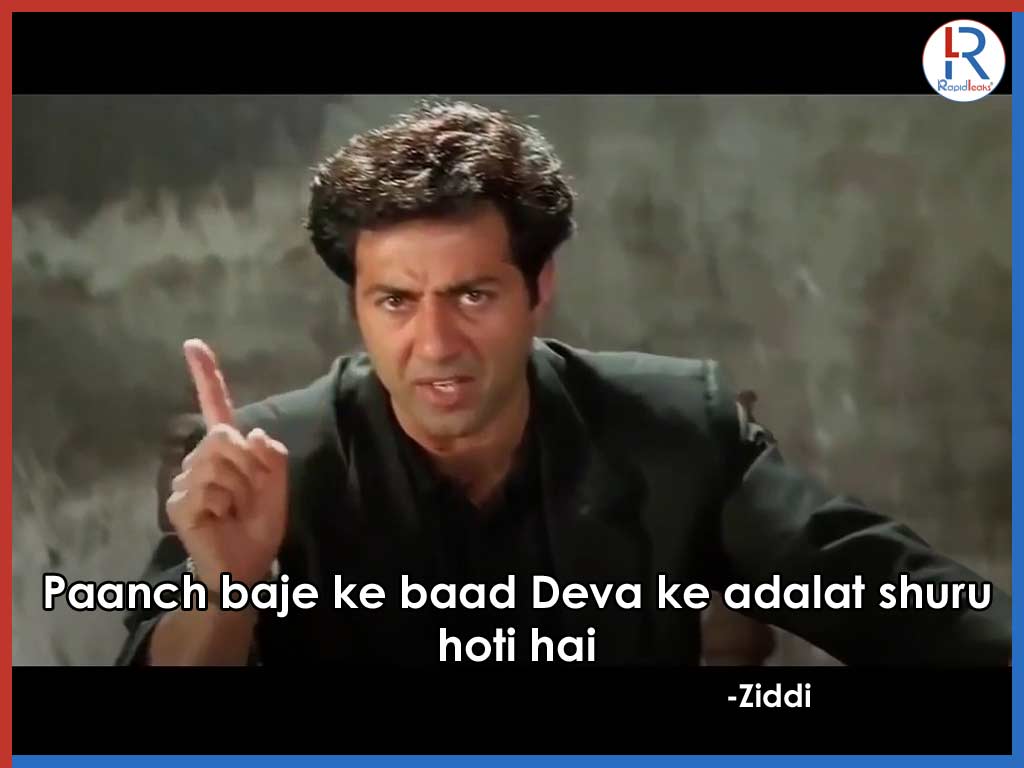 5. Ghayal Once Again
Sanskar se Sansaar jeeta jaata hai, ahankar se nahi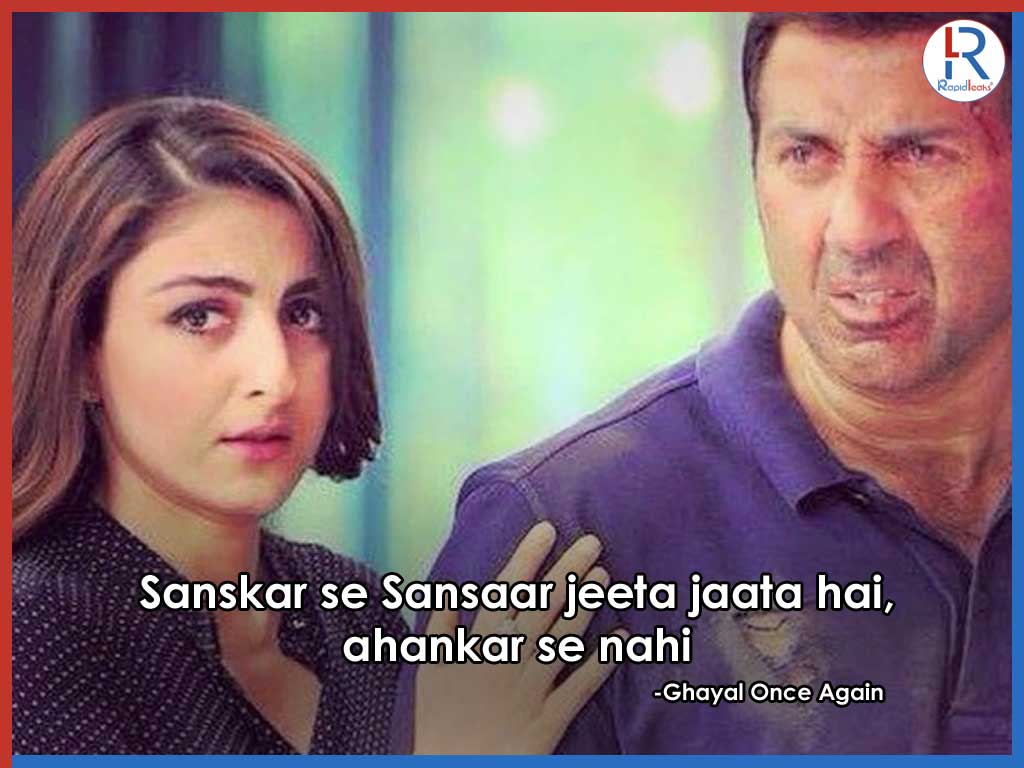 6. Poster Boys
Aap to fauji ke jagah manmauji nikle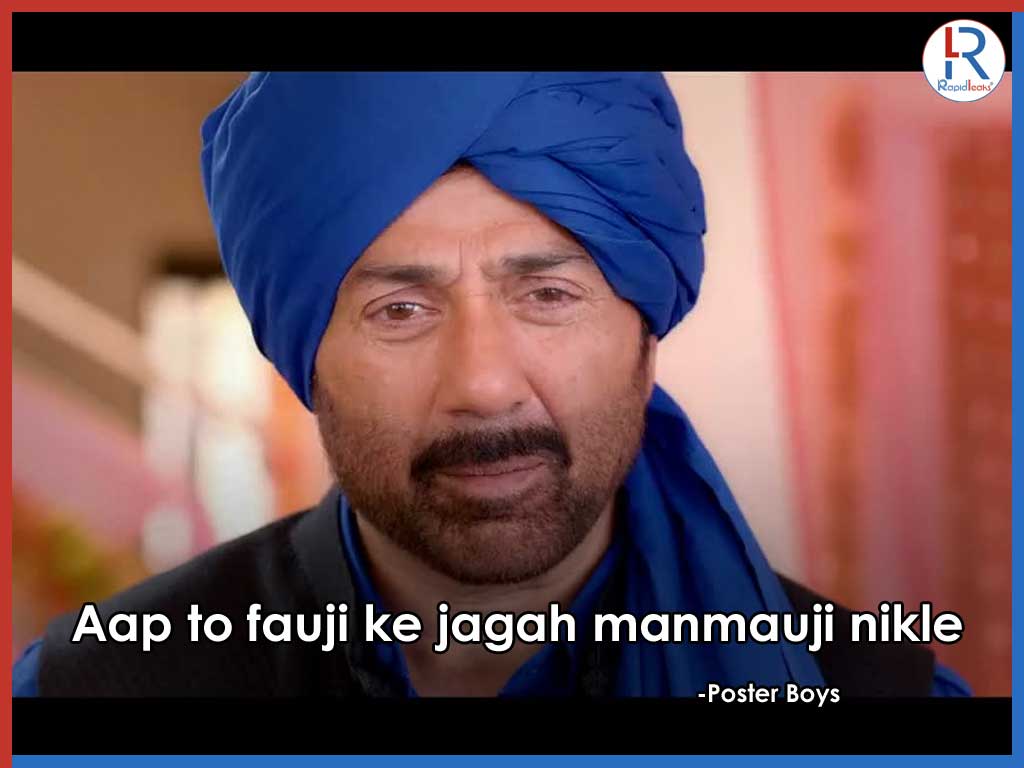 Suggested Read: 11 Amir Khan Dialogues That Narrates His Magnificence
7. Bhaiaji Superhit
Nateejon ke soch kef aisle lena hamari fitrat nahi hai….nateeje hamare faislon se badal jaya karte hain.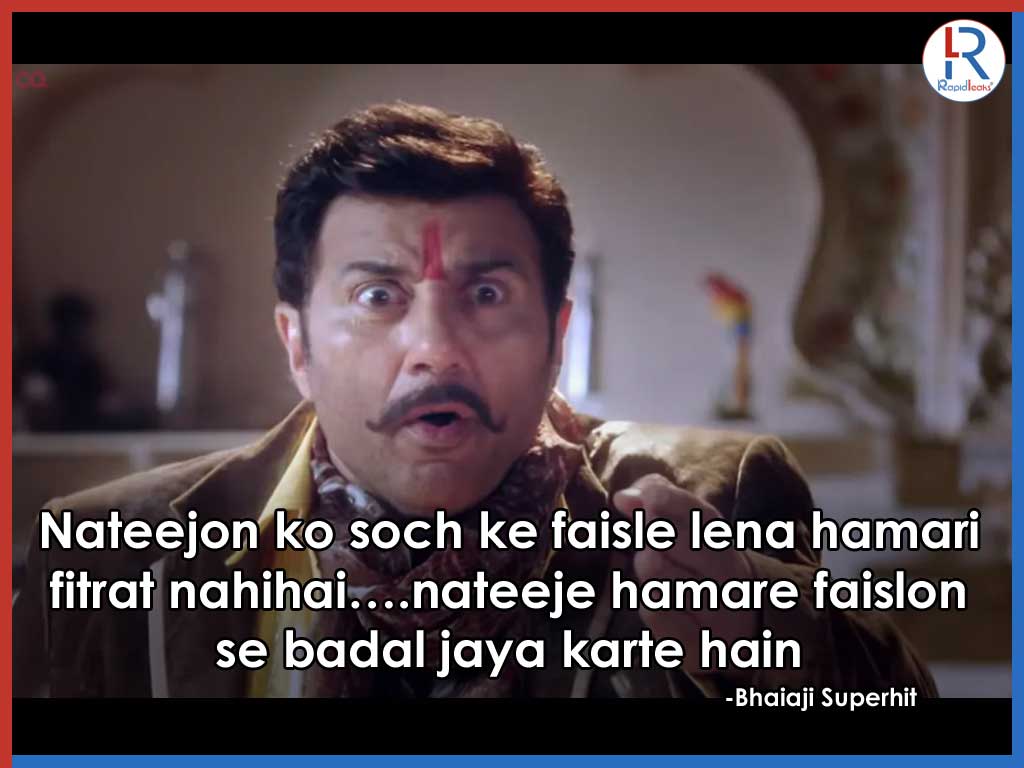 8. Singh Saab the Great
Sadde wich Gandhi bhi hai, patel bhi hai…te thoda Bhagat Singh bhi hai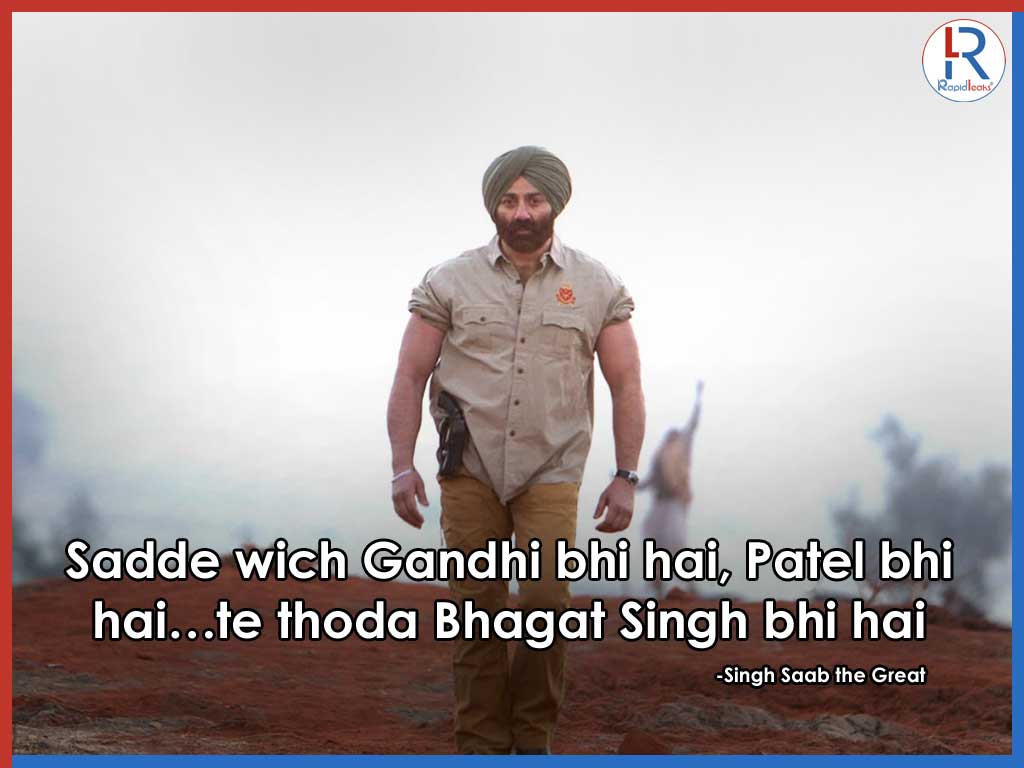 9. The Hero: Love Story of a Spy
Tu Khelta Hoga toofano se, humne to toofan pale hain…jo dartee hain so marte hain, hum marker jeene wale hain
10. Arjun Pandit
Aise kaam ke liye himmat ki zaroorat nahi hoti, sirf irada hona chahiye
11. Vishwatma
Mai sarkari afsr hoon….farz mera dharma hai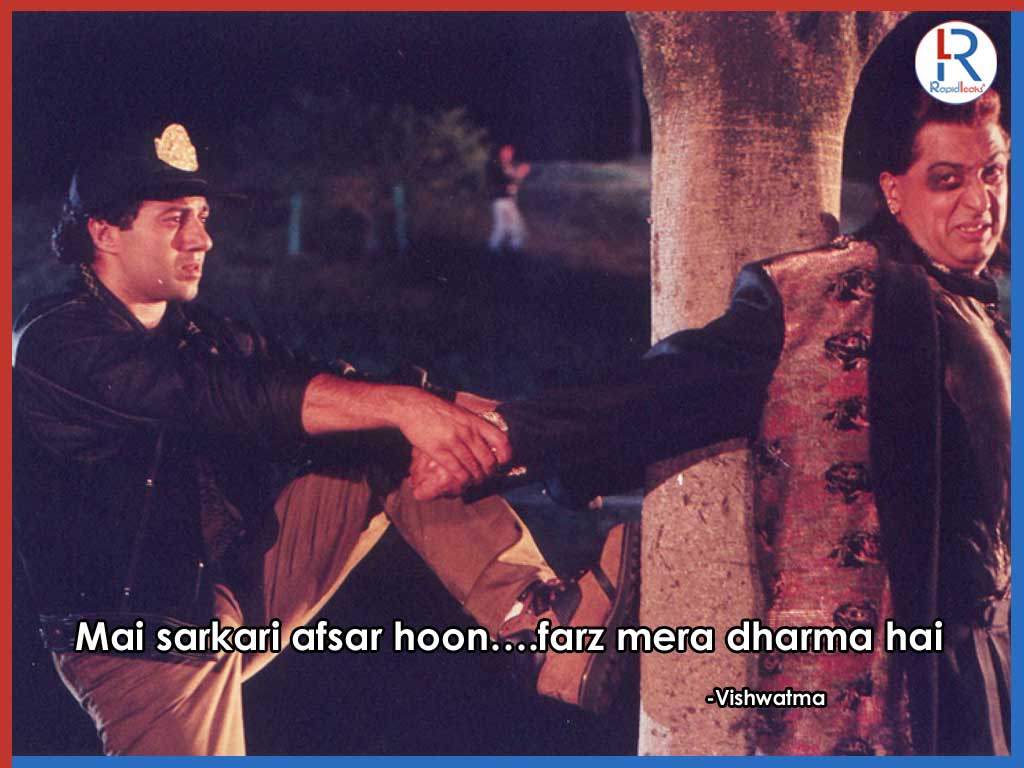 12. Tridev
Intezar kar aur dekh, maut jab dheere dheere aati hai…to kitni khaufnaak hoti hai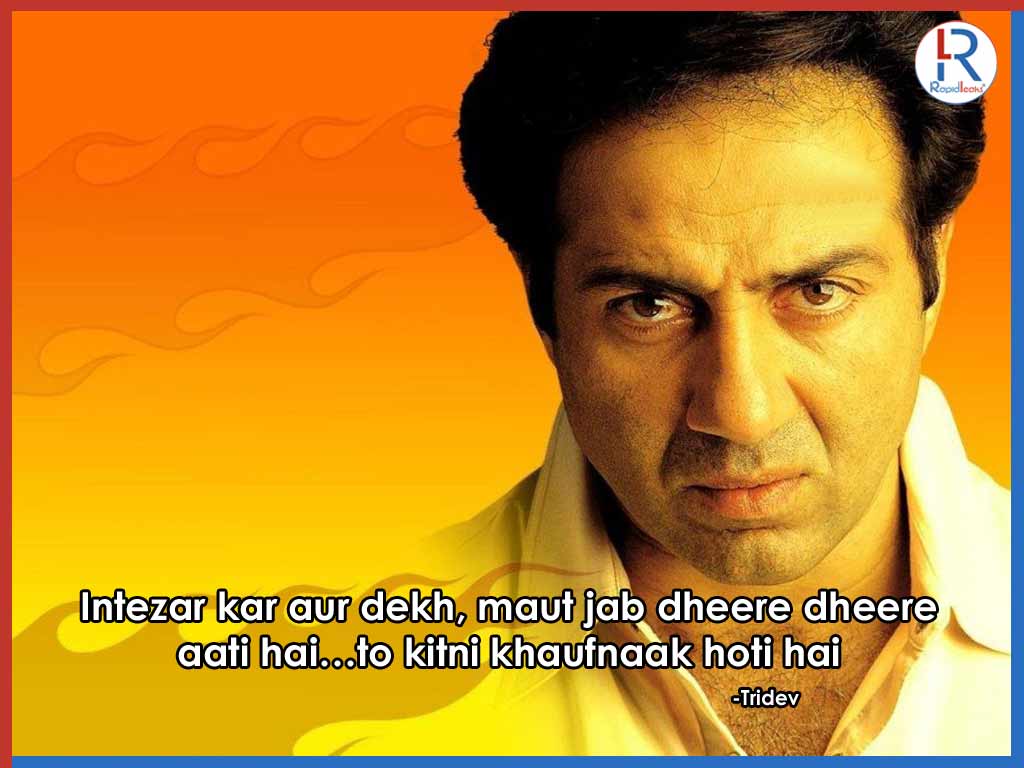 I am sure you must have read all the dialogues in Sunny Deol voice in your mind. That is the power of his screen presence.
Suggested Read: 10 Of The Most Iconic Sanjay Dutt Dialogues Ever
If you have any other dialogues by Sunny Deol which you want us to add to this list please share them with us in the comments.