Govinda was and will remain one of the best comic actors ever. "Govinda aka Chichi" turned 54 and he is still charming as ever. How can we forget those goofy and pranky characters he played on screen? The high beats songs and his hilarious dance moves were to die for. Govinda has been the ultimate king of humorous expressions and his offbeat vibrant clothing style has influenced many in the industry. Imagine those yellow shirts with maroon pants, not everyone can pull it off like him.
Best Govinda Dialogues
Abhe hata saawan ki ghata… kha, khuja, batti bujha ke soja nintakle pintukle… mandi khareli hai aunty baja rahi hai baar-baar ghanti… kulla ghumake paschim ko palat le… bahut ho gaya phutle, vatle, shaana ban kya?
Tum kya apne aap ko Mugha-e-Azam, hum log ko Anakali samajhta hai be… kitna nacha raha hai?
Yeh duniya ek bus stop hai aur ladki ek bus… peeche bhaago toh saala chute jaati hai… wahin khaderaho samne se doosri aati hai.
Jitni tumhari saal bhar ki kamai hai… utne rupaiye ke surf aur sabun se… meri haveli ke farsh dhoye jaate hai.
Chai, cigratte, cheroot, beedi, paan, zarda, tambaku, brandy, whiskeyyah rum… in sab cheezo ke paale hi nahi maine gham.
Main tere pyar mein kya na bana Meena… kabhi bana kutta, kabhi kamina.
Duniya mera ghar hai, bus standmera adda hai, jab mann kare aa jana, Raju mera naam hai… aur pyar se log mujhe bulate hain… coolie no. 1.
Meri girlfriend ke saath tu saiyaan banke, naiya ke upar, chaiyya chaiyya kare… aur main UP ka bhaiya banke wahan kinare pe se haath hilaon.
Ladka ladki bhaag kar gale milte hai, toh milne de… slow motion hone de, sunset hone de, gaane bajte hain to bajne de… main toh kehta hoon ki dono puppy lete hai toh lene de.
If you take bath in ghar ka bathroom… ghar ki izzat ghar ke andhar… if you take bath in nadi khulam-khula… ghar ki izzat on road.
Love marriage mein aadmi khud apni marzi se kuaye ke andhar jaata hai… arranged marriage mein aadmi ka pura khandaan usko kuaye ke andar dhakel deta hai… lekin jaata toh kuaye mein hi hai.
Every character he ever played in his films, funny or not, he always owned it. Most of the 90's era is known as Govinda's era and there was a time when he was cast in almost every movie. His remarkable performances have always entertained us and made us laugh louder. Even though we don't see Govinda on screen much these days, one thing is for sure that no one can ever beat his epic comic timings and dialogue delivery.
Govinda has been an epitome of comedy and his duo with Director David Dhawan in a series of laugh-a-minute blockbusters are exemplary. A number has increased in his age but for an enthusiastic actor like him, age is seriously just a number. We don't know when will he return to the big screen, however, we have compiled 11 unforgettable dialogues from his movies that will prove he was the King of comedy and would make you laugh hard.
Here Are 11 Hilarious Govinda Dialogues:
1. Random Nonsense Makes You Laugh At Times. Hahaha!!!
2. "Bachao Saleem Bachao"!!!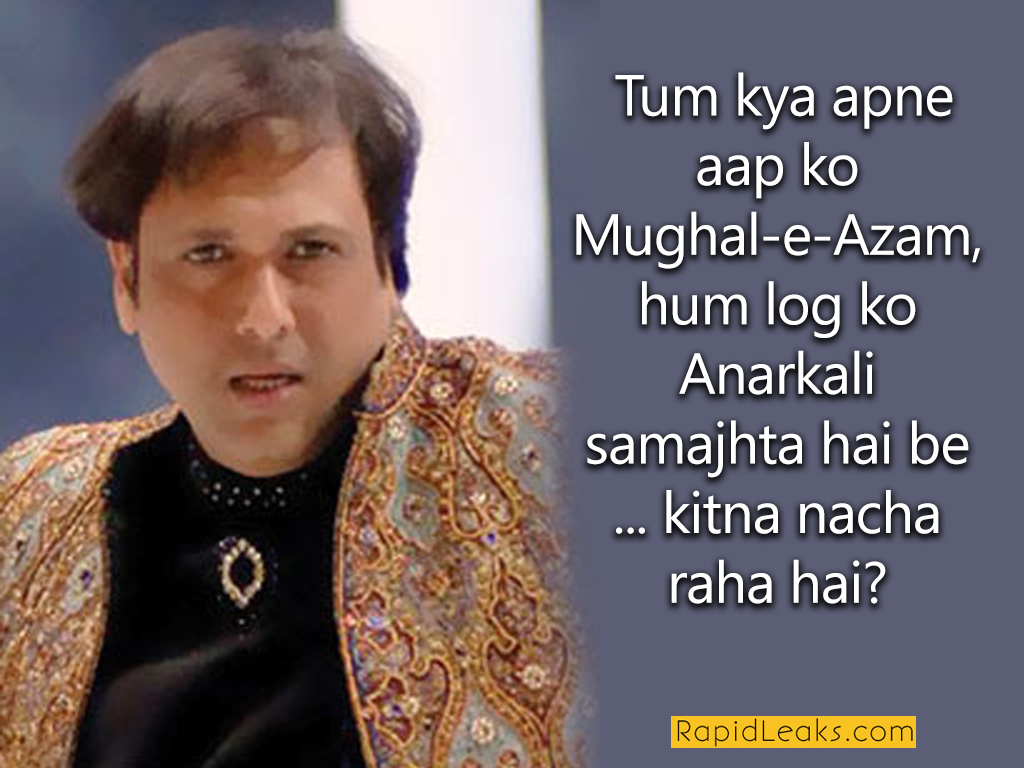 3. Just Wait For Your Chance!!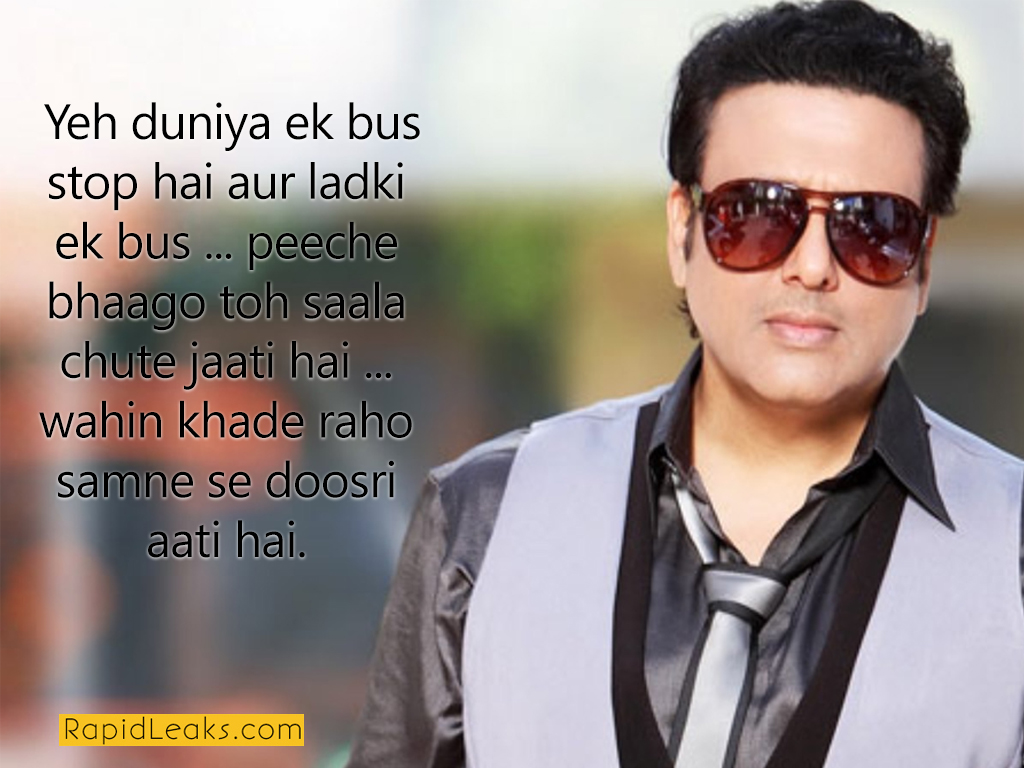 4. Chichi's Swag!!
5. "Mahobbat Paali Hai Bas…"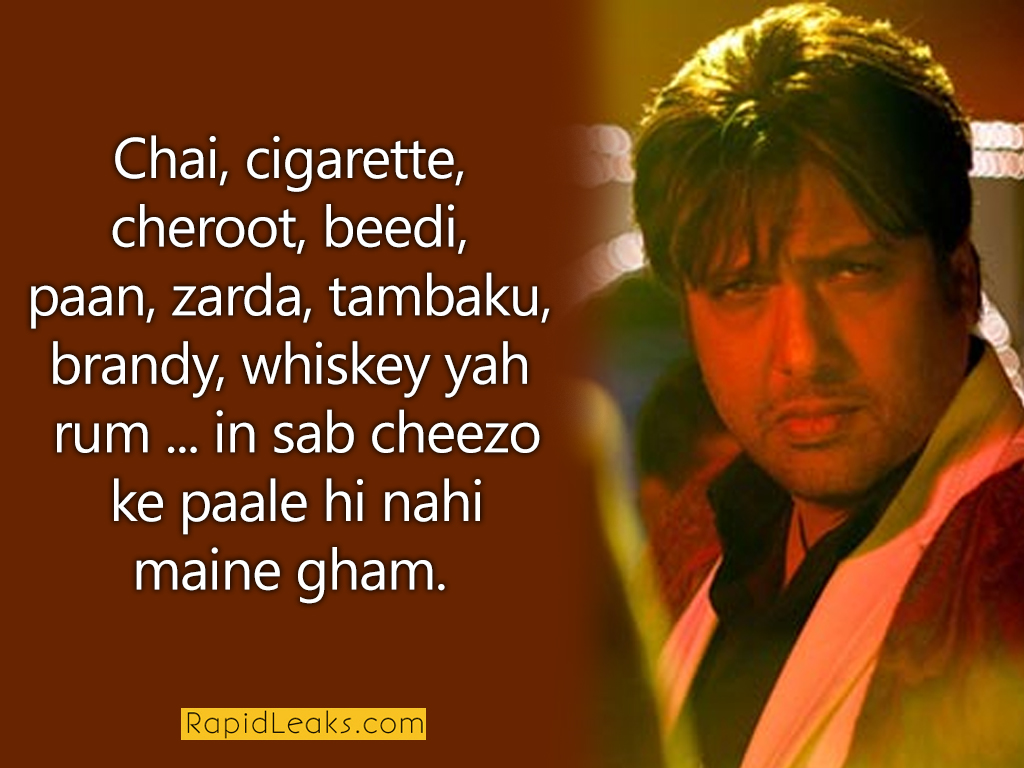 6. Prince Turned Dog From Frog. Wink!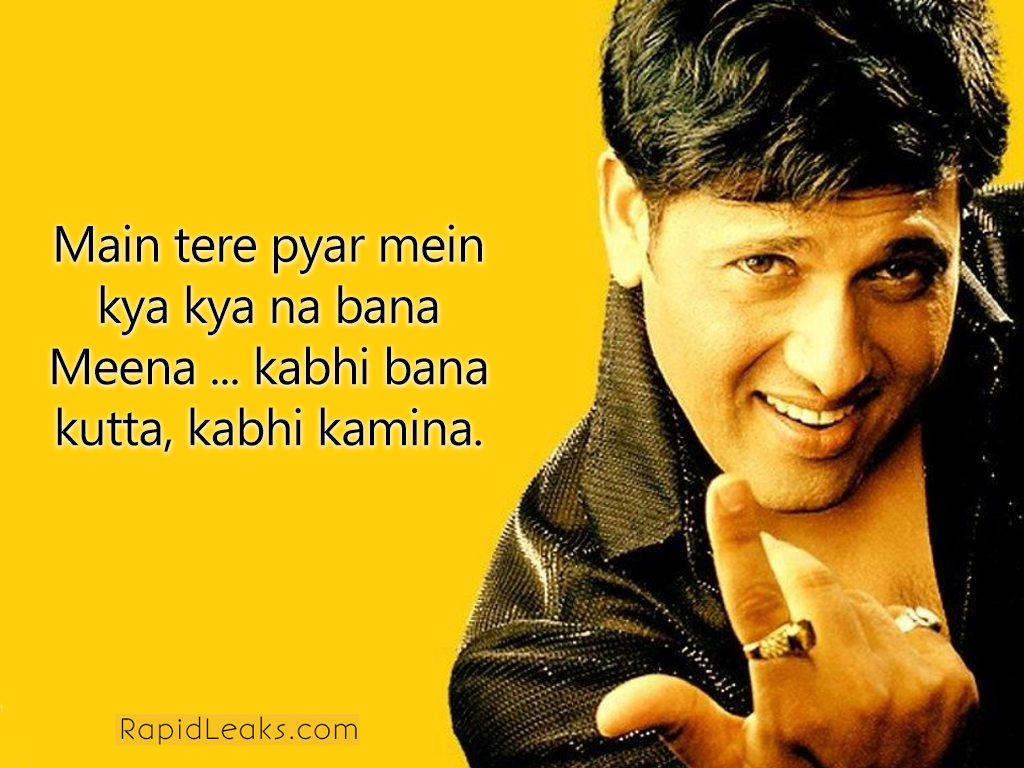 7. Best Introduction Ever…
8. "Prem Bhai….."
9. All Is Fare In Love… Baby
10. You Know What He Means
11. "Love Ya Arrange Shaadi Akhir Kua he Hai…"
Still Laughing? So Are We!!!
These are the funny Govinda dialogues that prove he was "The King Of Comedy".
Follow us on Facebook and Twitter for more updates. Don't forget to like and share. Do tell us your views in the comment box below.
21 Dec, 2015
Avni S. Singh