As the Indian market for two-wheelers is growing with every passing year, so is the demand for the best helmets Under 2000 Rs in India.
Besides being an essential safety gear for two-wheeler drivers, helmets have also become more of an accessory that defines the riders. Gone are the days when daily commuters opted for those cheap options available on the roadsides. 
Best Helmets Under 2000 Rs
When it comes to the best helmets in India, buyers get confused as to what should be a reasonable budget for buying a sturdy and trendy helmet but as far as the market is considered, helmets under 2000 Rs are sold in huge numbers.
It doesn't matter if you own a cruiser or a lightweight sports bike, you will definitely have an option to choose from under this segment and here we have listed the five best helmets under 2000 Rs in India that you can trust for those unexpected accidents.
Since full face and open face helmets are in trend these days, we have listed the best of both forms in this list. Moreover, we have also kept in mind the need for a helmet to compliment your ride and these five best helmets under 2000 Rs in India can go with any of the style statements you want to carry with your bike.
Best Helmets Under 2000 Rs In India
1.
Steelbird Helmet Air-1 Beast (Rs 1950)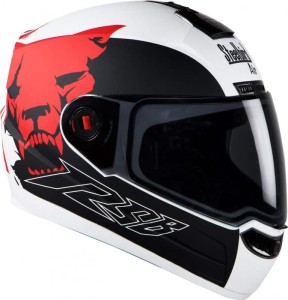 Steelbird Air-1 Beast is the smartest looking helmet in this segment and it is available in a matte finish as well as two size options. It comes packed with high impact absorbing materials for comfort and replaceable interior panels for maximum benefits as well as durability.
Along with a European standard buckle design what makes the Air-1 the best Steelbird helmet under 2000 Rs in this segment is its highly effective ventilation system.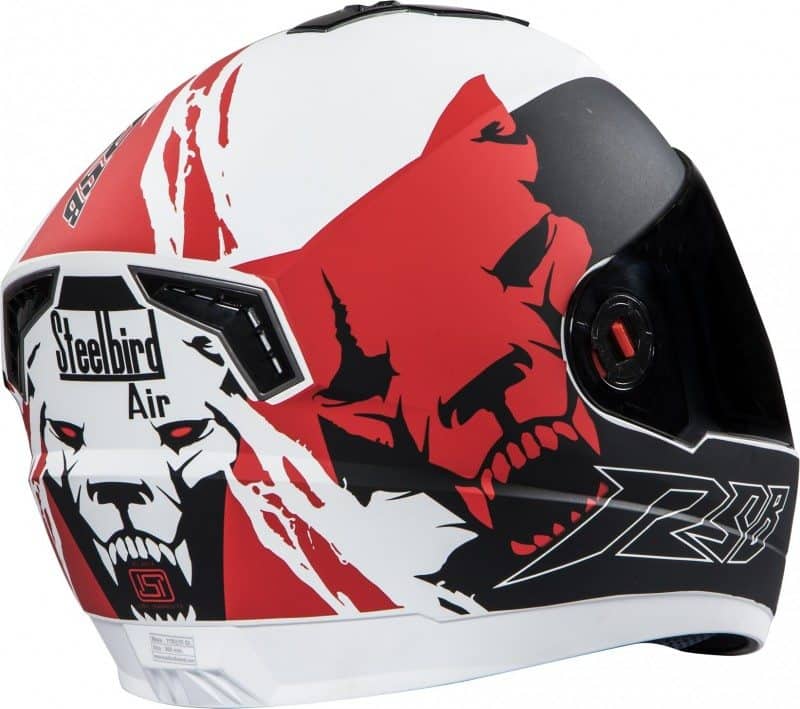 2.
Steelbird Helmet Vision Hunk (Rs 1728)

Another full-face helmet that comes with a multi-pore breathable interior, anti-allergic and antibacterial coating, the Vision Hunk weighs 1400 grams.
Its visor is scratch resistant and also comes with a tint effect as stock. Its quick-release visor helps the rider switch between both types of visors, mid-way and fully expanded, with much ease.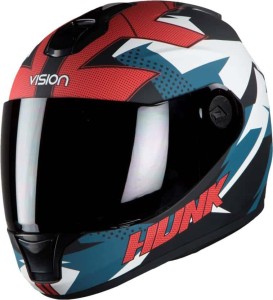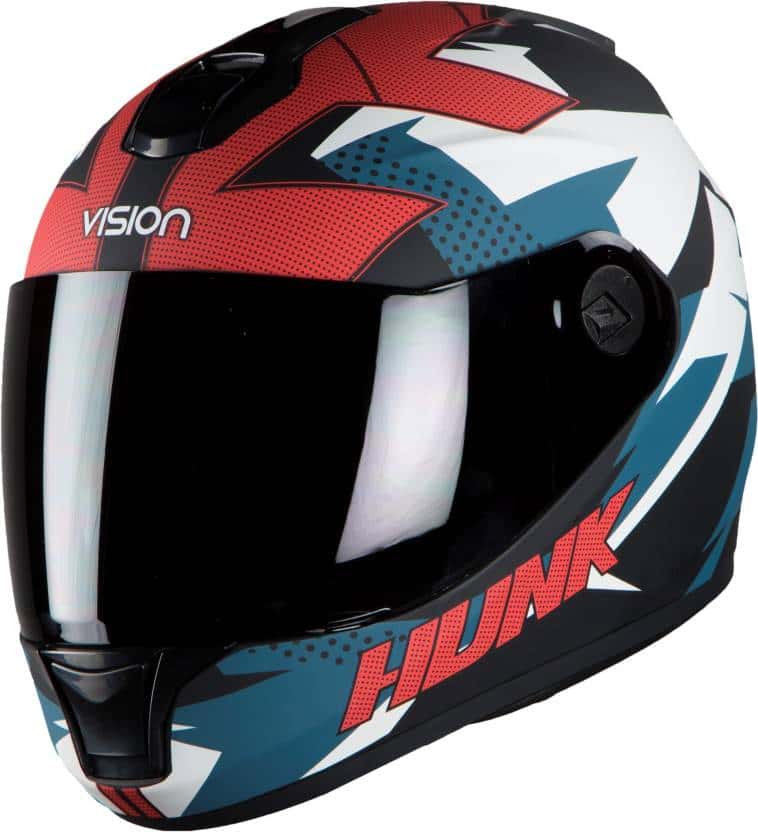 3.
Studds Helmet Chrome Super D1 (Rs 1496): Best Helmets Under 2000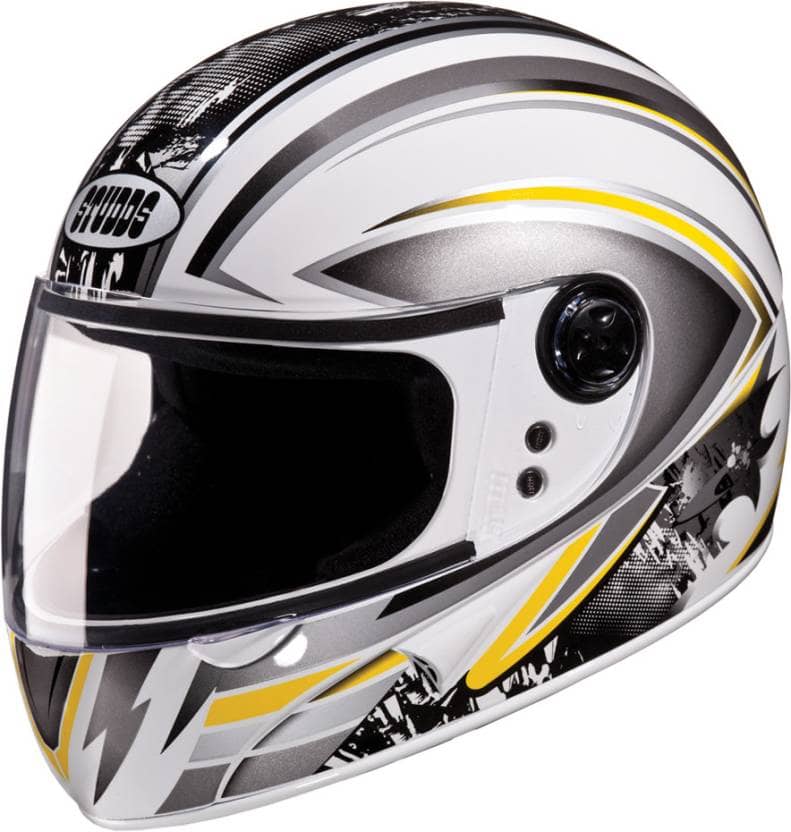 Studds has been known to manufacturer the most durable helmets for the masses and Chrome Super D1 is no exception. The full-face helmet comes with EPS padding, UV protecting visor, Chrome Super D1, anti-allergic inner material and UV resistant paint.
It can be bought in only White shade but with attractive graphics. While Visor replacement needs no special equipment, the insides are washable and removable. This is one of the best Studd helmets under 2000 Rs.


4.
Vega Helmet Crux (Rs 1344)

Vega's full-face helmet has been in huge demand these days, but the Vega Crux helmet under 1500, which is a dual-purpose helmet, offers even better practicality.
While it can serve as both an open face and full-face helmet, the visor automatically moves up when the rider raises the jaw section of Vega Crux. This action can be performed with a single press of a button while the protective gear is available in Black, Red and White shades.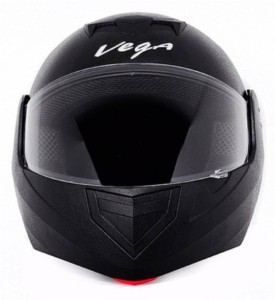 5.
Studds Helmet CUB 07 (Rs 1095) : Best Helmets Under 2000

This is certainly one of the most practical pieces of best helmets under 2000, along with being the only half-faced helmet on this list. Everything about this product is integrated by keeping safety on the highest pedestal, from the high impact grade of engineering thermoplastic outer shell to EPS concussion padding with regulated density.
Apart from all this, you also get anti-allergic velveteen and a dynamic ventilation system in the helmet for a comfort-driven ride.


6.
Studds Helmet Thunder D5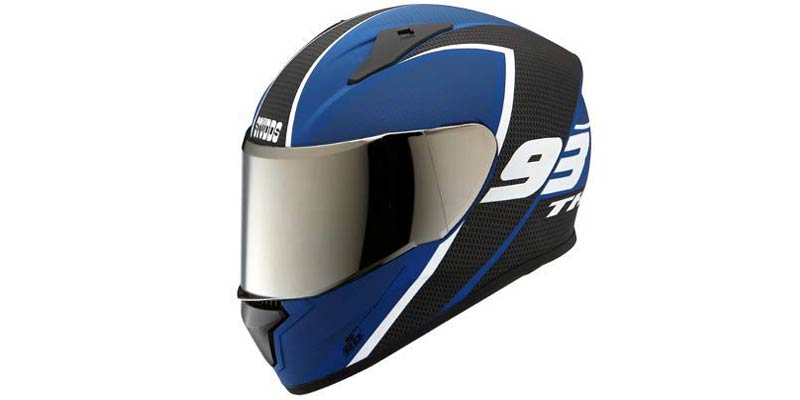 Another gem on these best helmets under the 2000 list from the house of Studds is the Thunder D5 which comes with an assertive and aerodynamic design, perfectly suited to your adventurous aesthetics.
This design is protected and kept alive with scratch-resistant properties on the visor, washable and replicable liner on the interiors, and a robust ventilation system for optimum comfort to the rider.
High quality and even higher comfort are something that this product echoes consistently, along with being available in different sizes for you to choose from.


7.

Vega Helmet Offroad OR-D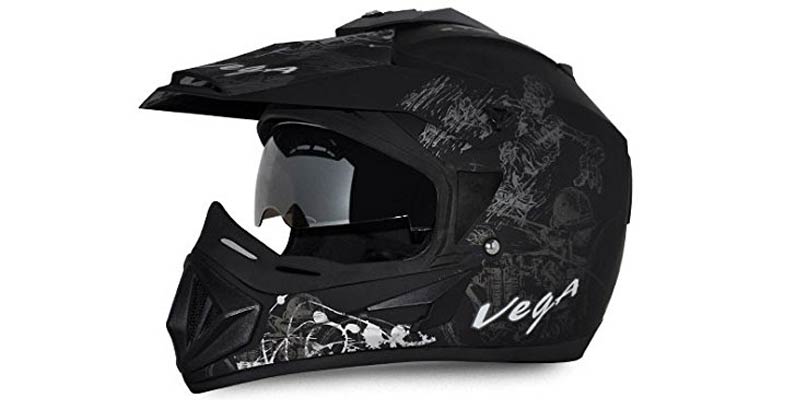 Couple your fiery ride with a futuristic and swanky helmet, the Vega Off-Road. In addition to its eye-catching design, second sun visor to add that cooling effect, and total ventilation, this product also comes with ISI certification and ABS outer shell to offer maximum protection at its best.
As the name suggests, it is perfect for adventurous souls who like to explore until the end of their days and don't want anything to bring a hindrance to the experience. It also offers washable and replicable interior lining to keep your hygiene in check, simultaneously.


Also Read: These Are The Fastest Bikes In India With Price, Engine And Top Speed Information
8. Steelbird OSKA Flip-Up Helmet with Reflective Graphics : Best Helmets Under 2000
Another one of the best helmets under 2000 from the house of Steelbird known for their great product quality and designs. There are two sizing options to choose from – medium and large, and this particular product comes with unique Italian design hygienic interiors with multi pore opening for optimum comfort.


The helmet is made with high impact ABS material and is an ISI certified product. You also get super comfortable and breathable padding, along with the neck protector for extra comfort during long travels.
9.

Vega Ryker D/V Boulde
If you're someone who doesn't like their helmets being too flashy and often attracted more towards simple and modern designs, then Vega Ryker will certainly become your favourite. With a high impact, ABS material outer shell, UV and scratch-resistant visor and secondary sun visor for extra comfort, this best helmet under 2000 will offer you great comfort.


In terms of ventilation, you have 2 side vents, 2 back exhaust vents, 1 mouth and 1 top vent, adding to its comfort and breathability feature. And, if all that was not enough, you also have a removable and washable lining to maintain the hygiene of your helmet and a collarbone safe profile on this product.
Also Read: Best Electric Bikes In India 2020: Price, Range, Charging Time and Top Speed
10.

Steelbird SBA-1 Cesar
Coupled with Italian design, hygienic and multipored breathable padding and European standard helmet, you can never go wrong with a Steelbird Cesar helmets.


They're made by keeping different drivability options in mind, leading to a comfortable everyday, road trip and casual rides. In terms of its High Impact ABS material shell, you also get both high and low density for greater safety, in addition to Air Channels.
| | | | |
| --- | --- | --- | --- |
| Sr. No | Brand | Helmet | |
| 1 | Steelbird | Steelbird Helmet Air-1 Beast | ₹ 1,999 |
| 2 | Steelbird | Steelbird Helmet Vision Hunk | ₹ 1,999 |
| 3 | Studds | Studds Helmet Chrome Super D1 | ₹ 1,220 |
| 4 | Vega | Vega Helmet Crux | ₹ 1,331 |
| 5 | Studds | Studds Helmet CUB 07 | ₹ 1,150 |
| 6 | Studds | Studds Helmet Thunder D5 | ₹ 1,995 |
| 7 | Vega | Vega Helmet Off-Road OR-D | ₹ 1,871 |
| 8 | Steelbird | Steelbird OSKA Flip-Up Helmet with Reflective Graphics | ₹ 1,799 |
| 9 | Vega | Vega Ryker D/V Boulder | ₹ 1,898 |
| 10 | Steelbird | Steelbird SBA-1 Cesar | ₹ 2,099 |
These were the five best helmets under 2000 Rs in India, which perfectly suit any rider's needs. If you are looking to buy the best protection gear which offers the best value for money, you can go for either of these helmets, according to your taste or what should complement your ride the most.