Sadly, it isn't always that one finds Sudan in news for the right reasons. When it isn't for its immensity of political backlashes then one often finds Sudan or North Sudan besieged by vehement clashes between the civilians and the government.
It's not easy to overlook or conveniently leapfrog undercurrents such as Sudanese Intifada of 2011. But, is that all we have here in Sudan, a hitherto undiscovered North African nation, as far as its diverse geography is concerned.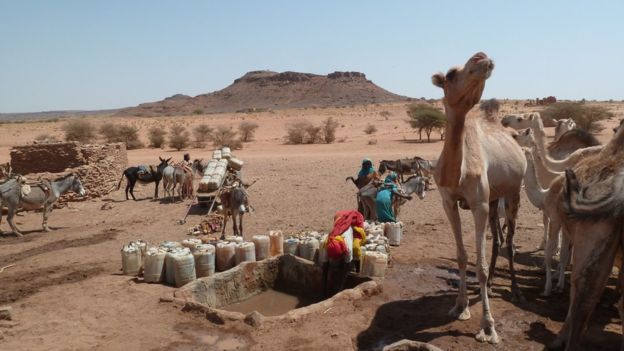 The country is laden with rich history as before being split in two nations- North Sudan and South Sudan, it was one of the largest countries in the whole of Africa.But as luck would have it, being sliced into two nations meant that Sudan's conflicted two halves found the rough end of the division split.
Home to many ancient civilizations that flourished here, the Sudanese form a huge population that has to dabble with internal conflicts, struggle for economic self-sufficiency and battle terse subjects such as human trafficking.
While a multitude of people would deny visiting the country, it may come as a surprise to you that Sudan is actually a traveler's paradise. Did you know that, you probably didn't, right?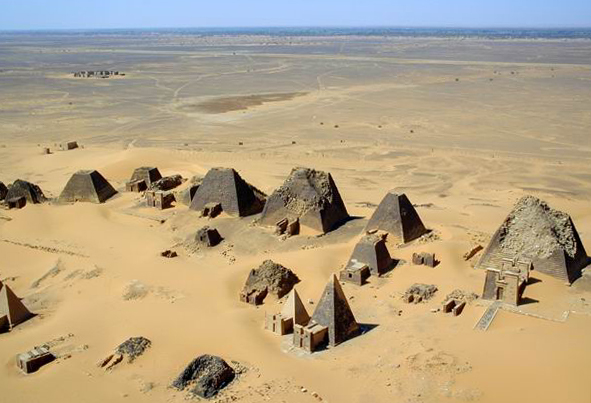 Sudan is a home to an enormously interesting ancient history, the country has traversed through wars but a true traveler's heart will not stop before it uncovers the hidden archaeological treasures.
Among many other historical cities, there lies Meroë, a city of Nubian civilization and inseparable part of Kushitic Kingdom. Visiting Meroë is just like walking in history, among the glittering sands of the city lies 220 Pyramids, standing, collecting dust and unheard.
The Forgotten City Of Meroë
This ancient city is situated on the east bank of the Nile river and is a destination that despite being plied with tones of history, sadly often misses the curious eye of travel enthusiasts.
Meroë was the capital of the Kingdom of Kush for many centuries. The name Meroë was given by a Persian king, Cambyses in honor of his sister, who was called by the same name. Since 800 BCE Meroë was the base of a flourishing kingdom whose metalworkers were among the best in the world. The city's wealth was centered around a strong iron industry, and international trades.
That it was all gold and bling, there's little surprise that it would became a royal burial ground. Many pharaohs and queens were buried in the city inside their tombs which were actually Nubian Pyramids.
The Unsung Archeological Site Of Nubian Pyramids In Meroë
As soon as the word Pyramid lands on your ears, Egypt strikes the mind. Does it not? The large triangular structure tombs, where many royal occupants were mummified, are now the centre of attraction in Egypt. These Egyptian Pyramids are the main source of Egypt tourism and lure travelers from all around the world in sprawling numbers.
While Egypt's pyramids have become synonymous for each other, you will be shocked to know that there are more than 220 Pyramids in Meroë that make for more than Pyramids you find in Egypt.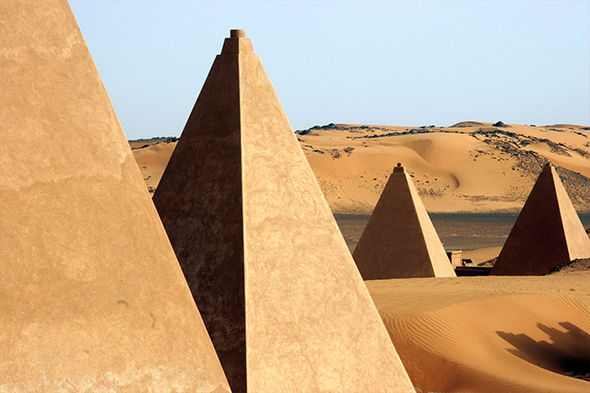 Meroe's pyramids are in the middle of an actual dessert area. Amidst arid topography, travellers are bedazzled to find an elaborate history; the same dating back to over 4000 years. It could have been one of the most alluring sites in the world but now these pyramids are nothing more than a large ruin in the heart of Sudan.
However,despite being damaged and vandalized, the chain of 220 pyramids is a breathtaking site to visit. There's this haunting silence and standing tall on ruins triangular structures between god's mighty earth and skies; as if a whole different world calling out to the hungry traveller.
The only difference,nonetheless, between the Egyptian Pyramids and Meroë Pyramids are the sizes. Where Egyptian Pyramids are bigger, Meroë Pyramids would only go up to the height of 40 meters. One funnily wonders if there's an inference here. For history to attract the modernist, it doesn't have to seek skyrocketing ambition, right?
The pyramids are actually tombs where bodies of pharaohs and queens were buried along with their belongings, gold, and everything.
In 1800, many pyramids of Meroë were destroyed and had their top removed by Europeans. After all, it's more easier to simply strike of a creation than spend time making one. A noted pyramid slasher was Italian Giuseppe ferlini. These pyramids are now unprotected historical ruins where people have engraved their names.
Clearly, not all of us have respect for history.
Why Giuseppe Ferlini Chopped The Head Of Meroë Pyramids?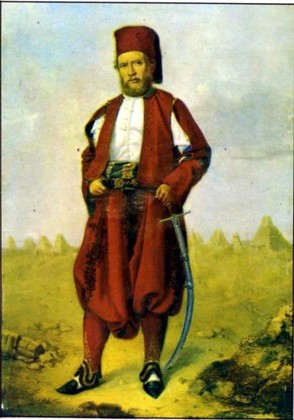 Giuseppe Ferlini, though had an interesting entanglement with Sudanese history. Travelling across Greece and reaching Egypt in 1815, he would join the Egyptian Army and would become a part of the Egyptian conquest of Sudan in 1830. He served as a surgeon-major and stayed at Sennar and Khartoum in the 1830s. He later decided to devote himself to treasure-hunting. In 1834 he would reach Meroë and it was here that signs of a forthcoming destruction were evidenced.
Guiseppe would learn about a legend regarding 40 ardeb of gold.
Enticed by the stories of villagers, he raided and demolished around 40 pyramids. However, he did find the treasure in pyramid N6 of the kandake Amanishakheto. Dozens of gold and silver jewelry pieces were robbed by him.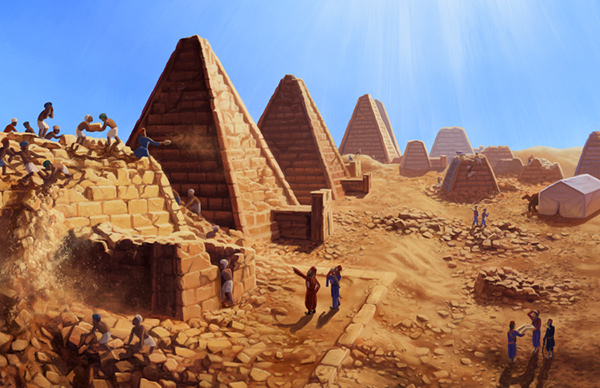 Coming as a solo traveler, he would return a wealthy aggregator of gold.
He returned home in 1836 and tried to sell the treasure but failed to convince people that such high-quality jewelry could be made in Africa. Ferlini finally sold the treasure in Germany. Who is to know how much he made?
Some parts of the treasure at present rests in the State Museum of Egyptian Art of Munich and Egyptian Museum of Berlin.
The man responsible for the destruction of over 40 pyramids and possibly one of the richest heritage sites of Sudan, gave to the North African nation a shambolic albeit memorable touristic spot, hitherto less-known.
The history or the beauty of the archeological sites of Sudan is not discussed often. People refrain from visiting this place; the number of visitors is about 50,000 a year which is fewer compared to Egypt.
Despite the fact that the impressive buildings made by humans in Africa have stunned the world for over 3.3 million years, one might not want to believe that Sudan is capable of such architectural feats.
Sudan is indeed a country that is mired in conflict, natheless the pyramids of Meroë are an ideal adventurous site for explorers. Having a wrenched destructive history intact, the damaged triangular structures speak more of their glorious past and allow you to revisit a long forgotten history.
12 October 2017
Avni S. Singh