Not by any line of imagination- a myth. Not a standard by-line when it comes to describing perhaps a weirdly believable adjective of the paranormal living beside us. The Shaman, for ages, has intrigued as many people as it has inspired their imagination.
Witch doctor? Tribe of wanderers capable of producing magic
A somewhat uncannily attractive tribal figure of mystique, the shaman has been described and obsessed over for ages.
You've danced alongside it in the Dances with the Wolves, you've heard Jim Morrison singing spectacular and fiery monologues in his famous "Ghost Song" and, you've had artists selling millions of art-pieces based on the enigmatic physicality of this captivating strand of the Western and Eastern world.
The Red Indians; the native Indians, and the healing masters of the oriental land; China- you can be a funny, flimsy or ignorant man, but you cannot steal any thunder away from the cult of the Shaman.
Popular culture has painted around the Shaman endlessly fascinating representations and, ferried it all along in Hollywood as the movie-going culture went from the heydays of 60s and 70s rebellion-driven sagas to soapy or often mushy romances of the 1980s cinema.
But one thing that hasn't changed is the allure attached to the Shaman.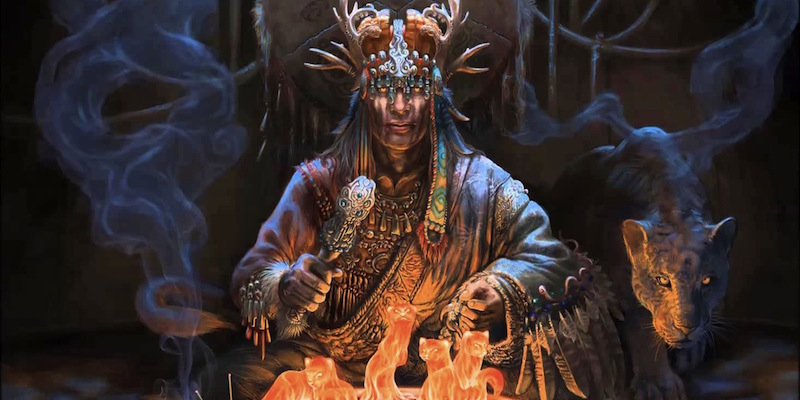 So that brings us to the most basic albeit vital question. Just who is a Shaman; what is meant by Shamanism?
Is the Shaman the occupant of a pitifully sad part of the Western civilization? Could it be that implicit in the heart and soul of understanding the Shamans, as we know them; lies the path to understanding a 'higher conscience'?  
The primary purpose of the word, in a purist sense is to uplift humanity.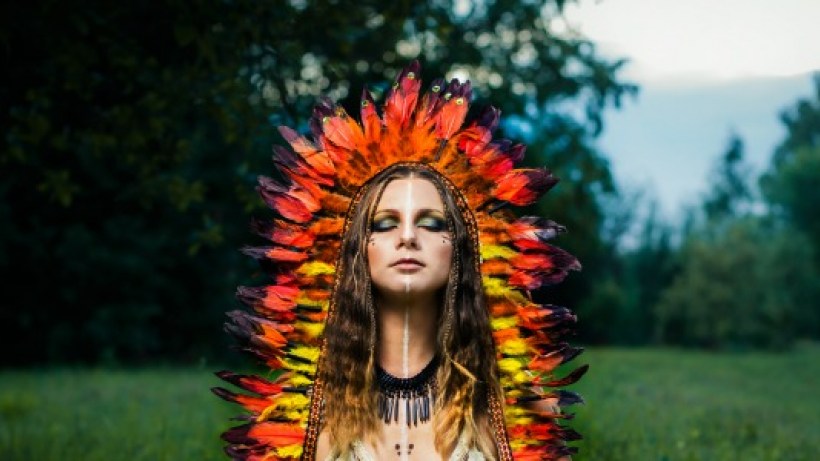 One of the means of doing so is to decode ancient knowledge, handed over from eons to eons; something that was valid back in 10,000 years and something that can be relied upon now, so as to treat anomalies in health, that makes the practitioner of this science- a Shaman.
That said, here's an interesting facet that's been debated endlessly over the centuries regarding the powers of a Shaman.
Apparently, Jesus had the power to cure people, by virtue of casting out demons. Quite like the great son of god, Shamans, it is believed heal people, by absolving their lives and souls of any evil presence.
Enigmatic, isn't it?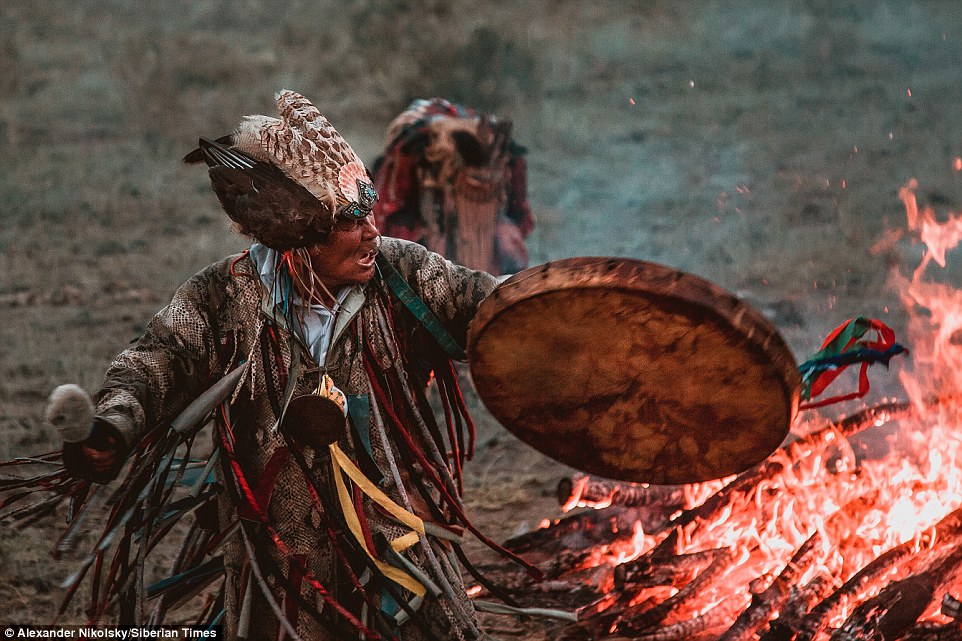 So the followers of an ancient healing tradition, a way of life, according to some, aren't sorcerers. They aren't the holy living incarnate of god or anything extra-terrestrial or sublime. But the Shaman's' goal is to construct a positive path on which humanity can walk and the concept of Shamanism lends itself to doing something for improving the collective consciousness of humanity where more and more lives walk on the tenets on which Jesus and other spiritual masters have walked.
This isn't a spectacle for urban living, or a eye-candy event that takes place amidst urban chaos of a tech-driven 21st century life.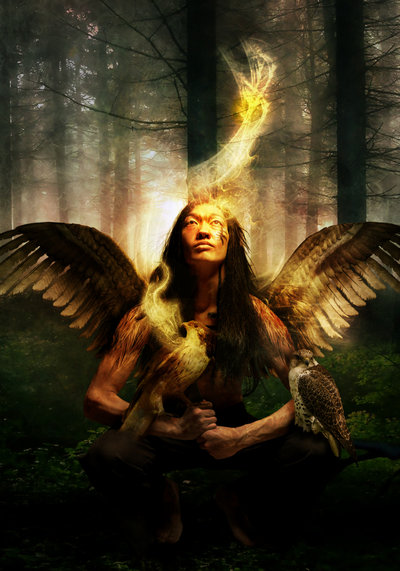 Today, one finds Shamans in the remote corners of the world where civilisation doesn't breed on the idea of giving rise to progeny or material aggregation of any sort. You've got to recede to the mountains, the wild, the nomadic splendours here on the face of the earth that often call out to you, but in vain.
Africa is home to them, Russian Tundra has some, it is rumoured as also in places as far as the Tvya Republic. The sprawling wilderness of Americas does have in its heart the often forgotten Shamans.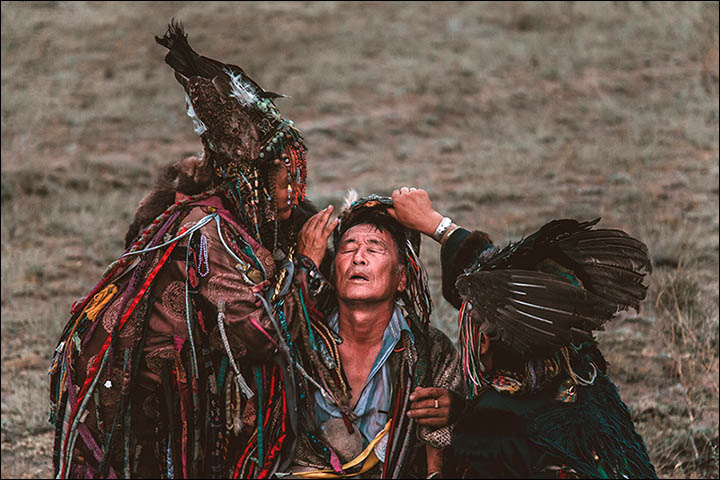 Adorning gothic, goat-skinned, or wolf-skinned costumes, decked under masks strewn in feathery designs and intoxicatingly brilliant patterns, the Shaman presides over huge congregation of fellow witch doctors and gatherers to celebrate holy spirits in elaborate  ceremonies that aren't shrouded in secrecy.
So today, even as it can become difficult to differentiate between traditional forms of shamanism and modernised versions, what remains standout is the universality of a Shaman's life; its purpose: to align with a spiritual, higher sense of being, one that permeates the spirit of the universe, perhaps aptly summarized in a revered Jim Morrison number, "Universal Mind".
History readers, documentary filmmakers, those attracted to the grim, darker side of life; those who fancy smoking up and, walking on terse trajectories that speak of mind-altering substances to evoke environs of higher consciousness will always be enamoured by a Shaman- be it practices like dancing, fasting or singing.
So even though, to this day, there exists no official database or a figure that conforms to actual Shaman population in the world, the interest in Shamanistic rituals and practices continues to find footfalls, perhaps owing to the growing disconsolation of leading futile, mundane lives besieged in commercial trappings.