Twitter has officially made it to become the most fun place on the Internet. It's a combination of everything that one can even remotely expect out of a social media platform. From funny and hilarious content to some hard-hitting, questioning and controversial content. Heck, US President Donald Trump reaches the people of his country, solely through the medium of Twitter.
Since the rise of Twitter is not ending anytime soon, users' activity is increasing every second day, at a fast pace, and this means more likes more retweets and more handles.
Twitter has finally released the top nine most retweeted tweets of 2017, and it also includes one of the most retweeted tweets of all time. The one where almost every single person on Twitter helped an 18 -year-old to get free chicken nuggets from Wendy, for a year. Along with the chicken nugget guy, there's the infamous "U Bum" tweet by LeBron James which was directed towards President Donald Trump.
Speaking of President Trump. He can easily be considered the face of Twitter, due to all the infamous tweets that he regularly puts out. From bashing his opposition to bashing sportsmen to bashing people who are putting a check on his doings, Trump is constantly on Twitter. Even though his tweets created a lot of buzz online, they somehow failed to get the readers and definitely failed to get any retweets.
However, former President Barack Obama definitely made a humongous impact on the platform, with his 3 tweets on the list.
Check out all the most retweeted tweets of 2017.
1. The Chicken Nugget Guy
No one can forget the quest of this 18-year-old guy who wanted free chicken nuggets from Wendy's for a year. Even though he fell short of Wendy's 18 million retweets requirement, he sure did manage to get 3.6 million retweets and a free chicken nugget deal for the year.
2. Obama's Response To Charlottesville
On August 12, this year, Charlottesville's supremacist rally took place and it shook the entire world. While President Trump didn't have a response to it (which is a first), Obama put out a picture featuring him with a diverse group of children and quoted Nelson Mandela. The tweet gathered 1.7 million retweets and also broke the record for the most liked tweet with 4.5 million likes.
3. Houston Relief Tweet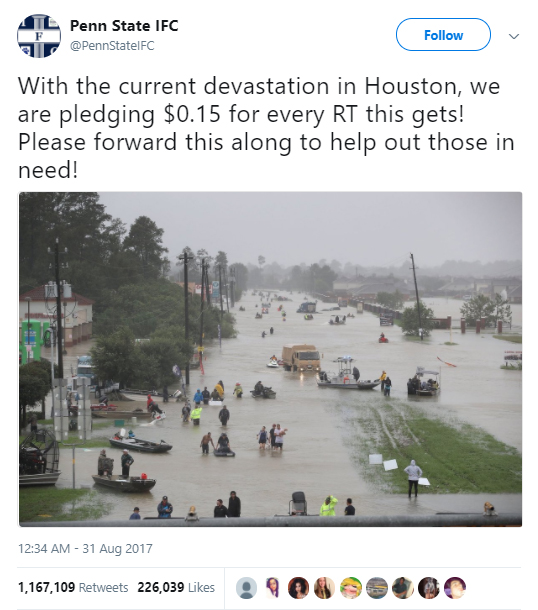 The Penn State IFC pledged to donate $0.15 for every retweet they get to Hurricane Harvey Houston relief. The tweet received 1.2 million retweets, but they capped their donation at $10,000 or 67,000 retweets.
4. Ariana's Post-Manchester Bombing Tweet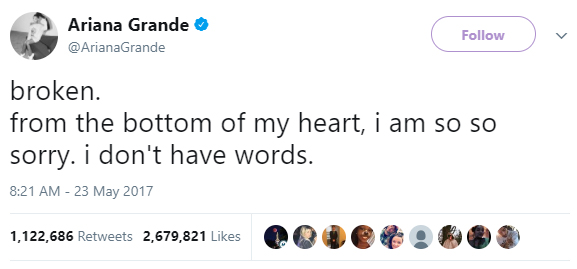 After the tragic bombing at her concert in England on May 22, Ariana Grande tweeted out her condolences and it received 1.1 million retweets.
5. Obama's Final Thank You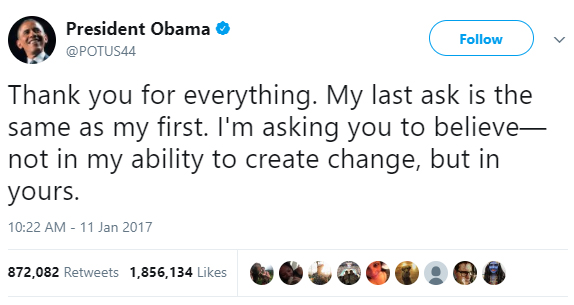 As Obama bid adieu to his President's position and White House, he tweeted out his final Thank You to the people of America. He thanked his supporters for always believing in their power to create a change. This tweet gathered more than 872,000 retweets and nearly 1.8 million likes.
6. Chester Bennington
In 2017, the world lost the lead singer Linkin Park, Chester Bennington on July 20. The band tweeted out a simple memorial of a photo of Bennington in concert on the day of his death and it received 787,000 retweets.
7. "U Bum"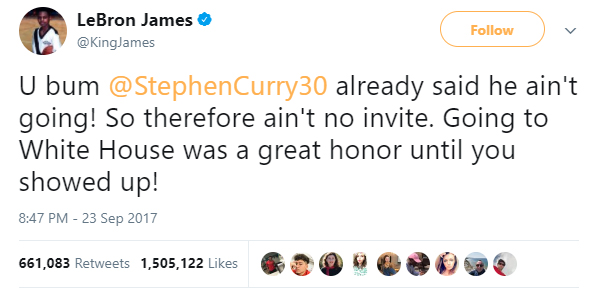 Lebron James' iconic "U bum" tweet stands number 7 on the most retweeted tweets of 2017 list, where he loudly subtweeted President Trump and gathered more than 660 thousand retweets. His tweet backed up fellow basketball player Steph Curry's decision to not attend the White House, following the Golden State Warriors' NBA championship.
8. Obama's Final Goodbyes
This particular tweet was the first of President Obama's last string of tweets. The tweet cited what an honor it was to serve on his day in office. The tweet gathered 631 thousand retweets and more than 1.6 million likes.
9. Houston Dog Food Donation
The world loves dogs and it became apparent when Sam Martin of the Detroit Lions sat with his dog and promised to donate 6 pounds of dog food for every retweet to Houston in the wake of Hurricane Harvey. This is the only video on the list of most retweeted tweets of 2017 and it received a total of some 623,000 retweets. In the end, Martin donated a total of $10,000 worth of dog food. Check out the full video, here.
2017 was nothing short of a roller coaster ride, and now, one can not even think of the heights Twitter will reach with its retweets and likes in 2018.
Jyotsna Amla