At this point in time, Israeli hospitals are using brand new ventilators everywhere across different regions of the Jewish heartland. Some might call it a very random piece of news but those whose eyes are forever transfixed on the development on the only Jewish state in the world, may actually take this piece of news slightly differently.
So what exactly is the matter and what really happened down in Israel, you might ask.
Well, here's what you need to know. Following the recent spike in the number of the COVID 19 cases, hence leading to an ever increased number of Coronavirus patients in the country, it appears that three medial centres in varied parts in Israel have begun using what can be called a new type of ventilator.
This was previously not seen anywhere into active use at all, Israeli media reports. But firstly, which are those medical centres in Israel that have started adopting to this one of a kind new ventilator so to speak?
Be informed that Sheba Medical Centre in Ramat Gan, Wolfson Medical Centre in Holon, as well as the Yitzhak Shamir Medical Centre in Be'er Ya'akov have all begun taking the different route to treat the new growing number of the Coronavirus patients in Israel.
In fact, if you thought that that was the only leading news emanating from the Jewish heartland in Middle East, then you need to stand corrected. It was only a few hours back in the day where a new medical report originated from Israel that had a very new and hitherto unseen way of reporting fresh COVID 19 infections: measuring the density of those affected according to per capital region.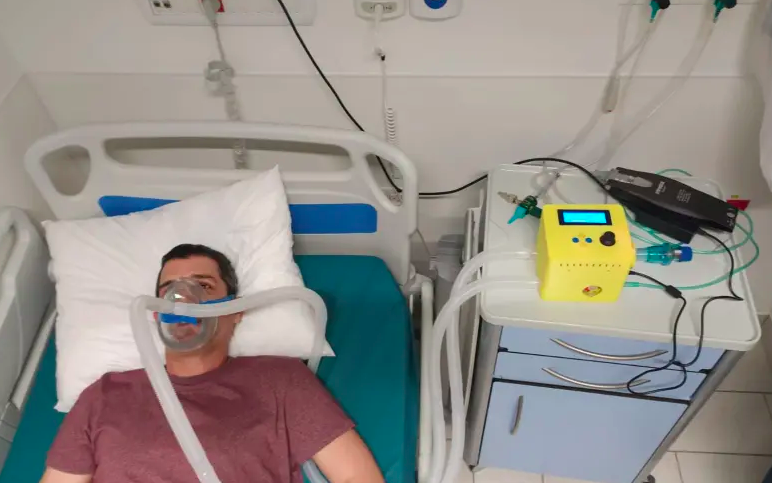 You read that right.
A fast-track ventilator, the new tool adopted at various Israeli hospitals, was also in use for a brief period during the month of March, 2020.
But that was before the cases really peaked in Israel.
More developments on the said news were reported in Jerusalem Post, one of the country's most trusted news dailies which shared:
One of the risks of prolonged reliance on respiratory support system in coronavirus patiets is a lung infection, caused by an accumulation of excess fluids in the lungs. AnapoGuard helps remove these excess fluids, which often indicate that a patient is in the early stages of pneumonia.
Medical experts who are on the frontlines of the fight against coronavirus have welcomed this latest addition to their arsenal. One of them, Professor Gil Bolotin, Director of the department of Cardiac Surgery at Rambam, described his experience:"My department has been using the AnapnoGuard system when treating high-risk ventilated patients. During this time, we have seen a significant reduction in the number of patients who developed lung and pulmonary infections following intubation."
But moving on from that, it must be said that the problem created by the Coronavirus hasn't really been a telling one as such, if one could put it that way, for the Jewish state. While there have been as many as 100,000 recoveries (confirmed), the number of patient deaths are yet to reach 1,000, according to the official data.
Also Read: Better Days Await Israel And Its Relationship With Several Arab States
Yet, Israeli hospitals & medical facilities are leaving nothing to chance which is the country's standard mode of operation in the light of any rough day or taxing situation.