Never before has the sentiment surrounding the fact that "Black lives matter" mattered as much as what one finds today. And one hopes never again should there be a need to revisit this emotionally-powerful sentiment.
Do not get yourself confused.
Because only in a situation where equality and fairness for all will prevail can we ever truly feel that there indeed is heaven on the face of the earth- right?
Otherwise, virtues like equality- which we strangely have to 'remind' others of even in this age- would just be akin to some powerful lyrics inside a book. Say something like an elusive value. Right?
But here's the fact. Black lives matter! Not just in the United States of America but also in South Africa. In fact, here's a bit of a fact that may really befuddle the most of you, who may not have known what South Africa experienced recently:
Soon as the lockdown was ensured at the nation-wide level in South Africa, a strong message was delivered by the military commanders to the Charlie Company of the 21 Infantry Batallion (serving in Johannesburg).
The same military company was patrolling the streets of Alexandria, in an impoverished Black community.
But the orders were harsh and strict, and really on your face; nothing subtle about them: "Find, Fix and 'Neutralize' the non-compliers!"
Wow, what does neutralize even mean. Yes, the worst that comes to your mind actually.
And that's not all. An important component of the message was as follows:
"Allow harsh measures of the law to take place!"
Surely, in the wake of such sudden and unforeseen pandemics, one is ought to get tough and act tough. But do we reach the ultimate limit when we imply the usage of the term 'neutralize?'
Well, you bet. Otherwise, The Globe and Mail publication would never have published the following:
A few days later, on Good Friday, soldiers and police arrived at the home of Collins Khosa, a 40-year-old man in Alexandra who was allegedly drinking alcohol in violation of lockdown rules. Within hours, he was dead – the victim of a brutal assault and torture by soldiers as police watched.
The death of Mr. Khosa has gained the same notoriety in South Africa as the death of George Floyd in the United States. Both have become symbols of deadly excesses by law enforcers – a pattern of abuses that has persisted for decades.
Now that said, while comparisons must always be damned, the little-known demise of one Mr. Khosa, as a result of direct police brutality does point to a question, albeit one that none ever raised, at least, not at the scale that has today become the "George Floyd" movement:
Did the life of this little-known black man even matter in South Africa? How insinuating and immoral was the extent of his crime- drinking alcohol under violation lockdown rules that he was actually 'killed?'
Did the country's President issue a statement? Was there a public apology?
He could've been smacked a few, given the tase of the odd medicine; one reckons, should've ideally been fined or jailed.
But was a brutal murder the right form of imparting justice?
Did Johannesburg get down on its knees and raise a voice of concern, uniting an entire country- let's not forget, a nation that fundamentally is formed on liberal, democratic, racially harmonizing values- so much so that it's called Rainbow Nation?
And if that didn't happen, then what was achieved by keeping mum about the issue?
The only thing, which ought to be read as a positive resulting from this unfortunate death in South Africa was that- it led to a landmark court ruling for the Khosa family, forcing the government to issue codes of conduct to restrain the country's security forces.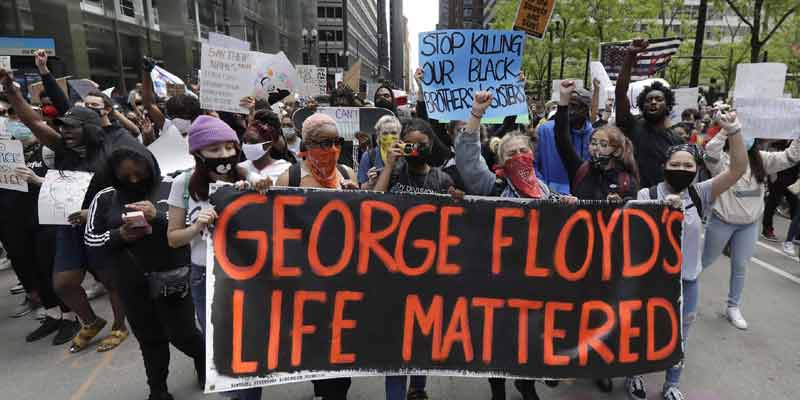 Suggested Read: South Africa's New Predicament: The Connection Between Alcohol Ban And Rising Crime!
But all said and done, here's what the tragic demise of George Floyd done to South Africa- if for anything, it's perhaps raised a question that why African governments have, for the longest time, remained tolerant to similar mistreatments and brazen abuses by the governments, doing nothing to raise a protest- a voice of unison.
Now, here are some statistics that actually warrant an intense scrutiny of the existing government in South Africa and where the locals must stand up and put forth a retribution- or is this a strong word:
South Africa has recorded 12 deaths allegedly caused by police or military personnel during its lockdown. At least 18 deaths have been documented in Nigeria, and about 20 in Kenya, during their pandemic curfews.
On a per-capita basis, police-related killings are more common in South Africa than in the United States. About 1,000 deaths annually are attributed to police actions in the United States, compared with about 600 annually in South Africa, but the U.S. population is more than five times larger.
At the end, let it not be forgotten that one innocent and harmless man's unfortunate death in the hands of the very protectorate that swears to serve him is a direct assault on the very fabric of democracy and human rights!