Few other countries are as polarised as China.
In the modern age, it is seen from the perspective of multiple viewing points. Critiqued for being a totalitarian state where the pupil has less of a say in front of an authoritarian regime, while China has been criticised, on the one hand, it has also been lauded and marvellously so for feisty achievements in entrepreneurship, industry and trade in the other.
To speak of China's success, merely stating that its the hub and breeding ground of producing duplicate fashion apparels and luxury labels, a market of which extends worldwide would be to state a half-hearted picture. To quote the country's success through feats like building its own mega Disney tourism park may not suggest the full picture. Nor can the earnest submission that in cities like Beijing and Shanghai- China's got two of the lasting symbols of capitalism and mega infrastructural height.
And perhaps, nothing can divert attention from the current perception of the XI Jinping-land being a massive surveillance state as well as the Anlong Limestone Resort. Could this be the world's finest tourist centre at present? There are reasons to believe so. A world away from the neck-breaking expanse of seeing a multitude of skyscraping wonders in Beijing and Shanghai, the Anlong Limestone Resort is a symbol of ethereal beauty. Are you excited already to discover perhaps a hiddenly captivating side of the land of the Giant Panda?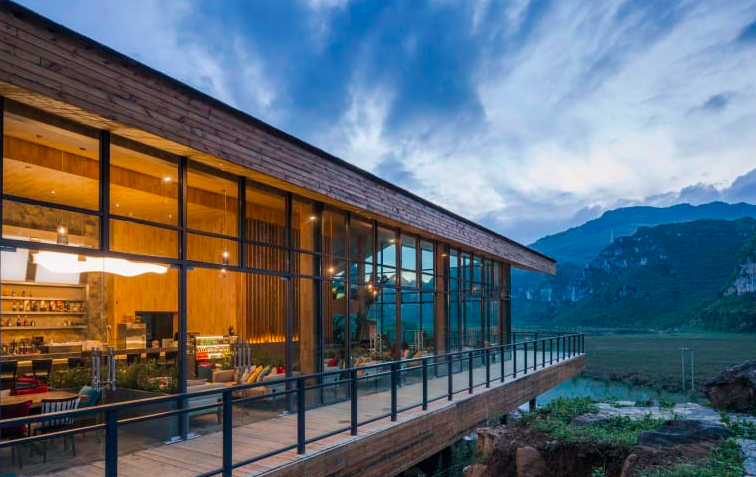 The common traveller may wonder, why is this tourist centre so deeply away from the realm of popular tourism? At first thoughts, one may reckon, being that way doesn't hurt much, does it? There are views surrounding the beauty of the Anlong Limestone Resort that perhaps aptly describe it as the country's hidden wilderness paradise.
Not decked in the mainstream, not even brandished by extensive descriptions in the social media sphere, the Anlong resort is a world away from the contemporary world. Even as it opened in 2016, the said resort is yet to strike the attention of the mainstream touristic public. This is, of course, a public ever willing to explore the world around and willing to see a China that lays beyond the majesty of infrastructural heights of its main cities.
Serenaded by a canyon and sitting pretty amid the luxury of greenery, the Anlong Limestone Resort is nestled in the Anlong county, just southwest of the Guizhou province, a part of China famous for its fantastic mountains and river bodies. It could be likened to a peaceful hill resort at a high altitude. A mini-Europe resort equivalent of the land of the Oriental, who knows?
But just when you thought peace and quaintness would only describe this blissful Chinese resort, a thought strikes the mind. How could China rest only with giving it's travel-hungry public a showpiece creation that's not catering to some "mega aspiration" of the future? An incredible $42 million project, the Anlong resort is a part of a huge plan to develop the area actually into a big venue for both national as well as international sporting events. But whether this will overshadow the olympian structures in main cities that host global sports meets would be a tad bit overcalculating, for now.
Who knows what the future holds. But what's known is that these serene-looking structure etched in the quiet Chinese county of Anlong county sits in midst of lanky mountains, sprinkled by the comfort of greenery and solace. It's not even a standalone structure. Tourist centres in midst of nature's alley are always a big hit. India has a few, United States boasts of some and inarguably, the most famous tourist centre in all of Europe- Davos- inspires envy. Could this be something on the likes- knowing China's penchant for emulating the best in the world and often superseding them, one wouldn't be too surprised.
The Anlong limestone resort is divided into four parts, that include- an elevated outdoor platform being a central tenet to a marvellous strand of architecture design, connecting the structure to four of its buildings. This is, precisely the place where locals and tourists meet under blue skies and nippy evening winds. Imagine the fun?
There are other aspects of the beauty amid the hills. These include- a bar, a restaurant and, for business purposes- a conference room that's of a mega capacity. If actually marketed well, this embodiment of a unique architecture in altitude could fetch China awe from rest of the countries. Few countries, if it must be said, understand the link to use architecture as a connecting dot between people and nature and among them, is China.
A quick word from the body of forces involved in constructing and maintaining the site- "We hope that the visicentrenter will maintain a symbiotic relationship with nature. It serves as an anchor as well as a spiritual beacon of the entire site."