The reality of Delhi is getting weird and painful by every passing hour. Until a few days ago, it was reported that even the most prominent hospitals in and around the country's national capital were struggling with COVID beds. Things took a turn for the worse when new admissions were declined simply because there was a dearth of oxygen even in some of the most reputed private hospitals. Then came the news that oxygen cylinders were to be shipped from far-off destinations like Australia and Germany, before finally a haunting piece of news arrived that there were endless queues for bodies to be cremated at crematoriums given the overburdening of those who'd perished due to COVID 19.
That was horror. That was ghastly horror. But the buck didn't stop there; one of the most shocking pieces of news as on April 28 has arrived in the form of a dog crematorium site in Delhi, which is to be used for cremating the body of humans.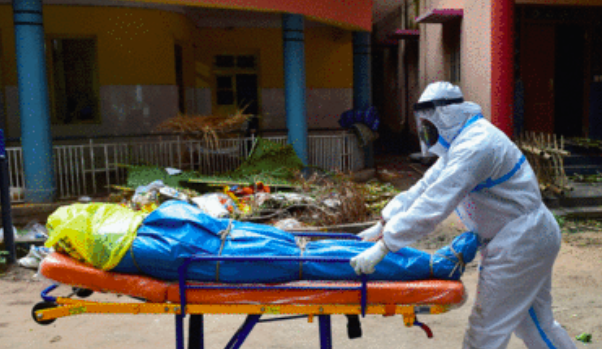 If that is not shocking, then one wonders- what is?
But then what might have been the reason or extremity for such a measure to even take place?
As it turns out, given the number of COVID-protocol funerals are approaching upto 700 bodies per day in Delhi, the civic bodies are desperately searching for viable places in order to initiate the funerals of the COVID patients.
Also Read: Around 150 Beds To Be Made Ready At Vacant Flats In Gurgaon By Next Week!
And in the midst of this ruckus, with the human bodies piling up resulting from COVID 19 deaths, a decision was taken by the South Delhi Municipal Corporation to create a temporary human funeral pyre platform on the very project site where it was originally planned to cremate a municipal dog crematorium.
The said location being Sector 29 of Dwarka, not too far from the Delhi Airport.
"Temporary pyre platforms will be developed to cater to additional bodies. We are witnessing an increase of 15-20% of funerals on a daily basis, "as stated by a Corporation official.
Meanwhile, a report on this shocking story was published on the Times Of India that happened to share the following:
"The crematorium site, which is spread over 3.5 acres, has not been in operation yet. Around six months ago, the civic body approved the cremation rates for this upcoming animal crematorium. The SDMC standing committee had approved the establishment of a small animal crematorium on PPP mode," 
Also Read: Why Was There Commotion At This Jaipur Hospital?
Yet all of that said, let it sink in that such is the travesty of our times that the human beings are eating up the space meant for the final resting place of animals, even in their death. One wonders how long will such misery continue and how soon can the day of normality strike back because for now, it doesn't appear as if anything's going right. After all, what else can anyone say!