While traveling has been under the bust for more than a year now, we still often find ourselves dreaming about our next vacation and the normalcy to come back. To ignite these dreams, Top-Down has initiated its annual rundown of the world's coolest streets of the year.
The media brand is popular for curating some of the coolest lists, running down best neighborhoods, restaurants, and whatnot, and this year they decided to go steps ahead to list down the world's coolest streets of 2021. The top 10 streets have been picked from some 27,000 streets around the globe and have been finalized based on their cultural and nightlife offerings, food and drinks destinations, how these streets have cultivated the feeling of a community in their neighborhood and among their people, which stands especially true during the year of pandemic and lockdown.
The list has been curated post a survey by Top-Down where they asked their readers to name the coolest streets in their respective neighborhoods. So, here are the top 10 world's coolest streets that you can add to your itinerary, once we'll get the opportunity to travel again.
1. Smith Street, Melbourne, Australia
Toping the list of the world's coolest streets is Smith Street in Melbourne which has a long history associated with it. Moreover, there are tons of things to explore and experience in this street, from Scandi furniture stores to cuisines from all over the globe. Plus, there is something for everyone, from Vietnamese Banh Mi to delicious takeaways from Alimentary.
The street shines the brightest at night time when all the pubs, gay bars, and music joints come to life. You can also enjoy tons of drag shows in the neighbourhood and fancy cocktails, with your friends and family. 
2. Passeig de Sant Joan, Barcelona, Spain
Opposing the concept of the entire street, this particular one spans four distinct neighborhoods and distinct characters. while the upper section of the street is filled with old-school restaurants and eateries, the southern end of this street is more engulfed by stylish and modern restaurants.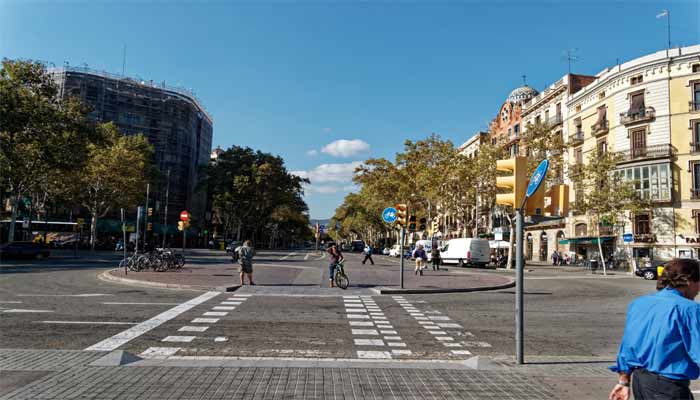 There are some interesting and super popular comic stores in the area that you can enjoy while being here. Travelers can either experience the street on foot or hop on a bicycle to enjoy the view and experience offered.
3. South Bank, London, UK: World's Coolest Streets
London in itself is a combination of some unique characters and stories submerged into one, and Londoners often consider a cool street to have unique energy, atmosphere, heritage, and stuff to enjoy.
All this is perfectly found at South Bank, filled with distinct energy of local business owners, food joints, galleries, pop-ups and so much more. Moreover, you'll be constantly surrounded by some unique personalities that come together perfectly and give London its true meaning. 
4. San Isidro, Havana, Cuba: World's Coolest Streets
Havana is an interesting place in itself, not explored much by Asians in general, however, if you plan to ever stumble across this place then you should visit San Isidro, the 4th World's Coolest Streets of 2021.
Described as an art canvas in itself, this place has spray-painted walls, abandoned yards, and enjoy the super delicious Cuban food. The street is also popular for its busking scenes with artists pulling off their trade for the audience.
Also read: 10 Of The Most Liveable Cities In The World In 2021
5. Sunset Boulevard, Los Angeles, USA
Often described as one of the best places in Los Angeles, California, Sunset Boulevard perfectly encapsulates the meaning of LA. Filled with everything you can think of, the street is filled with building-sized billboards, lush greenery along the lanes, and eventually the Hollywood media district.
Apart from all that Sunset Boulevard has to offer, on a fine day you can grab a book from some swanky book stores, grab a beer at a nearby bar, and then end your day by attending a small comedy or improv show. Moreover, the area is filled with amazing restaurants and food joints, with food from all over the world. 
6. Witte de Withstraat, Rotterdam, the Netherlands
Ask any Rotterdammer the best place to explore in the city and Witte de Withstraat would be their first suggestion to explore and unwind while being here. There is always something or the other happening around here to explore and enjoy.
From swanky restaurants and eateries to galleries, there are tons to explore, plus, you can always book yourself up for an offbeat exhibition to get the creative juices flowing.
7. Rua Três Rios, São Paulo, Brazil
Another one of the world's coolest streets is Rua Três Rios in São Paulo, which is considered to be one of the most historic neighborhoods in the city. Just a few steps away from Pinacoteca Museum, the street is inhabited by several immigrant families who have migrated to Brazil from Italy, Greece, Korea, Eastern Europe, Bolivia and so much more, bringing their culture and cuisines to this neighborhood.
The street is also popular for its bustling art scenes that you can explore and indulge in. 
8. Haji Lane, Singapore: World's Coolest Streets
Various streets on this World's coolest streets list have gathered their following in the recent past, but that's certainly not the case with Haji Lane, which first broke out on the scene in the early 2000s. At first, this neighborhood and area were popular for its faux-vintage themes, but now it has completely revamped itself and is buzzier than before.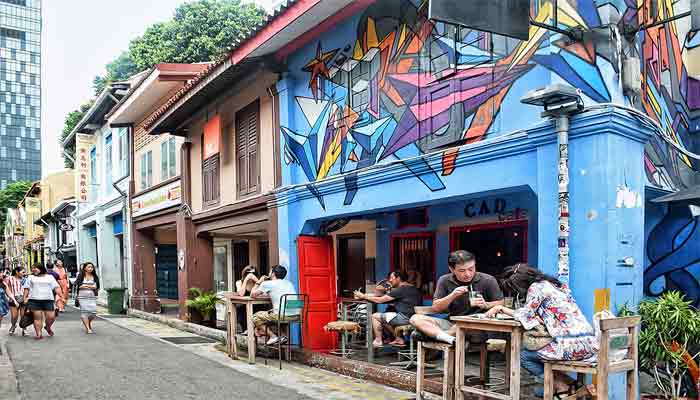 The street is filled with tons of murals and street art which gives it the character it is so popular for. You can only explore the lane on foot and evening is the best time to enjoy the surroundings. There is also an art gallery in the neighborhood that you should explore.
9. Rua Rodrigues de Faria, Lisbon, Portugal
Popularly known as LX Factory, it is another one of the world's coolest streets on this list, thriving on its creativity. The lane is filled with studios, cafes, restaurants, coworking spaces, and loads and loads of street art. Another highlight about this lane and area is that it feels like a city within a city with multiple things and places to explore which can take more than a weekend at stretch.
Also, when you're here, just consume art, as much as possible. The area is filled with sculptures made from unconventional resources and looks spectacular, to say the least.
10. Calle Thames, Buenos Aires, Argentina
This particular lane is popular for its independent kitchens and watering holes, along with various families living in repurposed buildings. You get all kinds of cuisines and foods to enjoy, from Asian to American cuisines to Jewish bakeries, there is so much to enjoy and explore in this area.
Cocktails are another speciality of this area and you should indulge in a variety of them to optimally utilize your time over here. 
Apart from these top 10, the other 10 world's coolest streets include:
11. Křižíkova Ulice, Prague
12. 7th Street, Melville, Johannesburg
13. Cat Street, Tokyo
14. 30th Avenue, New York
15. Levinsky Street, Tel Aviv
16. Milwaukee Avenue, Chicago
17. Gran Vía, Madrid
18. Calle Ocho, Miami
19. King Street, Sydney
20. Rua de Miguel Bombarda, Porto 
So, these were 20 of the world's coolest streets that should be in everyone's itinerary whenever they're in these places. Also, what else do you think should be added to this list? Do share it with us.