Hiking is an exhilarating way to immerse oneself in nature, experience new landscapes, and stay active. Across the globe, countless scenic hiking trails offer unforgettable adventures and breathtaking panoramas. In this comprehensive guide, we'll explore some of the world's most stunning hiking routes, along with essential tips, do's and don'ts, and safety measures to help you make the most of your journey.
I. The World's Most Scenic Hiking Trails
Inca Trail, Peru
Overview: The Inca Trail takes hikers through lush cloud forests, high mountain passes, and ancient Inca ruins before culminating at the iconic Machu Picchu.
Distance and Difficulty: Approximately 26 miles, moderate to challenging
Best Time to Hike: May to September
Tour du Mont Blanc, France, Italy, and Switzerland
Overview: This classic European trek circumnavigates the Mont Blanc massif, passing through picturesque alpine villages and offering stunning views of glaciers and snow-capped peaks.
Distance and Difficulty: Approximately 110 miles, moderate to challenging
Best Time to Hike: June to September
Overland Track, Tasmania, Australia
Overview: The Overland Track traverses the heart of Tasmania's Cradle Mountain-Lake St Clair National Park, showcasing diverse landscapes, including rainforests, alpine meadows, and glacial lakes.
Distance and Difficulty: Approximately 40 miles, moderate
Best Time to Hike: October to May
Milford Track, New Zealand
Overview: Often referred to as the "finest walk in the world," the Milford Track takes hikers through the breathtaking Fiordland National Park, featuring verdant forests, dramatic waterfalls, and striking mountain vistas.
Distance and Difficulty: Approximately 33 miles, moderate
Best Time to Hike: Late October to late April
John Muir Trail, United States
Overview: The John Muir Trail winds through the Sierra Nevada mountain range in California, showcasing awe-inspiring scenery, including Yosemite, Kings Canyon, and Sequoia National Parks.
Distance and Difficulty: Approximately 211 miles, challenging
Best Time to Hike: July to September
Also Read: Unlock the Ultimate Adventure Gear Guide: Top Brands and Must-Have Items Every Explorer Needs for Epic Expeditions!
II. Do's and Don'ts for Hiking the World's Most Scenic Trails
Do:
Research the trail thoroughly: Familiarize yourself with the route, terrain, and potential hazards before embarking on your hike.
Train adequately: Prepare your body for the demands of the trail by engaging in regular cardiovascular and strength training exercises.
Pack appropriately: Bring essential items, such as weather-appropriate clothing, navigation tools, and a first-aid kit.
Practice Leave No Trace principles: Minimize your impact on the environment by packing out trash, respecting wildlife, and staying on designated trails.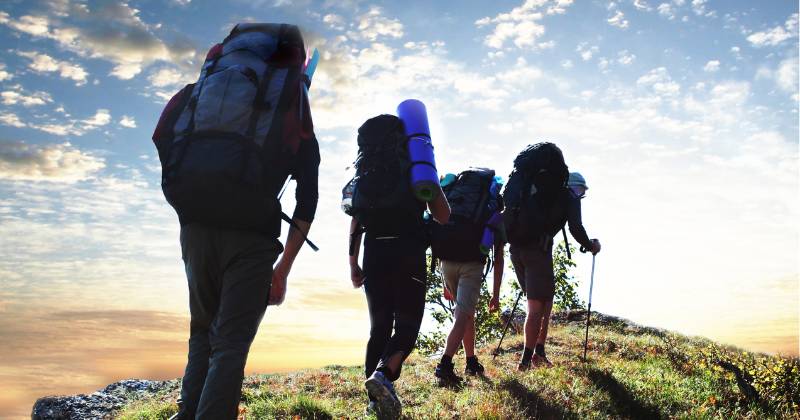 Don't:
Underestimate the weather: Always check the forecast before your hike and be prepared for sudden changes in weather conditions.
Hike alone without informing others: If hiking solo, inform someone of your planned route and estimated return time.
Ignore trail markers and signage: Pay attention to posted signs and follow trail markers to avoid getting lost or inadvertently trespassing on private property.
Overexert yourself: Know your limits and pace yourself to avoid injury or exhaustion.
III. Safety Measures for Hiking the World's Most Scenic Trails
Stay informed: Obtain up-to-date information on trail conditions, closures, and potential hazards from local authorities or park rangers
Carry essential gear: Bring necessary equipment such as a map, compass, headlamp, extra clothing, and a first-aid kit to be prepared for unexpected situations.
Stay hydrated and nourished: Carry sufficient water and snacks to maintain energy levels and avoid dehydration.
Be aware of altitude sickness: If hiking at high elevations, familiarize yourself with the symptoms of altitude sickness and take necessary precautions, such as acclimatizing gradually and descending if symptoms worsen.
Know your emergency contacts: Keep a list of emergency numbers and local authorities to contact in case of an accident or emergency.
Be wildlife aware: Understand the potential wildlife encounters on the trail and know how to react appropriately to ensure both your safety and the safety of the animals.
Conclusion
The world's most scenic hiking trails offer unparalleled opportunities for adventure, exploration, and connection with nature. By following essential do's and don'ts and adhering to safety measures, you can maximize your enjoyment of these breathtaking routes while minimizing risks. Whether trekking through the rugged beauty of the John Muir Trail or the ancient history of the Inca Trail, each of these awe-inspiring trails promises a memorable and enriching experience. So lace up your hiking boots, pack your essentials, and set off on a journey to explore the natural wonders of the world.