One of the most poignant and magnificent sights in all of Switzerland is the diversity of its flora and fauna. It's something remarkable and something completely out of this world. Timid butterflies moving about carefreely in sun-drenched, plush green valleys nestled between mountains and lakes with jersey cows moving slowly in the background- could this be God's own heaven here in mother earth?
Add a glass of pure cow's milk and a chocolate- and you're in divine company. But stereotypes be damned, there's something new in the evergreen woods of Switzerland.
Chances are, your natural attraction toward Switzerland is only set to reach an all-new high surrounding the latest addition to the country's tourism. If you head out to the eastern part of Switzerland, one abound by bountiful charms such as Thurgau, St. Gallen and other parts, then a certain feature is slated to stand out. Wondering, what it is?
Apparently, the country has got it's first of its kind treetop walkway, completely wooden in structure, architecture and design that rises up to 50 meters of the forest floor, enabling people to get a grandiose view of Switzerland's flora and fauna.
This is a rare new gem added to a sparkling assortment Switzerland's touristic charm. Right next to the city of St. Gallen- famous for zoos and wildlife parks- there's the city of Mogelsberg where Switzerland's primary new touristic attraction sits amid an enticed crowd, much to their delight.
Famously called the walkway of Mogelsberg, the wooden walkway gives locals, onlookers, travellers and just about whoever a grand feeler of the Necker Valley, and can be sighted from even far-off destinations such as the famous Appenzellerland region.
For starters, the treetop walkaway, true to its name and the idea of design behind conception allows intrepid travellers to have a scintillating view of the majesty of Switzerland's lush green escapades. While you can walk it with your loved ones and dear friends, the pram friendly structure allows you to bask the glory of nature together with newborns. After all, why should they be devoid of the wonderment of nature, isn't it?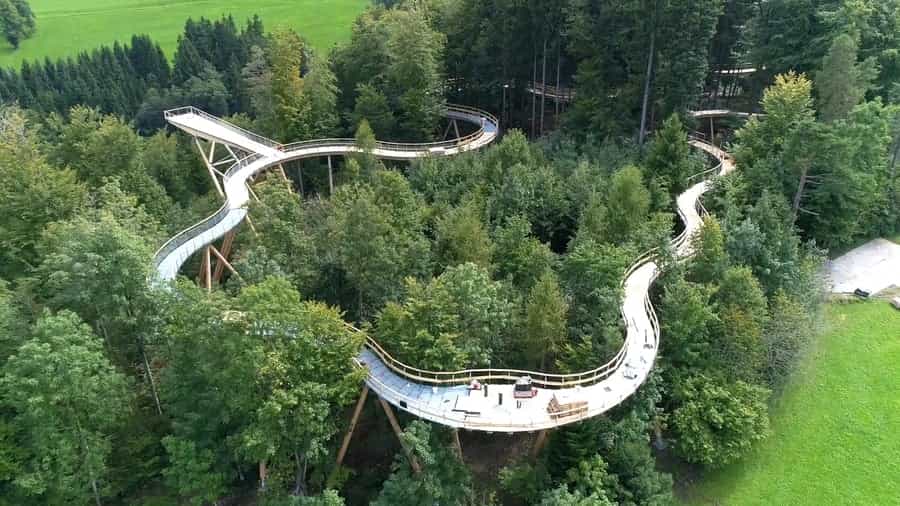 But, the construction of this great new first for Switzerland wasn't all that easy. It was worth years of hard work, creativity and arduous challenges. Costing around 3 million Swizz Francs and requiring 60 tonnes of Steel, the walkway that stands at a fair distance from the Mogelsberg train station is expected to boost the tourism in Eastern Switzerland.
Of course, one of the great challenges for the Swiss authorities has been to promote tourism in the east of this truly captivating country that has so much to offer and yet so many visitors at the end of the day. But in case, you were wondering just what all is there in Eastern Switzerland, then you'd be surprised to know that it has its fair share of exciting sites.
Some of the most beautiful botanical gardens, museums, parks, zoological escapades and there are lot many things to do in Switzerland that offer a lovely outlook for nature lovers. Meanwhile, a string of comforting and cherubic chateaus and villas throng the city of Mogelsberg. A barrage of wine festivals decorates the summer and spring seasons in an often neglected part of Switzerland that possesses a natural charm for travellers who desire both solitude and charm. And now, with the coming up of the mega walkway, perhaps a thing or two may change where footfalls are concerned.