Kolkata, formerly known as Calcutta, was India's capital at one time. However, the base of capital shifted soon and transcended Delhi, but one thing that didn't leave Kolkata was its rich history and culture. The city has had a strong influence on our nation's art, music, cinema, literature and so much more.
Every lane, café, and chai tapri have a story to narrate, and one would often find people engrossed in something intellectual and mind-boggling. In fact, as per every traveler and visitor who has been to Kolkata, time seems to stop here and one can truly live one life. If you're also planning to experience the same, then you need to know about these places to visit in Kolkata that encapsulates the cultural significance of this city.
These are some of the best places to visit in Kolkata that every visitor should definitely keep on their itinerary which is an utter delight to beholders eye. It's no surprise that many consider the bustling metropolis to be the country's intellectual, cultural, and creative capital!
Top Places To Visit In Kolkata That Showcase Its True Art:
1. Victoria Memorial
The construction of this beautiful white marble structure started in 1906 and was finally built in the year 1921. The original idea behind it was dedicating a memorial to Queen Victoria of Britain, but now it has been turned into a museum which has been a major source of attraction mainly because of its architecture and display which is nothing short of a masterpiece.
It is a mixture of both British and Mughal architectures. It'll cost you ₹30 to pay a visit. The museum opens from 10 am to 6 pm every day except on Saturday and Sunday when it opens from 10 am to 8 pm.
Ticket: ₹30
Timings: Weekday – 10:00 AM to 6:00 PM | Weekend – 10:00 AM to 8:00 PM
2. Howrah Bridge – Places To Visit In Kolkata
It is one of the most famous places all across India and is often used as an instant portrayal of Kolkata in movies as well, is this magnificent Howrah Bridge. It got constructed in 1943 and replaced the Pontoon Bridge.
Tourists from far visit Kolkata just to witness the beauty of this bridge and experience the ride on it, especially in a yellow taxi. In the evening, it looks even more glorious and we'll suggest you visit it in the evening only. This suspended bridge ranks sixth among the longest bridges in the world and is completely made of steel.
3. Botanical Garden
This garden was established in the year 1786 and was previously known as Calcutta Botanical Garden. Its current name is Acharya Jagdish Chandra Bose Indian Botanical Garden, and it covers 270 acres of land.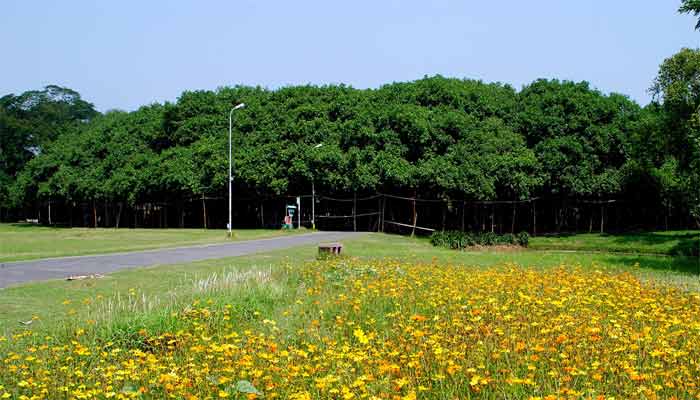 The garden is full of plants, trees, and flowers related to the botany field and offers a relaxing and serene view to its visitors. As of now, it is home to nearly 12000 perennial plants which are still alive. Its entry fee is ₹10 and it opens from 10 am to 5 pm, except on Mondays when it's closed.
Ticket: ₹10
Timings: 10:00 AM to 5:00 PM | *Closed on Mondays.
Also Read: Places to visit in Darjeeling: A guide to the offbeat locales in the queen of the hills
4. New Town Eco Park – Places to visit in Kolkata
The New Town Eco Park is spread across 480 acres of land and is one of the best places to visit in Kolkata. It offers many outdoor activities which one can enjoy with family, a very popular one is Ice-Skating.
This is a perfect location for couples, also you can have lots of fun with your families or friends here. It opens from 2:30 pm to 8:30 pm and it stays closed on Mondays.
Ticket: No Ticket Needed
Timings: 2:30 PM to 8:30 PM | *Closed on Mondays.
5. Mother Teresa House
As the name suggests, this place was home to India's most iconic person and a great human being, Mother Teresa. Due to her grand stature and contribution, post her demise, her home has now become one of the most sought-after places to visit in Kolkata.
The tomb of Mother Teressa lies on the ground floor of this wonderful building which is maintained and run by the 'Missionaries of Charity House'. The visiting time is from 8 am to 12 pm and 3 pm to 6 pm. It is closed on Thursdays.
Ticket: No Ticket Needed
Timings: 8:00 AM to 12:00 PM & 3:00 PM to 6:00 PM| *Closed on Thursdays.
Also Read: National parks in West Bengal: A list of spectacular wildlife destinations from the state
6. Fort William
Named after King Williams, it is one of the most popularly visited places in Kolkata. It was built in 1696, and mainly bricks and mortars were to make this fort. If you like British architecture then you'll surely love this place. It has six gates and all of which are architectural marvels. It is open every day from 10 a.m. to 5 p.m.
Ticket: No Ticket Needed
Timings: 8:00 AM to 12:00 PM & 3:00 PM to 6:00 PM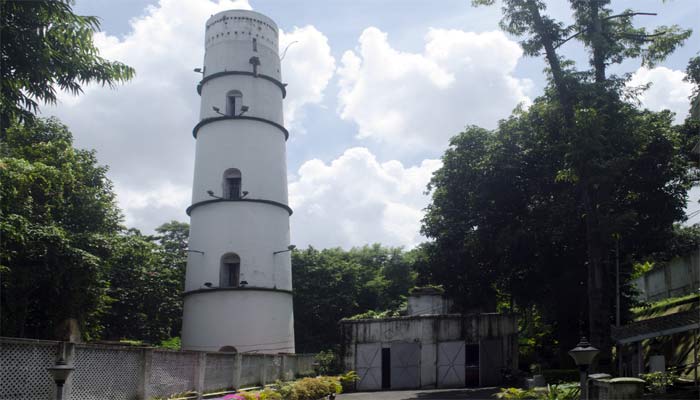 Apart from these popular places to visit in Kolkata there is something stunning that the city houses year after year, and that is the Durga Puja affair. If you're planning to visit Kolkata then there is no better time than the Durga Puja holidays to visit the city. You'll be able to catch the city at its glory, and there are tons of unique pandals for you to do the city's favorite Pujo outing – Pandal Hopping.