You have heard the phrase intrepid traveller. You have also probably heard of the phrase Wanderlust over and over again. You have the curious and hungry traveller always keen to embrace sunshine in different parts of the world but what on earth is a fat tourist?
In other words, a fat traveller, if you like. Now, what on earth is that?
Well, as far as the Greek island of Santorini goes then there's the fat travellers or fat tourists out there who are making the donkeys toil a lot by being a rather unwelcoming guest for them.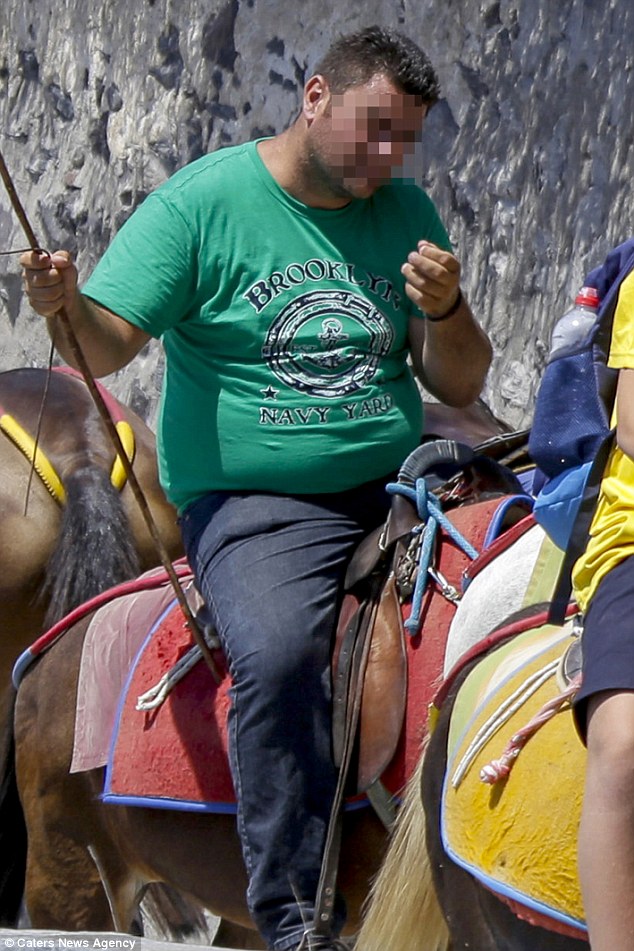 The life of a donkey, whether you like it or not, if full of rigour and lots of back-breaking work. They are the cargo-loading and unloading animal without an automotive component. Isn't it?
But when you overload a cargo on a donkey, it's bound to create some irate noises or sounds. That's not a compulsion but a direct response to the sheer gamut of workload.
And in the Greek Island of Santorini- a paradise of sorts for tourists all around- perhaps it's not the most beautiful sight to spot worked up donkeys toiling all day carrying the load of fat tourists.
One wonders actually that how have the animal rights activists and social workers not responded to such a chaotic scenario out there? Here's precisely what has transpired at Greece's Santorini.
The situation in this tourist season has actually been no bitter and embattling for the donkeys that they are apparently working all days in a week, for hours together, carrying the load of obese tourists on their back without a speck of rest, water or some shelter from relentless toil.
Of late, a few animals rights activists have taken to the media to express their disconsolation at the sad spectacle. Stating that the donkeys are carrying fat tourists simply because obesity is on the rise and that such practices that endanger a harmless animal have to stop.
Crippled by carrying heavier tourists, that weigh more in ounces than the usual loads the donkeys are trained or known to carry is putting a bit of a blithe in the picturesque holiday spot called Santorini.
Lest it is forgotten that a donkey is supposed to be a tiny workhorse so to speak and not an actual ferocious beast, this bondage of sorts will continue without a pause. And it's not hard to understand why then will it impose a direct threat to the life of the harmless and innocent animal.
Popular British tabloid media platform Daily Mail covered the incident in great detail and was quoted saying the following:
"Between the peak summer months of May to October, up to five cruise ships a day bringing swarms of 1,200 tourists visit the small island to marvel at its idyllic white houses.
Santorini is known for its hilly terrain and donkeys have traditionally been used to transport people over the famously stepped areas which vehicles cannot access, such as in capital Fira."
In fact, of late, things have gone as worse as to compel a spokesperson from the charity, Help the Santorini Donkey to suggest, "Donkeys are only meant to carry loads that are about 20 per cent more of their own body-weight."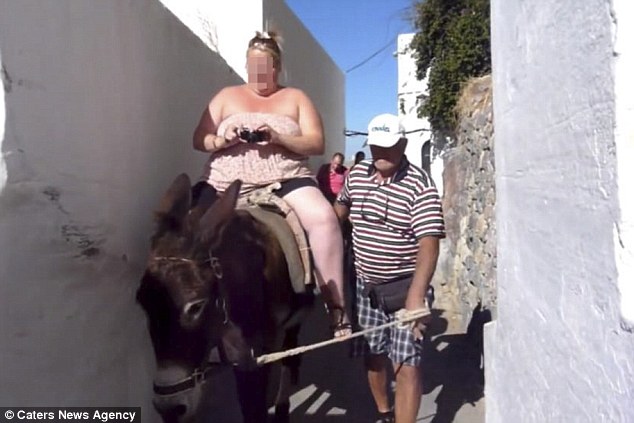 But surely, one look at the startling revelation from the Greek Island of Santorini and you know very well about the mess being caused to the life of a seemingly aggrieved animal.
In what comes as a rather shocking stat, it is believed that in the last 10 years, the number of obese tourists that are flocking to Greece and in particular to Santorini has trebled from countries such as USA, Russia and, the UK. Can the fat tourists hold themselves back just a little bit?