Pondicherry, also known as the Paris of the East, was once a part of the French rule in India, but as the westerners left our country, the quaint town of Pondicherry was established as one of the most popular travel destinations down south. There are tons of places to visit in Pondicherry that offer a serene view, energetic atmosphere, and delicious food to its guest and you just need to take it all in, at least once in your life.
Moreover, the diverse options available here are so great that you can come with anyone by your side while visiting this place.
Pondicherry is one of the eight Union Territories in India and was regarded as the Paris of the East by its international visitors. In 2006, Pondicherry turned into Puducherry, meaning "New Town" and is filled with serene beaches and its locals – the French Tamilians, quite a unique mix. Now, let's get to learning and knowing more about some of the best places to visit in Pondicherry.
Places To Visit In Pondicherry
1. Paradise Beach
This beautiful beach is located Chunnambar along Cuddalore road and is one of the most spectacular and amazing places to visit in Pondicherry. Taking a ferry ride from Chunnambar will take you to this beach which has fascinated all its visitors with its golden beach and blue waters.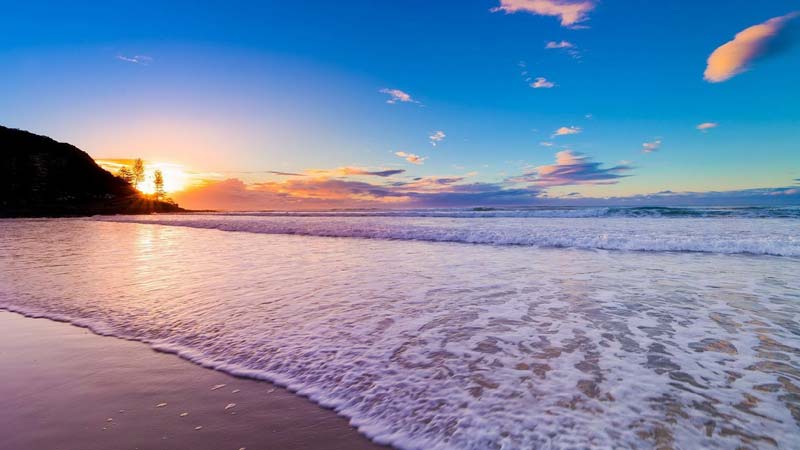 It is visited a lot during weekends by travelers from everywhere and thus, remains crowded most of the time. It opens from morning 9 am to evening at 5 pm. It is free of cost to pay a visit here, however, taking other services would cost you obviously.
2. Sri Aurobindo Ashram
This ashram is one of the most spiritual and peaceful places to visit in Pondicherry and is known all across the world. It was founded by Sri Aurobindo in 1926. It has libraries and upholds several activities related to physical education. If you're looking for solitude, peace and want to connect with yourself on a spiritual level, then do visit this place at least once during your time in Pondicherry. It opens from 10 am to 12 pm and then from 2 pm to 6 pm.
3. Auroville – Places to Visit in Pondicherry
It is covered as the "City of Dawn", and it also focuses on the spiritual connectivity to the soul of a person. There is a huge globe-like structure at the center of Auroville, known as Matrimandir, which is the main meditation center, where one could sit, relax and focus on the inner self. This place is also free of cost to visit and is located in Villupuram district in Pondicherry.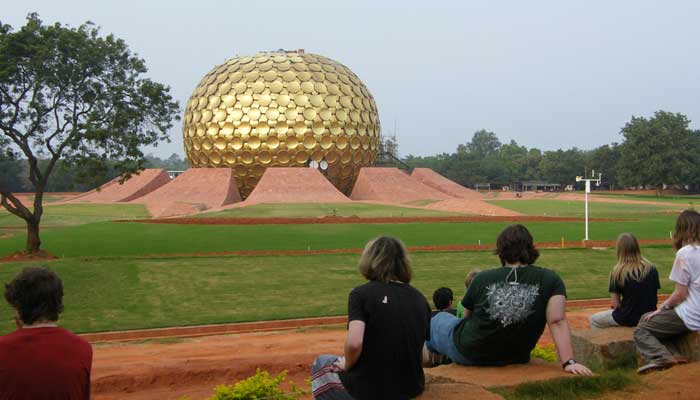 Auroville is popularly known as a mini-country with no religion, where people operate and live for the common good of themselves and others around them. It certainly is a unique experience that should be lived by someone whose curiosity is such topics has always been high.
Also Read : Best Places To Visit In Hampi
4. Promenade
There is a naturally formed rocky promenade in Pondicherry and it is surely one of the most loved locations of many photographers in the town. This place is naturally scenic and here, you can have lots of fun with your loved ones whether it is family or friends. You'd find a lot of restaurants close to this place. It is open for 24 hours and also there is no fee required.
5. Serenity Beach – Places to Visit in Pondicherry
This place does exactly what its name says. If you're looking for tranquillity, then do visit this mesmerizing beach also counted as one of the best places to visit in Pondicherry. You can also do surfing at this beach, or just lay down below a shade and enjoy the beauty of this location. This place is free to visit and is open 24 hours.
6. Arikamedu
If you're a lover of history then this place in Pondicherry is just for you. Even if you're not much into history, this place will surely terrify you. It was built in the 19th century and is not a much-explored location in Pondicherry. It opens from 10 am to 4 pm. It'll cost ₹10 for adults and ₹5 for kids, which is not much to explore the beauty of this place.
Also Read: The Scotland Of India: Best Places To Visit In Coorg
So, these were a few of the best places to visit in Pondicherry. Whether you come here alone or with family and friends, you'll have a lot of fun here. Take a weekend off and visit this beautiful place to heal yourself up. You won't regret coming here. There are tons of water sports and adventure sports offered here as well, so don't forget to check them out while you're here.