How many of us have dreamed of an adventure to embark on, in the middle of a boring day? Almost all of us, no? But deadlines, shortage of cash and time come into the picture and soon we are brought back to reality. However, if you're from Delhi NCR and are wishing to do something really adventurous this week, then we have some of the most adventurous things to do in Delhi.
Delhi is a place which is filled with something or the other to explore, and while the entire city is out exploring India Gate, Red Fort or even Humayun's Tomb, we have some really adventurous things in store for all the thrill seekers. One look at these and you won't even believe that something like this was there all the time, in your vicinity without your knowledge whatsoever.
These fun and thrilling activities are sprawled across, Delhi, Noida, Gurgaon, Faridabad and other nearby places.
From bungee jumping to sky diving there is a lot to discover and try, so here are 7 amazing and adventurous things to do in Delhi.
1. Paragliding, Gurgaon
You don't need to visit Bir Billing for a paragliding session now, since you already have one in Sohna, Gurgaon. You can simply glide like a bird and forget all your week's stress and tension. It will leave you with a memory and a picturesque scene that you would not be able to get out of your mind.
Place: Vill – Karanki Khedli, Sohna, Gurgaon
Timings: 11 am to 6 pm
Price: Rs 3000 onwards
2. Flyboy Air Safari, Gurgaon
Flyboy Air Safari actually gives you the option to touch the sky and become inevitable, even though it lasts for minutes. This one is considered to be one of the best adventurous things to do in Delhi and has already been on the bucket list of many. You basically get a chance to ride an automobile which is attached to a parachute up in the air. The entire mechanical works because of a powered paraglide that operates with the help of a hooked-up motor, harness, and a propeller. There are a bunch of options to choose from:
Kitty Hawk: 6 km – 8 km
Fly Yourself: 12 km – 15 km
Explorer: 20 km – 24 km
Location: Flyboy Aero Park near The Westin Resort and Spa, Sohna, Gurgaon
Timings: 10 am to 5 pm
3. Indian Mountaineering Foundation, South Campus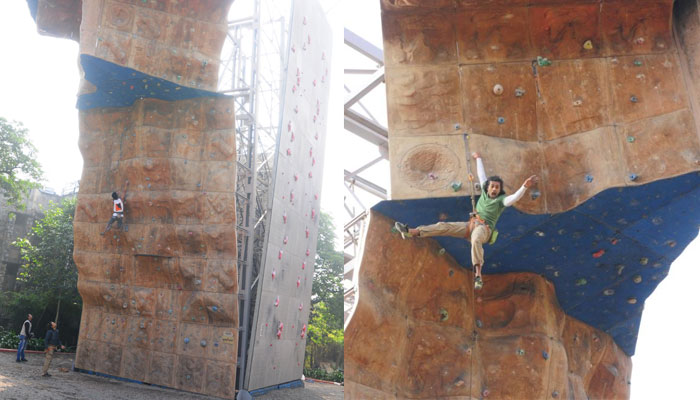 There is nothing more thrilling than climbing and if you're also one of those who would love to explore this activity while not leaving the city then you need to check out this one of the amazing adventurous things to do in Delhi. Even though you don't get to climb a natural rock but rather an artificial one, the thrill is no less. Plus, it is a great fitness activity to participate in.
Location: Benito Juarez Road, Next to Springdales School, Dhaula Kuan, Delhi
Timings: 8 am – 12 noon & 5 pm – 9 pm (summers)
Charges: Rs 1000/monthly and Rs 100 for one time visit.
4. Camp Wild, Dhauj, Faridabad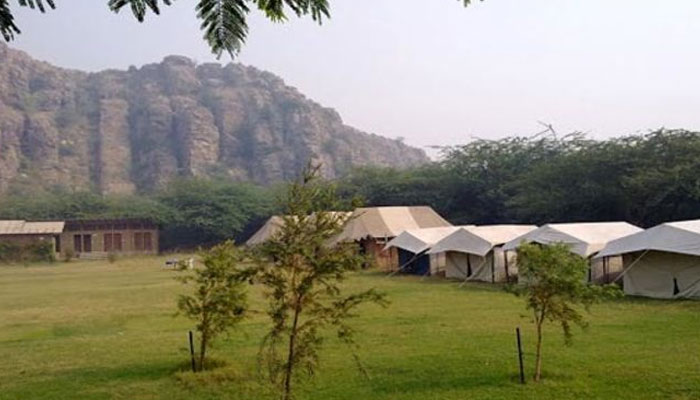 Camp Wild offers you a complete day of adventure and you get to choose from a bunch of adventurous activities that are thrilling and an absolute must try. From eco-lodges to safari you have a whole lot of options, plus, the entire place is so great that it has been used in various MTV Roadies tasks too. Some of the activities present in this camp include rappelling, rock climbing, flying fox, zorbing, cliff jumping, elongated obstacle course and even raft building.
Location: Near Manger Village, Dhauj, Faridabad – Gurgaon border
5. Bungee Jumping, Sainik Farms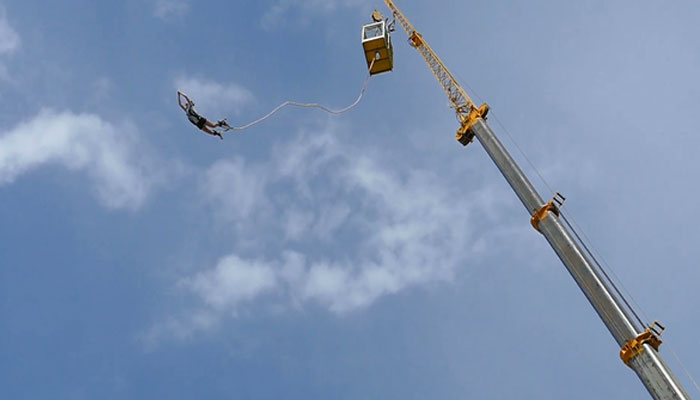 Bungee jumping is one thing that everyone would want to do at least once in their lives. It is both thrilling and adventurous, and an absolute must for those who like to live their life on the edge of life. On this adventurous thing to do in Delhi, you get to drop from 170m above the ground and get all the thrill you're looking for.
Location: Garden of Five Senses, Sainik Farm, New Delhi
Timings: 10 am to 6 pm
Price: Rs 3000 onwards
6. F9-Go-Karting, Gurgaon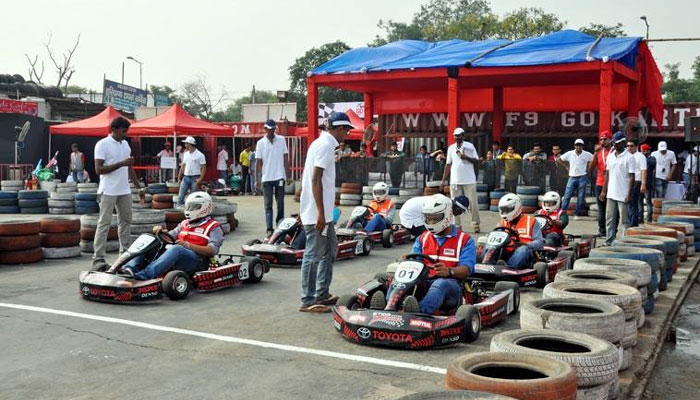 Go-Karting is one of the most adventurous and thrilling sports in the world and if you would also like to have a taste of it then look no further. F9 Go-Karting is known to be one of the most adventurous things to do in Delhi which has an equal amount of thrill and excitement attached to it.
Location: Sector 17-18 Link Road, (near IFFCO Chowk), Gurgaon
Timings: 1 pm to 7 pm
Price: INR 250/- for 7 Laps
INR 350/- for 10 Laps
INR 500/- for 16 Laps
7. Amusement Parks, Delhi
There are a bunch of amusement parks in and around Delhi with some of the craziest and thrilling rides. Even though the parks are available for everyone of every age, there are certain rides that only the bravest can ride and sustain. From roller coater to 360 degrees, there is so much to choose from. Here are some of the amusement parks that you can visit on your next holiday.
Splash Water Park, GT Karnal Road, Alipur, Delhi
Fun 'N' Food Village, Kapshera Border, Gurgaon
Adventure Island, Sector 10, Rohini, Delhi
Just Chill Water Park, GT Karnal Road, Near GTB Memorial, Delhi
Worlds of Wonder, Sector 38 A, Noida
Aapno Ghar Resort, Sector 77, Gurgaon
These were some of the most adventurous things to do in Delhi, you can go and try them alone, or with someone special or with your bunch of friends, and have the best time of your life.
Jyotsna Amla