Traveling per se is a rewarding experience, but more so when traveling with your significant other. If you're lucky enough, it can help strengthen your relationship due to all the highs and lows of traveling and help you discover a lot more about each other that you wouldn't have known by just staying within your comfort zone.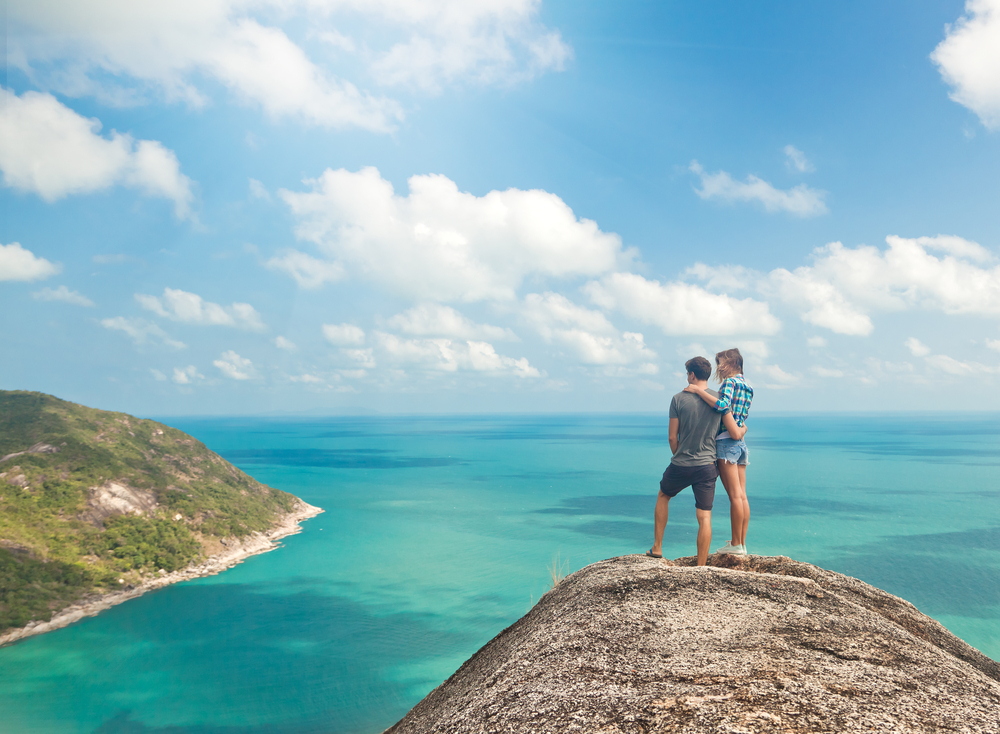 However, exploring the world with your partner is a skill that doesn't come easy. It's not always smooth sailing, and there will be bumps along the way with challenges, stress, and petty arguments included.
Traveling as a couple is fun, but it can also be tough. So, before you jet set together, it might be helpful for you to read these ten travel tips on how you can survive traveling with your significant other.
1. Manage your expectations
A vacation can make or break a relationship. While it is romantic to go away together, you must also realize that not every day is going to be easy.
Traveling will involve a lot of personal stress, and some things can go out of plan. So, manage your expectations—from the places you'd go, to the culture shock you might encounter, and the challenges that you might face together.
2. Compromise and share the planning
Yes, you want to visit museums, but he wants to go to the theme park. You want to go shopping, but he wants to go trekking. There are so many places to see and things to do, but your time is limited.
Don't be selfish. As a couple, we learned to plan our journeys together so we can meet halfway.  List down the places that both of you want to visit, and give each other the opportunity to do what you want by compromising.
3. Set a budget
Money is a crucial factor to consider when traveling as a couple. It could also be the root of most arguments. Plan your budget ahead of time, so there won't be any problems or surprises along the way.
Will you be spending on hotel rooms or do you prefer to travel backpacker style? Agree on your budgetary spending limitations to avoid unnecessary expenses.
4. Agree on splitting costs
If you haven't defined in your relationship yet who pays for what, then it's best to agree on your splitting costs before leaving.
If you prefer to combine your money together, then that would be easier. But, if you'd rather have separate budgets, then you should agree on how you're going to divide your expenses.
5. Divide responsibilities according to your strengths
If you're good with maps and directions, then do the location work. If your partner is good with organizing and packing, then let them fix your stuff together.
You each have your strengths that when combined, makes the two of you a great traveling team. Maximize your abilities together to make your trip smooth sailing and fun.
6. You don't always have to be together
Allow each other to have some time alone. You don't have to be together 24/7.  When traveling, you'll be with your partner most of the time so it would also be good to give each other some space once in a while.
May it be a walk alone in the morning, chilling alone at the pool, or getting a massage, spending some time alone is necessary to help you clear your mind.
7. Don't let disagreements ruin your vacation
Just like with any other couple, there will be misunderstandings and disagreements. There will be times that you'll argue on your travels but remember to never have an argument so bad that you need to go separate ways.
You can debate about your different opinions, voice out your ideas and feelings, but always learn to respect your partner's views. You can disagree on many things, but don't let these things ruin your vacation.
8. Make friends
When traveling as a couple, try not to stick with your partner all the time and do not isolate yourself from other people. To fully appreciate traveling, make friends and talk to the locals and other travelers. These will help you both grow as a person by opening up to new characters and experiences.
9. Communicate and be honest
Communication is the most clichéd rule in the book, for couples, but it is also taken for granted the most. Appreciate that you will both have good and bad days, and if something's bugging you, don't conceal your feelings. Speak up and be open with your partner.
More problems come up when we don't communicate. I'm pretty sure your partner will understand you. Figure out a way to talk about things, and again, learn to compromise.
10. Have fun
Obviously, the reason you traveled together is to have fun! Don't worry too much about whether everything is perfect or in line with the plan. Be open to spontaneity and just enjoy the moment with your partner.
When you start to enjoy, good things happen. The trip is about making happy memories and not checking every item on the checklist.
Your journey as a couple would not always be perfect, but what matters is that you are both open to grow, learn, and make every moment count together. Spending time outdoors is not only good for your health but also for your relationship. Appreciate each other's presence and the fact that you have someone to enjoy the world with.