It's no hidden fact that WhatsApp is constantly adding new features to its instant-messaging app and while a lot has been done with the WhatsApp app in order to offer better user experience, the WhatsApp 'dismiss an admin' has been one feature that everyone is waiting for with much anticipated. That being said, we already saw the feature in beta testing for WhatsApp groups in January 2018, which hinted towards an imminent launch of the WhatsApp 'dismiss as admin' option.
Now the feature has finally been launched for Android beta and iOS users and according to a report by Wabetainfo, the WhatsApp 'dismiss as admin' feature is available on Android version 2.18.116 as well as iOS version 2.18.41 for WhatsApp users. This update will allow an administrator to 'dismiss' another from a group chat and that too, without the need of deleting them from that respective group and adding them back again as normal participants.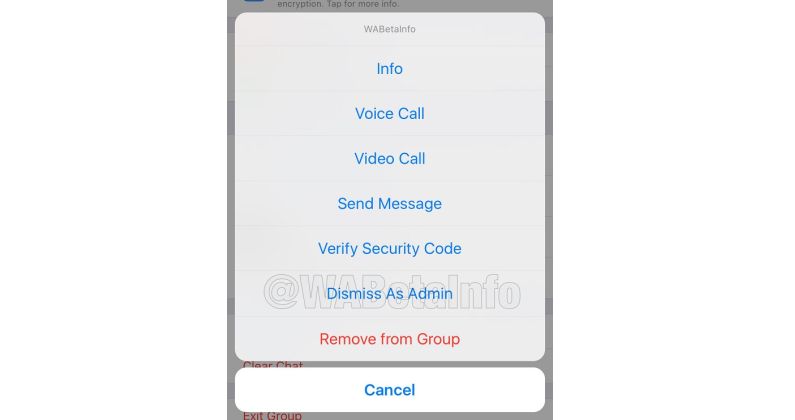 That being said, group creators can't be dismissed/demoted from being an admin and as mentioned above, in order to use this feature, your WhatsApp app needs to be updated to version 2.18.116 for Android OS users and version 2.18.41 for iOS users. Interestingly, the most latest WhatsApp update for Android users is version 2.18.117 and the WhatsApp 'dismiss as admin' feature is only working with V2.18.116.
How to use WhatsApp 'dismiss as admin' feature
Step 1: Open your WhatsApp App
Step 2: Select the group in which you want to remove or demote an admin
Step 3: Click on the three dots situated at the top right corner of your screen
Step 4: Click on the 'Group Info' option and long press the contact which you want to remove as admin
Step 5: A new window will pop up on your screen. Select the dismiss as admin option.
WhatsApp 'dismiss as admin' feature comes with an update which won't send the said member a notification of his dismissal as admin. Moreover, the said contact will still be a part of that group. Earlier, the creator/admin of a group chat had to remove the other admin from the group itself for demoting the said member and then re-add him.
That being said, if any of the group creators decide to change his contact number using the "Change Number" feature, other administrators then might get the ability to dismiss that particular creator as admin or even remove him from the group, however, this feature is currently not being tested with the Android beta and iOS updates.
On the other hand, WhatsApp for Android has also added another feature with its new beta update called 'High Priority notifications' and when a user enables this feature, all incoming notifications could be pinned to the top of your smartphone's notification centre. This feature can be used with private as well as group chats. While in this way, users will be able to manage all push notifications better, it indeed is similar to the pinned chat feature that WhatsApp introduced last year.