There's nothing as permanent as a tattoo which you can gift your body for a lifetime. And, at the same time, there's nothing as expressive as a tattoo on your body. Many go with some of the most important things for tattooing due to the fact, that it will always be with them.
While there are many different types of tattoos one can have, there's this new kind in the market which will definitely be on your bucket list. This particular kind of tattoo technique is known as Soundwave Tattoos. These kinds of tattoos can be created with the help of an app called skin motion. Through the means of this app, you can create tattoo designs from audio clips, which can be played back on your smartphone with this app only.
This particularly kind is already blowing up on the Internet and people just can stop talking about it, because believe it or not, this is truly unimaginable. However, this app will be available from June.
The idea of such an amazing technology came to the mind of Los Angeles-based Tattoo artist, Nate Siggard. He has tried this technology one certain people till now, and the results have been good and accurate. Skin Motion has said this new technology based tattoo to be the Tattoo of the future.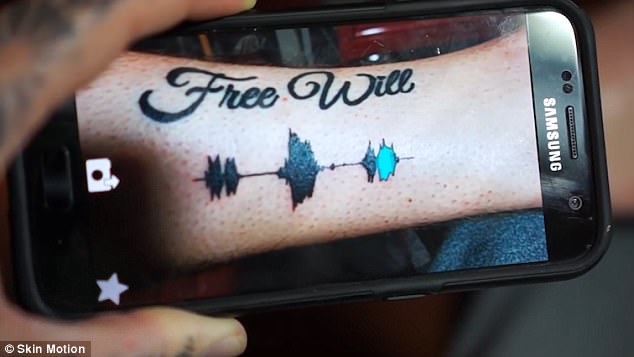 The design of a tattoo can be created for up to one minute, and the designs can be made of any recorded sound, including noises, spoken words, music or even a combination of all these elements. As per the company, they have already received thousands of message from all over the world by people who are extremely excited for this technology to hit the market.
source: Skin Motion
However, there are still many who are not ready to buy this idea and considers the entire technology as a hoax.
Siggard and his partner decided to try the technology first-hand and received an astounding result. While Nate got a tattoo of his girlfriend saying 'I Love You' and laughing sound of his then four-month-old baby, his partner went ahead with the howling of her dog.
Source: Skin Motion
One can see how accurate and clear the voice sounds. Now many tattoo artists from all over the world want to be trained in this specific genre themselves, which Siggard is positive about.
With the arrival of a technology like this, one just can't even imagine how much more importance a tattoo would be able to restore in it.
11th May 2017
Jyotsna Amla