Tesla has had a rather exciting week so far as they launched its new Semi Truck that can cover a distance of 500 km on a single charge followed by the surprise unveiling of Tesla Roadster, which is said to become the fastest production-ready car in 2020.
However, there was also another product that was launched on the sidelines of the Tesla event which has brought the electric car manufacturer in the smartphone accessories space. Yes, you read it right, Tesla which has a Gigafactory which produces batteries that can power vehicles as heavy as two tonnes as well as a whole house.
But what Tesla has done now is, the company has taken one cell from the many that are housed in those batteries and has given it a shape of a smartphone power bank, called the Tesla Powerbank.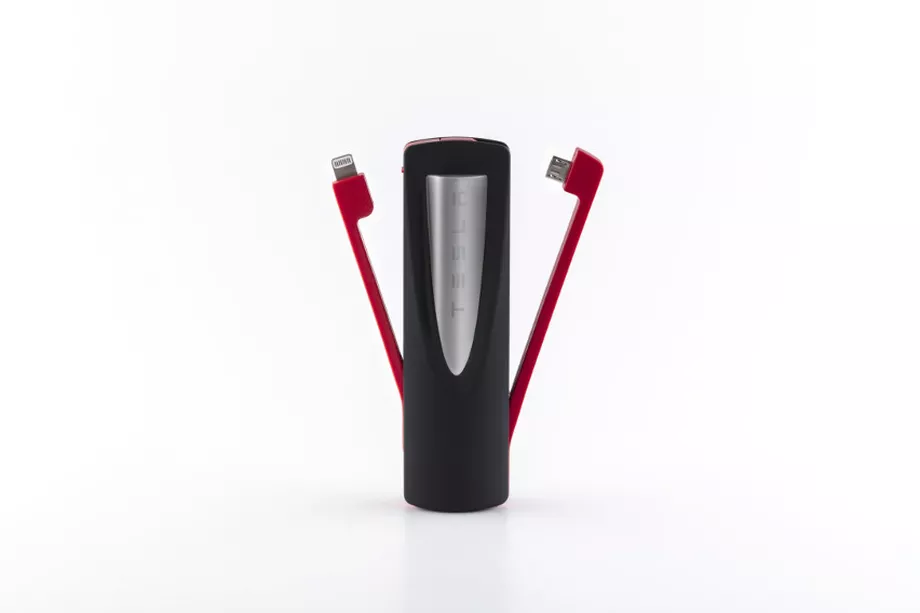 Sporting a gorgeous black-and-red color theme and the Tesla name (of course), the battery a single lithium-ion 18650 cell with 3,350mAh capacity which is also found in its Model S and X vehicles. Its design is based on beautiful Tesla' Supercharger monument outside the Tesla Design Studio, California and we can, without any doubt, say that it looks wonderful.
Also Read: Buying A Power Bank: 5 Not-To-Miss Tips
But as soon as we come to the specs and price, Tesla Powerbank seems way out of proportion as a package for those who are in actual need of an external battery for their smartphones. Supporting both Android and iOS smartphones, the Tesla Powerbank is priced at $45 and it lets you connect your handset for charging via micro USB, USB, and Apple lightning connector.
Tesla Powerbank Specs And Key Features
Single 18650 cell with 3350mAh capacity
Input: 1800±200mA
Output: 5V/1.5A max
Compact Design
Integrated USB
Integrated Apple lightning and detachable micro USB
High-efficiency circuitry to deliver maximum battery capacity
Charge status indicator
At $45, you can definitely get way more practical Powerbanks that can even offer 10,000 mAh worth of backup, making the Tesla Powerbank just another collectors' item. That said, for a friend who is a Tesla fan, the external battery can be the perfect present to show your love, if that is what you want.
Moreover, you need not wait for a couple of more years to get your hands on the Tesla Powerbank but if you are looking to buy one right now, sadly, the product is out of stock on the company's official website.
That said, there is a huge disadvantage with the Powerbank as it doesn't support USB-C attachment. While it does come with an Apple lightning cord and a micro-USB cable, but not having a USB-C cable which has become a norm for Android smartphone users seems a huge letdown.
Nonetheless, it is a Tesla product and keeping in mind its current availability, it is expected to be sold in huge numbers.
Apart from the Tesla Powerbank, the tech giant also launched a Desktop Supercharger which is a tiny version of the actual supercharger that is used for Tesla cars, and if you want to treat your smartphone like a four-wheeler, it is the best you can get, I presume.
What it does is, it sits near your desktop and you can connect any USB cable to charge anything via the USB port. It is also available at US $45 on the company's official website.
Everything said and done, it looks like Elon Musk wants to do everything and make his presence felt in every industry that has anything to do with electricity (pun). But on a serious note, is the beginning of the future of Tesla smartphones? Well, it seems so!!
What do you think about the Tesla Powerbank and do you want the company to enter into the smartphone business?
Share your thoughts in the comment section below.