India now stands at the 5th Position in the list of biggest gaming markets of the World, all thanks to the rapid increase in Mobile Games downloads and complementing revenues. App Annie, the San Francisco-based intelligence firm reported that India has risen from 7th to the 5th position during last 12 months.
Mobile gaming has established itself in Western and European countries, however, a huge potential can also be seen in the emerging markets such as South Africa and India among others. Nowadays, digitalisation has put a smartphone in the hands of almost every individual, gaming being one of the major use for new generation.
Many of us have bought our smartphones after considering the RAM and powerful processors of these smartphones and the reason behind this consideration being reckless gaming. However, despite Internet being easily available, the gaming industry has to tackle a problem of regional tastes of these emerging markets.
The only way to establish an industry like this and that too in the least amount of time is to corrupt the population with several choices and that is what happened in India's case. Gaming developers have made numerous games with different attributes, available in the Indian market, resulting in a boom in the Industry.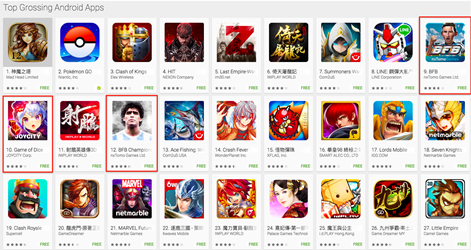 India is expected to dethrone Brazil and Russia from their respective third and fourth position in the coming future, as the report by App Annie also stated that India is on its way to reaching the $1.1 billion mark by 2020. China and US currently hold the top two spots.
Although most of the gaming companies draw their revenues from on-page advertisements, but the recent fondness of cash based games like Rummy and Poker have also increased their revenues. Revenues from these games raised to 140% in the year 2016, the report added.
"Compared with 2015, companies creating cash-based strategy card games have seen a 20-25% increase in the number of monthly spends. Rummy, Poker and other card games are increasingly popular," said Badri Sanjeevi, Chief Executive officer of Mauj Mobile. ET reported earlier that some of the India's top online poker startups are registering revenues of Rs 5 Crores, annually.
Various App stores reported cumulative revenue of $16 million from games in 2016, a 25% increase since 2015. The rising smartphone use and the introduction of carrier billing are some of the effective reasons.
This achievement will definitely boost PM Narendra Modi's dream to make India a 'Digital Country' as the report also means that technology is gradually cementing its roots all over the country.
Follow us on Facebook, Twitter and Instagram for more updates. Don't forget to like and share. Do tell us your views in the comment box below.
23 November 2016
Rohan Jaitly