It all started with the obsoletion of the headphone jack from smartphones. That is what triggered manufacturers to bring wireless earphones which were later made even more handier in the form of truly wireless earbuds that we see today. Apple came out with the airpods and it gave birth to the actual trend with every manufacturer coming up with their version of wireless earbuds. The technology and parts involved usually make Wireless earbuds, an expensive purchase but a worthy one. Here are the 5 Best True Wireless Earbuds Under 5000 that will also satisfy the melophile in you.
5 Best True Wireless Earbuds Under 5000
5. Crossbeats Urban Earphones Earbuds
Crossbeats Urban are versatile earbuds below 5000 offering both stereo and mono audio output along with support for voice assistants.
Smaller in size compared to other earbuds, the Crossbeats Urban are fairly lightweight just 3.7 grams to be precise and are comfortable to wear for long durations without causing pain in the ears.
Along with being well suited for hands-free calling, these earphones offer noise-cancellation and water resistance.
A single earbud can be used for calling purposes while in mono mode. The earphones feature one-tap control for controlling music playback and call functions.
Crossbeats Urban provides a playback time of 12-hours, which is one of the best playback times amongst the competitors. The charging case can fully charge the earbuds upto 3 times.
Additional silicon tips are provided bundled in the box for a snug and comfortable fit. For the price it is offered, the Crossbeats Urban are one of the best earphones earbuds under 5000.
Price: Rs 4,790
4. TAGG ZeroG True Wireless Earbuds Earphones – Best True Wireless Earbuds Under 5000
While most of the earbuds manufacturers provide only one driver for audio output, TAGG has gone a step ahead by providing two. The two dynamic drivers present in Zero-G True wireless earbuds work together to offer an exceptional audio output.
The earphones sport a rather premium design with an all-black glossy finish for both earbuds including the charging case. The USP of these earbuds is its active noise cancellation using Qualcomm cVc 8.0 technology.
TAGG Zero-G provides a playback time of up to 5 hours on a single charge with a combined playback time of 35 hours with charging case included.
With a premium finish, rich treble and bass, long playback time and lightweight, the TAGG Zero-G are one of the best-performing earbuds below 5000.
3. Noise Shots X5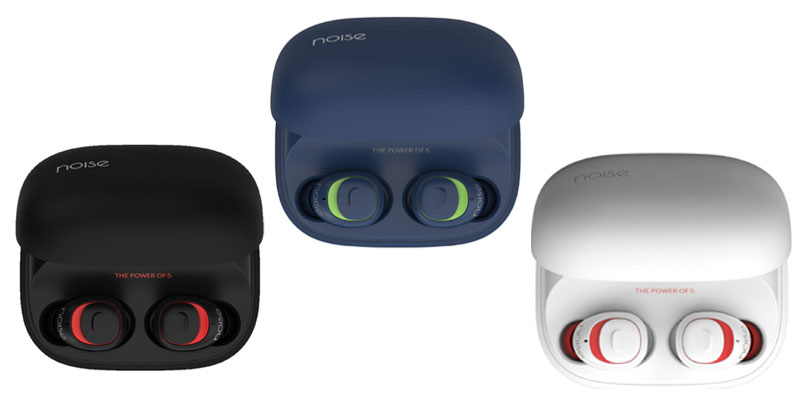 The Noise Shots X5 are a cool pair of wireless earbuds available in various dual-tone colour options, unlike others that are mostly available in solid black or grey colour.
Shots X5 comes with 3 pairs of silicon tips to provide a snug and comfortable fit. The earbuds are splash-proof and water-resistant with an IPX5 rating.
Powered by Bluetooth 5.0 these truly wireless earbuds are compatible with voice assistants like Apple's Siri and Amazon's Alexa.
The charging case comes with a capacity of 2200mAh which can charge your earbuds up to 10 times and can even charge your smartphone, really handy in those dire situations where you don't have provision to charge your smartphone.
Coming to the audio quality, the earbuds provide a good combination of treble and bass but put more emphasis on treble thereby 'bassheads' might not like the sound output.
For users inclined to more of stereo sound and treble, these earbuds are a perfect choice below 5000.
Price: Rs 4,990
2. Blaupunkt BTW01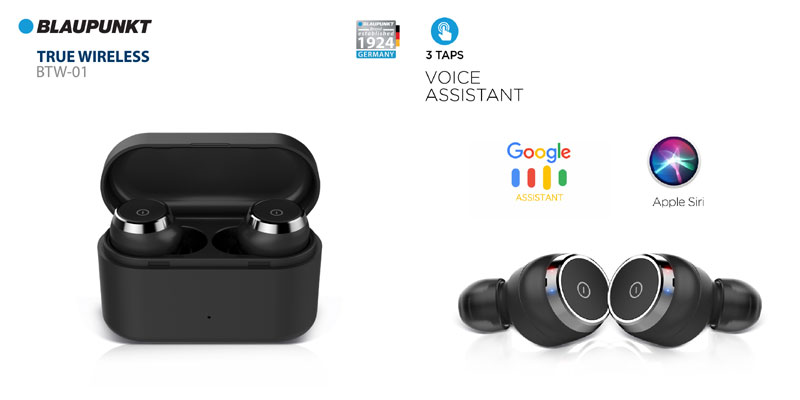 From the house of Blaupunkt which is a revered brand for its quality offerings, in-car multimedia, comes a pair of equally well-performing earbuds, the Blaupunkt BTW01. The build quality is relatively good and the earbuds are water-resistant with an IPX5 rating.
The BTW-01 earbuds have touch controls, tapping on the outer side of earbuds allows user to change track, answer call and trigger voice assistants like Siri or Alexa.
Blaupunkt BTW-01 earbuds can be used individually that is they can act as mono headsets for calling purposes.
Blaupunkt has tried to incorporate some design schematics to make this device more suitable to use while exercising since they have a 45-degree range for a snug and a comfortable fit.
Offerings HD stereo sound with rich bass and crisp treble with a good playback time, Blaupunkt BTW-01 is one the best wireless earbuds below 5000 that serves its purpose well.
Price: Rs 4,990
Suggested Read: 10 Best Fitness Trackers in 2020 | Eat, Sleep, Workout, Repeat.
1. Skullcandy Sesh
Skullcandy has always been associated with introducing some of the best audio devices in the market. This time as well, the audio giant has played a smart move by offering quality products at an affordable price.
The Skullcandy Sesh is a very promising wireless earbud that offers a perfect balance of treble and bass to cater to music lovers of all verticals.
The microphone does a good job for hands-free calling. It offers awesome background noise cancellation and supports both Google Assistant and Siri.
Talking about the build quality, the device feels good in hand with good quality plastic being used for the outer body. These earbuds can be a viable choice while working out since they are water-resistant and provide a comfortable fit.
Both sides of earbuds have some prerequisite functions like accepting calls, rejecting calls, changing tracks and more which can be accessed by clicking on the earbuds.
Coming to the battery life, the charging case comes with a battery backup of 10 hours while the earbuds give you a playtime of 3 hours on a full charge with a provision of charging them upto 3 times via the charging case.
The Skullcandy Sesh is one of the best true wireless earbuds under 5000 offering a perfect balance of bass and treble, proper noise cancellation and water resistance, the only drawback is the not so good battery life.
Price: Rs 4,699