Buying a gaming PC should be a hassle-free and painless task and to help us companies like HP, Alienware, etc have options that are not only easy to use, they are cost-effective too. So, if you are looking for the best gaming PC under $1000 then you don't need to bother much. As there are quite a few options available in the market. But that doesn't mean you will need to compromise on quality if you are buying under the category of best gaming PC under $1000. 
For the best gaming PC under $1000, you need to focus on main components which are:
Price 
Performance 
Design 
Detailing and Specification (storage, CPU, GPU)
What are the best gaming PC under $1000
1. CyberpowerPC GMA888A4
In the list of best gaming PCs under $1000, it is surely one of the top most contenders. It is a sleek, modern looking gaming PC which has a tempered glass panel to display what's happening inside. In the performance section this gaming PC is designed for entry level gamers. It has a quad-core AMD Ryzen 3 3100 processor that can go up to 3.6 GHz. As far as storage is concerned this gaming PC has both SSD (240 of SSD)  and HDD (2 TB of HDD) drives. It can connect to WiFi easily. The motherboard is an AMD A320 chipset and has 8 GB of DDR4 RAM too.
2. SkyTech Shadow 3.0 Gaming PC
Well, this gaming PC can top the list of best gaming PC under $1000 if you are considering performance as the top priority with looks. It is one of the most sleek and well designed gaming PCs. It is equipped with GeForce GTX 1660 Super 6 GB GPU. It has a 6-core AMD Ryzen 5 3600X CPU processor and 16 GB of DDR4 3000MHz RAM. Talking about the storage capacity, this gaming PC has SSD storage of 1TB only.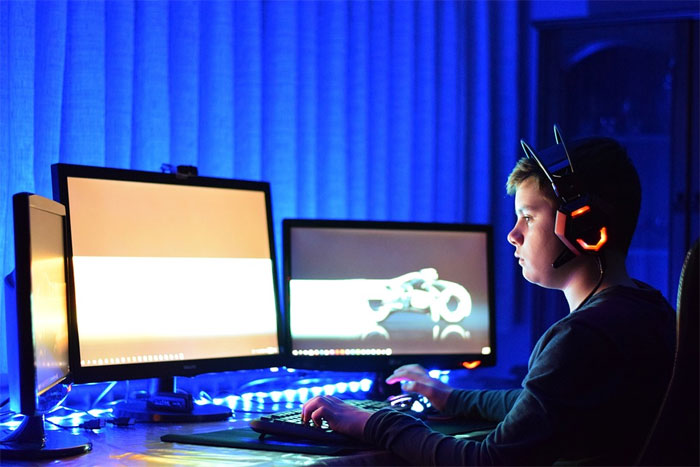 3. CyberpowerPC Gamer Xtreme VR Gaming PC
It is a great choice if you want to buy the best gaming PC under $1000 in terms of value for money, design, and performance. This PC hosts a 6-core Intel core i5-10400F 2.9GHz processor along with NVIDIA GeForce GTX 1660 Super 6 GB graphics card. Not only that, the motherboard chipset has slots for 8 GB RAM. It also fully supports HTC VIVE and Oculus Rift VR equipment with which you can enjoy Virtual Reality. This gaming PC has a higher frame rate with richer graphics. 
4. HP Pavilion 2021
It is a very basic gaming PC under $1000. The design is simple with no glass display or RGB lights. It will cost you somewhere around $615 – $700 depending on location, tax, delivery charges, etc. but if you talk about performance it doesn't sink down at all. As it comes with 6-core AMD Ryzen 5 3500 processor and with a super GPU GeForce GTX 1650 Super 4 GB. It has 8 GB RAM and 256 GB storage which is one of the shortcomings. But you can always add additional storage as it has an SSD.  
5. SkyTech Blaze 3.0 Gaming PC
this is surely a well designed and good performing gaming PC under $1000. It has an Intel Core i3-10100F quad-core 3.6 GHz processor. It also comes with an NVIDIA GeForce GTX 1650 4 GB graphics card. In terms of storage it has an SSD drive of 500 GB. it will cost you around $800-$900. 
Also Read – Best Gaming Laptops Under $700
6. Allied Gaming Stinger Desktop PC
this is also one of the contenders in the list of best gaming Pc under $1000. It has a Ryzen 5 1600 CPU with a CPU speed of 3.6 GHz. The operating system includes the Windows 10 Home. It has 8 GB RAM DDR4 RAM memory technology along with memory storage of 240 GB. It has A320 Motherboard and wifi ready.  
Some important tips for buying the best gaming PC under $1000
Try to get a gaming PC which has a CPU and GPU of the same generation. 
If you are a gamer who enjoys games like Fornite, Valorant, Warzone, etc then having 8 GB RAM is the bare minimum essential for smooth and hassle free gaming experience. It's recommended to have at least a 16GB gaming PC for multitasking. 
Gaming PCs come with options of SSD or/and HDD. Out of the two, SSD is a better option if you are into downloading or transferring heavily loaded files or games on your PC, as SSD is less time consuming.   
Never think that less money means bad quality. Actually, you can find a very nice gaming PC under the budget of $1000, if you choose wisely. 
There is no limit when it comes to spending money on gadgets in the gaming section. Every day new launches hit the market to lure the gamers as new games,  versions, etc are coming up. It is a very dynamic area in the computer world or gadgets world. Prices, specifications and designs keep changing quickly as we are advancing at a tremendous pace in technology. But if you are looking for a good, viable and best gaming PC under $1000 then you have enough options in the market. Just research a little bit so that you can decide what to buy and why.