Roger Federer's shoe collection isn't actually the kind of thing that instantly strikes your mind when you speak or contemplate the ace Tennis player. In fact, Roger Federer is more than just any Tennis star; he is a legend of the game, a timeless one at that- isn't he?
When one speaks about the legendary Tennis star who has thrilled as many as he has inspired, then his personal life and his lifestyle choices- including subjects such as- Roger Federer's shoe collection takes a backseat in the front of the many spectacular awards and recognitions that the 38-year-old Basel-born Tennis champion has bagged in his life.
You start talking about his Tennis masterclass, including the places, events, championships, tournaments where his magnificent sporting craft has earned the respect and adulation of hundreds of thousands of fans, all around the world.
When the subject of Tennis adoration is so enormous, then something like Roger Federer's shoe collection hardly bothers anyone. But despite the mega feats he's earned and dazzled everyone with, thanks to the prowess on the Tennis court, Roger Federer has, over the course of these several years, also emerged as a prominent face of the famous sportswear brand Nike.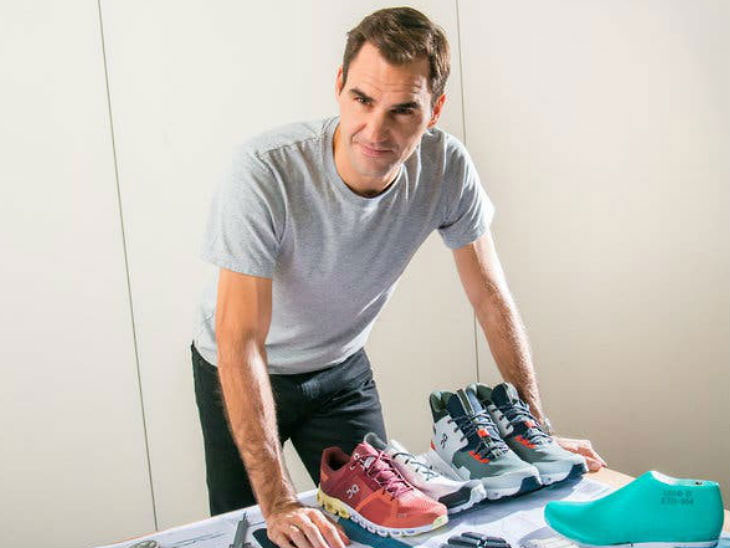 Sports-stars have their trademark attires and carry an immaculately individual sense of style- the bandanas, the long mane, and so on and so forth. So in that sense, it's not entirely uncommon to spot the trademark swoosh of Nike in anything that the great Roger Federer is decked with!
Where Nike stands, then the Swiss Tennis legend has gone onto become a revered face of the sports and lifestyle brand for well over 20 years.
That said, Roger Federer who recently collaborated with On Shoes, also opened up on his personal shoe collection; yes, "the Roger Federer shoe collection!"
And for starters, it was simply fascinating to note the sheer number of shoes owned by Federer.
He was candid when he put it succinctly, that "I own a few hundred pairs of shoes," and maintained that he has enough space for his footwear collection.
Furthermore, he went on to add the following: "You don't have to have 250 pairs of sneakers. I can tell you that. But I think obsession can definitely lead to some good things sometimes because you really follow something that you're really passionate about. And when you do that, passion doesn't feel like work," the World Number 3 was quoted by Tennis World USA as saying."
And that's not all, there's more to Roger Federer's shoe collection as the Tennis legend would add, "it's been more (of a) fun process. Of course, it can become excessive and then it becomes dangerous. Then you need to take a break. You need to take a step back with everything you do because if you do it too much you sometimes lose the fire."
That said, he would add substance to the fact that it's been fun working with On shoes, with whom he's currently associated. He reflected on his working equation with On shoes and added, "it's not going to stop now. But thankfully I have enough space — I feel like you can always use space for shoes, but I think have a few hundred for sure. I don't think working on On has felt like work or business."