Chennaiyin FC played their first match in home conditions against Delhi Dynamos and the stadium roared with chants of 'We are the champions' from Chennaiyin FC fans. Delhi was playing its first match of the season and they put a strong performance against Chennaiyin FC.
The game took an intense turn in the first 15 minutes as both the clubs attacking the opposition in waves. Chennaiyin FC had two chances in these 15 minutes but couldn't convert them into goals when Mendy and Dudu were not able to score. Delhi Dynamos' forward Kerr had his moment in the 17 minute but Lewis was not able to take advantage of his pass.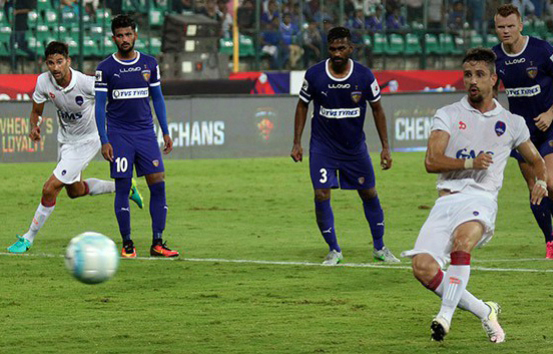 Marcelinho's penalty kick in the 26th minute gave Delhi Dynamos the lead. Chennaiyin FC scored the equalizer in the 32nd minute when Dudu breached Doblas' defence, who could only touch it with his palm but the goal was destined to happen.
Delhi answered after just two minutes when Marcelinho scored his second goal, not giving Kerr a chance to defend. It was actually that fast!
Before the end of the first half, Marcelinho got a chance to score a hat trick when he passed through a clueless Mohanraj but was not able to kick accurately towards the post.
In the second half two Chennaiyin defenders, Jayesh and Baljit were moved forward to dominate the center of the stadium. It was actually a good move because for the first 15 minutes of the second half the ball seemed to go only towards Chennaiyin Players automatically.
The rest of the second half was a back and forth game because it was the ball that was playing with the players. No team was able to keep the ball with them for a long time until the 84th minute as Badji passed through Jerry and scored a goal from the left side. Chennaiyin FC lost their game mentally after that goal.
Nothing much happened in the last 6 minutes and Chennaiyin FC failed to register their first win again. Delhi Dynamos, on the other hand, could not have expected a better start as the beat the defending champions in their own home ground.
Follow us on Facebook, Twitter and Instagram for more updates. Don't forget to like and share. Do tell us your views in the comment box below.
7 October 2016
Rohan Jaitly