Wayne Rooney has been England's leading goal scorer and after since he announced his retirement from International Football, here is a closer look at records made by the man, who was once the youngest player to play for a national side.
It's been 14 and a half years since Wayne Rooney first burst on to the scene for England as a 17-year-old striker, making his debut against Australia in a friendly at Upton Park in February 2003.
Wayne Rooney's first international goal came against Macedonia that September and in the following summer, his outstanding performances saved him a berth in the Euro 2004 team. Wayne Rooney was unable to match those individual displays at any major competition, despite playing in three World Cups as well as two European Championships.
Rooney never managed to progress beyond the quarter-finals of Euro Cup as an England player and his struggles on the international stage often saw him being cast as the fall guy and the reason behind his country's inability to come close to adding another one to its solitary title in the 1966 World Cup.
However, Wayne Rooney retired as England's greatest and leading goalscorer, having netted 53 times in 119 appearances, which also made him the second-highest capped player from England behind former goalkeeper, Peter Shilton who have 125 caps under his belt.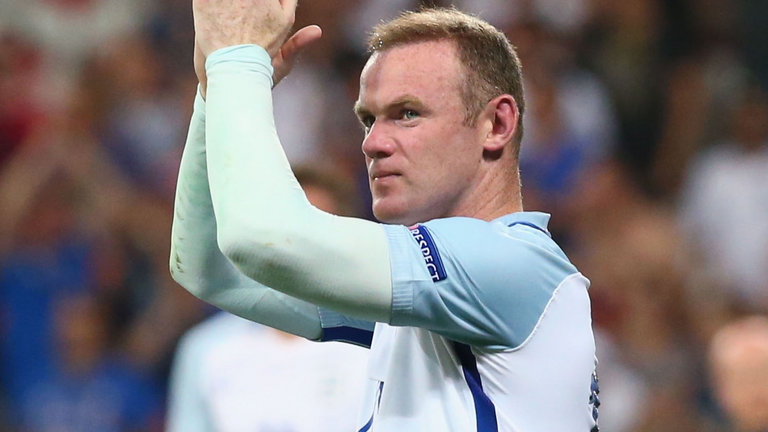 While captaining England to a 3-0 World Cup qualifying victory over Scotland in November 2016 proved to be his final appearance, Wayne Rooney has had an extraordinary career with the national side, keeping aside the fact that England hasn't been able to win many major titles under his leadership.
Here is a look at Wayne Rooney's career as well as records as an England player.
Wayne Rooney has played 119 matches for England, the most by any outfield player as well as only six less than the all-time record of goalkeeper Peter Shilton.
England won 71 games in which Wayne Rooney appeared, while 29 were draws and 19 games ended in defeats.
He is England's all time leading goal scorer, having netted the ball 53 times.
Only seven of Rooney's goals came in the final stages for England in international tournaments, four of which he scored as an 18-year-old at Euro 2004.
Wayne Rooney has scored only once in a World Cup and that was against Uruguay in 2014.
He featured for England in six major tournaments, with the country missing Euro 2008.
Wayne Rooney played 22 matches as England's captain, as well as seven others wearing the armband for being part of a game.
At the age of 17 years and 111 days, Wayne Rooney made his international debut for England as a substitute for a friendly against Australia in February 2003, which was an England record at the time, but was later surpassed by Theo Walcott.
Sir Bobby Charlton was the leading goalscorer for England and held the record for 45 years before Wayne Rooney reached his half-century in 2015.
Rooney played under six different England managers during his career, namely, Sven-Goran Eriksson, Fabio Capello, Steve McClaren, Sam Allardyce Roy Hodgson and Gareth Southgate.
Wayne Rooney also has a total of 12 yellow cards in his international career, having been sent off against Portugal in the 2006 World Cup and in Euro 2012 qualifier in Montenegro, being the most controversial ones.
Wayne Rooney is now focusing on his club career with Everton as he left Manchester United after a 13-year long glittering career at Old Trafford. There is still a couple of years worth of football left in Wayne Rooney and we expect him to entertain his fans during his stint with Everton.