In the world of Football, there's only one Lionel Messi. For a second- ignore what might be the outcome of Argentina in the key ongoing battle at the FIFA World Cup 2018.
For a moment, forget what transpired in the heart-breaking events at the contest against Iceland. FTry to take your mind out of, the heart-stopping saga that resulted in Argentina drew against tiny Iceland, a nation with inarguably the most minuscule following. Wherever Messi goes, whatever he does, generates a global tizzy. It sends fans, spanning an entire world, into discovering and rediscovering their passion and love for the great man.
We know just what Messi fans can do in their undying love for the sporting hero. We've seen fans paint their homes all over their world, signifying the Argentine colours to essay their love. We've also seen people keep the cute Messi beard in their wake to follow their sparkling hero.
Just recently, right before the start of the 2018 FIFA World Cup, it became known that a tea-seller at Kolkata had painted his entire home in Argentine colours. He'd suggest that when Messi's birthday would arrive, on June 24, he'd distribute T-shirts and jerseys to poor kids, but sport-loving fans across the city of joy. But nothing of this sort could possibly match-up to the immensity of effort that one special Messi fan depicted, another impassioned supporter from India.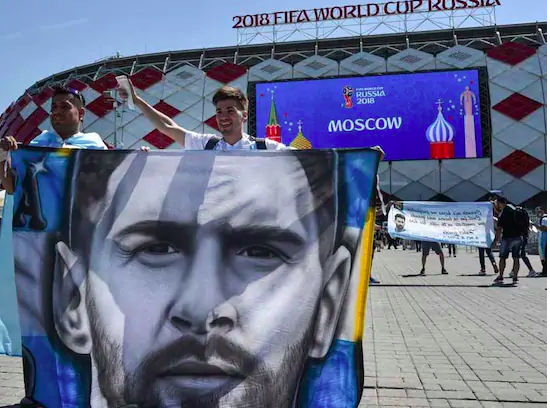 In what's spreading like a wildfire in the forest, the news about crazed Messi fan- Clifin Francis from Kerala, in India- cycled all the way from southern India to the nippy breeze of Moscow, Russia to catch a glimpse of his hero.
While fans inside besotted stadia in Russia were arisen in every row, every block raising the placard of Messi, the sheer gargantuan effort essayed by this Indian fan is simply outstanding. To simply love a footballer is one thing. To be smitten by the great style, feats and records of the talent are also understandable. But to actually cycle all the way from a country to another, eschewing miles and miles of a difference through sheer determination and passion is something indeed exemplary. And also, a feat that very few are capable of matching.
One cannot actually say anything else or anything more other than simply tipping one's hat to this incredible Messi fan from Kerala, in India. Here are some interesting details about the path-breaking journey undertaken by crazed Messi lover Clifin Francis:
Clifin Francis, 28, flew to Dubai from Kerala on February 23, bought a cycle and took a ship to the port city of Bandar Abbas, the capital of Hormozgan province on the southern coast of Iran, before embarking on his cycling odyssey to Russia. "I am very happy. It was a four-month-long journey," Francis told PTI from Tambov, a countryside town in Russia today.
The experience of being in a country like Russia is too brilliant and beautiful to ever ignore. And Clifin Francis, who's still an avid youngster, but unafraid of having undertaken what can only be described as an onerous journey, was ecstatic to have discovered Russia- where every new lane, every new terrain was full of adventure and new zeal. While he did have the necessary documents and papers required to enter Russia, he was saddened upon being denied the permission to enter Georgia from Azerbaijan. What was strange and perplexing was that another cyclist, another football enthusiast from Germany was allowed to enter Georgia as the earnest Indian wasn't.
Having been a great Football fan, it was one of Francis' great dreams to watch a live Football match in his life. Now that he's ticked one of the key boxes ever, one wishes him a fantastic life journey ahead and for all his dreams to come true.