With four goals against Jamaica in the final group stage game of the Women's World Cup, Sam Kerr has fired Australian into a second round showdown with Norway, and herself into the record books as the only Australian (man or woman) to score a World Cup hat trick.
With Australia needing to win, and hoping for results to go their way in the Italy v Brazil match, Kerr stepped up for her country in emphatic fashion, unburdened by carrying the hopes of a nation on her shoulders.
Kerr scored her first goal in the 11th minute against Jamaica, and there was a palpable easing of the tension that had surrounded the most important match of the Matilda's tournament.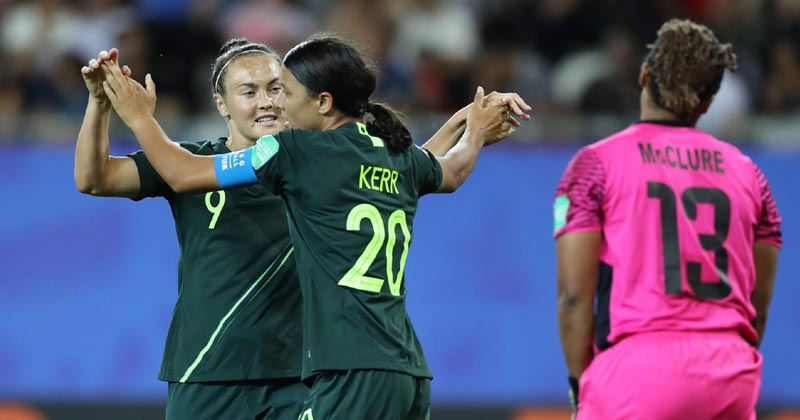 From there on, it was the Sam Kerr show, as the initiative had been seized and qualification to the second round was within Australia's grasp.
Going into halftime Australia had a handy 2-0 lead, but in the 49th minute, Jamaica pulled a goal back, scoring their first goal of the tournament, putting Australia's qualification hopes on a knife-edge.
But commeth the hour, commeth the woman, as Kerr once again carried her teammates, adding another two goals in the second half.
Her fourth goal, scored in the 83rd minute, was just enough to see Australia take second place in the group, sending a disappointed Brazil home early.
"Any time I score, it feels good," Kerr said after the match. "But the most important thing was the victory."
After each goal Kerr was quick to want play to resume rather than spend time celebrating, adding "I wanted more. I was trying to get them to cross it in more, to play quicker. We didn't know what was going on in [Italy-Brazil], so we wanted to get as many goals as we could."
For under-fire manager Ante Milicic, failure to progress from the group stage would likely have cost him his job.
"It was about winning the game. At 2-1, we got nervous on the ball and we lost our playing structure. We need to be better in areas of transition. We get sloppy and put ourselves under unnecessary pressure, playing the ball into midfield players that are marked or under pressure.
"There are phases in the game when we move away from our style and struggle. It's a brave playing style, but when we do it right, we're dangerous," said Milicic.
Australia now head to Nice, where they will face Norway in a Round of 16 clash on Saturday.