Cristiano Ronaldo has been leading Real Madrid from the front since his record transfer from Manchester United in 2009. Two Champions League Titles, two Spanish Cups, one Spanish Super Cups, two Fifa World Cups, two UEFA Super Cups, the tally goes on and on and this what Cristiano Ronaldo has lived with Real Madrid.
Santiago Bernabeu has been one of the most decorated clubs and it has been almost a decade that Ronaldo has led them to numerous titles. Widely regarded as one of the all-time greatest and often ranked the best in the world, Cristiano Ronaldo has been the face of modern football as well as his club.
But times have changed now and the Portuguese has endured two consecutive inconsistent seasons. He has failed to deliver in some of the big matches and moreover, Lionel Messi has bettered him in these two years, when it comes to personal records.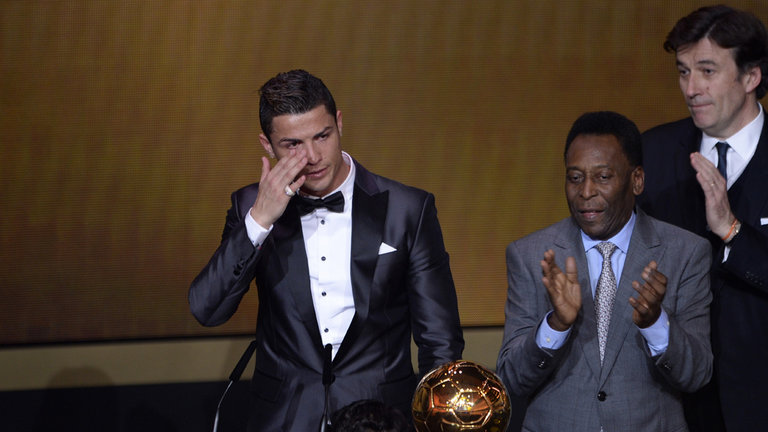 There goes a joke that Ronaldo and Messi can't go a week without breaking a record and this is the biggest joke that is pretty much spot on.
Since the start of 2017, we have seen these two pressing each other for the ultimate glory and after Cristiano Ronaldo received his fourth Ballon d'Or, the bell of consistency has been rung by Lionel Messi and not his arch rival.
What made matters worse for Ronaldo was the fact that during the recent El Clasico, Lionel Messi and Barcelona registered one of the biggest upset in the history of modern football by defeating Real Madrid by 3-2. While the match will be remembered for Lionel Messi's double, it will also be remembered for the frustration that was clearly visible on Ronaldo's face.
Moreover, the Real Madrid attacker has only scored 32 goals this season and while the tally looks rather good, it's his lowest ever goal tally since 2010 for a single campaign.
According to Spanish outlet Diario Gol, Florentino Perez is now looking to offload him before the 2018/19 season. Real want to sell Cristiano Ronaldo to one of the Chinese Super League clubs and he might end up in being the most profitable player in the club's history, as his response clause stands at $1 Billion.
Now, there are two things that can happen. Either this will turn out to be another rumor, as it has been the case in the past, and Cristiano Ronaldo will retire at Real Madrid, or the player now has a year to again prove his worth in order to stay here.
Meanwhile, just one week after becoming the first player to score 500 Barcelona goals, Lionel Messi had to take a back seat and witness Cristiano Ronaldo breaking another ridiculous record. The current Ballon d'Or holder scored an 86th-minute goal against Valencia, yesterday, to keep alive Los Blancos title hopes in La Liga. It was Cristiano Ronaldo's 367th goal in Europe's top six leagues, which meant that he has beaten Jimmy Greaves record of 366 goals, made 46 years ago, and that too with 45 games to spare (almost 40 more goals in CR7 terms).
RECORD: Cristiano Ronaldo has now scored more goals in Europe's top six leagues than any other player in history (367).

Legendary. ? pic.twitter.com/oN6QwH4DrI

— Squawka Football (@Squawka) April 29, 2017
Almost a couple of weeks earlier, he also became the first ever footballer to register 100 European and Champions League goals before Messi becoming the first player to score 500 Barcelona goals.
Considering all these facts, Cristiano Ronaldo is still one of the biggest, if not the only, asset for Real Madrid and he still has two or three years of football left in him. Selling him to a Chinese Club will mean utmost disrespect to his contribution to Santiago Bernabeu and fans will also be kept at bay from the biggest and the most watched rivalry, i.e Ronaldo vs Messi.
The heart of the matter is, Ronaldo is not at his prime as of now but that doesn't mean that he doesn't deserve a second chance. Both Messi and Ronaldo has emerged from the depths of failure, not once but uncountable times, and if Barcelona is respecting their front man, so should Real Madrid.