Leicester City's remarkable resistance under Craig Shakespeare continued in Champions League as Kasper Schmeichel's late penalty save resulted in a 2-0 win over 10-man Sevilla and a place in the League's quarter-finals.
Back from the depths of despair Leicester City once again touched improbable heights and wrote another chapter in thor remarkable story with this tumultuous 2-0 victory over Spanish club Sevilla, who are the winners of the Europa League three years running. The Foxes looked in trouble after the 2-1 first-leg loss in Spain that was the stimulator for the surprising sacking of Claudio Ranieri.
Captain Wes Morgan (27') and Marc Albrighton (54') scored the goals, but the real protagonist of this glorious tale was keeper Kasper Schmeichel. The player pulled off a string of wonderful saves and also saved Steven N'Zonzi penalty to keep his side in control.
2014: Win the Championship 🏆
2016: Win the Premier League 🏆
2017: Champions League quarter finals 👊

Leicester's remarkable story continues. pic.twitter.com/X5aEcWnPq5

— Football Factly (@FootballFactly) March 14, 2017
Time and again Albrighton and Mahrez were piercing the midfield, moving into the outside forward positions, leaving Sevilla dismantled and viewers in Awe. Making most of the opportunity, Mahrez curling delivery into the area after evaded everyone in the centre of the goal, found its way to Morgan at the far post.
The centre-half was waiting for the incoming ball, and he managed to bundle the ball over past the line to put Leicester ahead on the night, and temporarily at least, in the quarterfinals.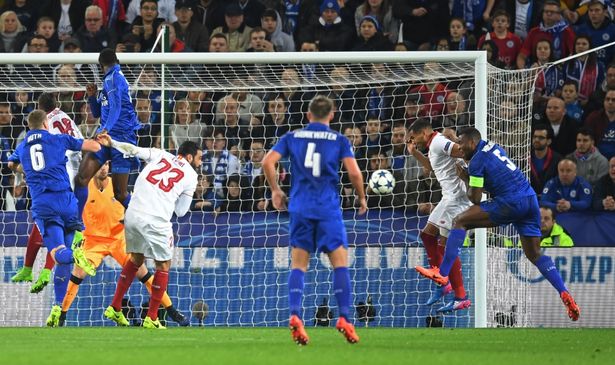 Sevilla retreated following the first goal and woke up from their period of pitiful football to show some signs of life. However, the whole first half was all about Kasper Schmeichel and him pulling some exceptional saves to keep Leicester City in the lead.
Albrighton came forward and saved the quarter-finals berth for Leicester in the 54th minute. Rami's headed clearance on Mahrez's cross fell straight at the feet of Albrighton, who magically controlled the ball with a deft touch and drilled a grounded finish into the corner of Rico's goal.
Sevilla then hunted for a way past Leicester's resolute defence but Schmeichel's resistance continued to shine in the second half and by the end of it all, the tally reflected Leicester City 2-0 Sevilla.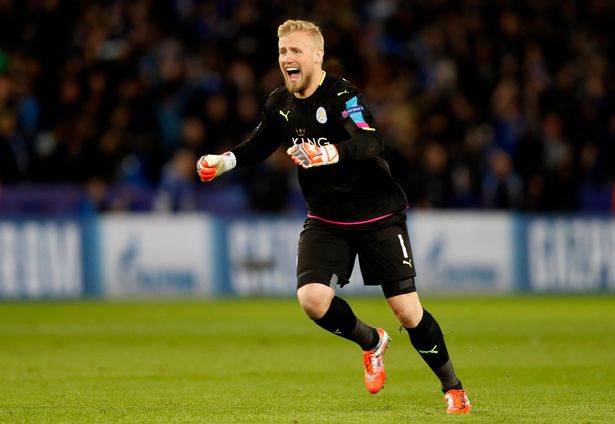 The victory means that the Foxes will join the illustrious company of Barcelona, Real Madrid, Borussia Dortmund, Bayern Munich and Juventus in Friday's Champions League quarter-final draw.
Here is how Twitter reacted to Leicester City's stunning victory against Sevilla.
Leicester with their first attempt are going further in the Champions League than Arsenal have managed in the last 7 years 😂😂 pic.twitter.com/pB6HIy5Gbi

— Football Factly (@FootballFactly) March 14, 2017
Leicester have got further in the Champions League than Arsenal have managed in seven years… pic.twitter.com/haFCgdkeNz

— B/R Football (@brfootball) March 14, 2017
Craig Shakespeare since taking over at Leicester City:

3-1 vs. Liverpool
3-1 vs. Hull
2-0 vs. Sevilla

— Squawka Football (@Squawka) March 14, 2017
Congratulations to Leicester City on proving again that Arsene Wenger is a fraud.#WengerOut

— Alex Allam (@aallam88) March 14, 2017
Premier League Champions Leicester City are into the Champions League Quarter-Finals.

When I see this on Timehop next year I'll black out.

— ODDSbible (@ODDSbible) March 14, 2017
Leicester City this season with Claudio Ranieri vs. Leicester City this season without Ranieri. pic.twitter.com/7IfTlyNcoI

— B/R Football (@brfootball) March 14, 2017
Claudio Ranieri watching Leicester City tonight… #football #LCFC #UCL pic.twitter.com/FhlSiZHiTT

— Photos of Football (@photosofootball) March 14, 2017
https://twitter.com/freebetscouk/status/841757595111182337
https://twitter.com/freebetscouk/status/841764840372899840